More than vaccines: U of T researcher investigates the future of mRNA therapeutics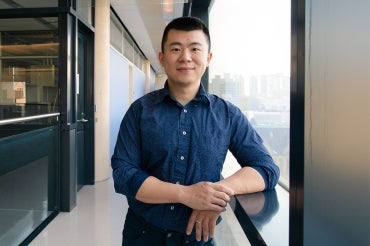 The arrival of COVID-19 thrust mRNA-based technologies into the spotlight two years ago – but Bowen Li's interest in the technology was piqued pre-pandemic and extends well beyond vaccines.
An emerging expert in mRNA-based therapy, gene editing and immunotherapy, Li recently joined the University of Toronto's Leslie Dan Faculty of Pharmacy where he works at the intersection of biomaterials sciences, drug delivery and immunoengineering.
He is launching a cutting-edge research program in his lab that's dedicated to building nonviral delivery systems for nucleic acids including mRNA, siRNA and CRSIPR-Cas9. The rapidly evolving, highly interdisciplinary area of biomedicine is focused on tapping the potential of mRNA to encode therapeutic proteins to prevent or treat multiple diseases, including cancer.
"We've seen how mRNA therapeutics and delivery technology allowed for the rapid development of SARS-CoV-2 vaccines," says Li, an assistant professor in the department of pharmaceutical sciences. "But it also promises to advance the development of treatments for a variety of other diseases including cancer, autoimmune diseases and genetic disorders by enabling patients to produce their own therapeutic proteins."
Prior to joining U of T, Li was a post-doctoral associate at the Massachusetts Institute of Technology (MIT) working with Professors Robert S. Langer and Daniel G. Anderson. Called the "The Edison of Medicine" by Harvard Business Review, Langer is a renowned expert in tissue engineering and regenerative medicine who, along with U of T alumnus Derrick Rossi, co-founded Moderna, Inc., the U.S.-based biotechnology company that developed one of the most prominent mRNA vaccines for COVID-19. 
Li said that multi-disciplinary initiatives and collaboration opportunities were part of what drew him to U of T, as well as the connection to leading academic hospitals and clinical environments.
"Working with clinicians in the University Health Network and other academic hospitals will help us identify impactful and challenging clinical questions," says Li. "I also look forward to collaborating with clinician scientists to test new mRNA therapeutics in their disease models to help expediate the translation of our technologies from the lab."  
Li's research will also contribute to U of T's PRiME precision medicine research initiative – in part because mRNA can be engineered to encode virtually any therapeutic protein of and can therefore be tailored to individual patient needs. "Using mRNA therapeutics confers tremendous flexibility and broader therapeutic utility than nearly all other classes of known drugs, providing the unprecedented opportunity to make personalized medicine a greater reality in the clinic," Li says.  
"We are very excited to have Dr. Li join our research faculty," says Micheline Piquette-Miller, associate dean of research in the Leslie Dan Faculty of Pharmacy. "Therapeutics based on mRNA have become a leading technology in the area of vaccines and personalized medicine. There is great synergy of Dr. Li's work with our current research initiatives, which serve to advance the discovery, development and use of novel therapeutics and diagnostics.
"Our faculty's team of multi-disciplinary investigators welcome the opportunity to work together and collaborate on translating new discoveries to the clinic." 
Future promise of mRNA to treat disease
Li's interest in mRNA technology began after he completed his PhD in Bioengineering at the University of Washington in 2019, where he learned about the considerable therapeutic potential of the approach. "The really exciting part is that it allows patients to produce their own therapeutic proteins rather than these proteins being produced in a lab setting," says Li, explaining that developing proteins in the lab is more costly and time consuming. "When we can use the human body to create appropriate therapeutic proteins, we aren't required to spend as much time on purification processes." 
However, while some advantages are clear, effectively delivering mRNA therapeutics to patients still faces bottlenecks because they can be unstable and vulnerable to breaking down before achieving their desired effects. "There is a need for more appropriate delivery systems such as lipid nanoparticles (LNPs) that can prevent enzymatic degradation of mRNA and help it reach the targeted human cells more effectively," Li says.   
Li is working to develop advanced delivery systems that improve the safety and effectiveness of mRNA therapeutics. In his past research, Li created a high-throughput combinatorial platform that can synthesize lipid-like materials and select the most effective one for mRNA delivery much quicker than what is currently available. Based on this groundbreaking platform, he has developed different types of mRNA lipid nanoparticles for a range of human health applications.
"We've led proof-of-concept demonstrations of immunostimulatory LNPs that increase the effectiveness of mRNA vaccines so that only one tenth of the doses currently being given in clinic would be needed to elicit protective immunity against SARS-CoV-2," Li says. "If we can reduce the dosage required while still providing protective immunity, this will increase efficacy while reducing the side-effects people experience."  
At U of T, Li is moving the delivery technologies forward to further tap the potential of mRNA for creating new life-changing medicines. Most biomedical applications such as immunotherapy, gene editing and cell reprogramming require protein expression for only limited periods of time. This means that mRNA therapy holds significant promise because of its transient and non-integrating expression feature.
"Using mRNA to encode CRISPR-Cas9 will reduce the off-targeting risk because the injected mRNA will disappear in a few days. The nonviral delivery vectors we are investigating also tend to have better biosafety than other viral vectors," Li says.
A dedicated teacher and mentor
Li is also an enthusiastic teacher and mentor. He has experience with students in his own lab, but also through volunteer work with the University of Washington's Health Sciences Center Minority Students Program, and tutoring teenagers from Seattle's Somali community. He helped find mentors of similar backgrounds pursuing science and research who could expose the teens to career possibilities.
This experience helped Li understand that a one-size-fits-all approach to learning or training is insufficient. "Not only do we have to be supportive, but we have to learn about a person's background and experiences and help personalize their training plans," he says.
Li is also the first in his family to go to university and found he had to look elsewhere for guidance and mentorship while pursuing his academic goals.
"When I needed guidance for my studies, I couldn't get help from my family. Educators played a very important role for me, and now I want to take this responsibility on for others," Li says. "I am well aware that being a faculty member does not mean just being successful in research. One should be excellent in their interactions with students and broader contributions to the community."
Li strongly believes that diversity and inclusion lead to a broader pool of thought and are essential for success in academia.
"My goal is that my lab will provide a positive training experience for people with various different backgrounds and experiences and will produce a cadre of young scientists that can have a positive impact on human health."
Pharmacy