With more than 700 green roofs, Toronto is missing an opportunity to grow its own food: U of T researchers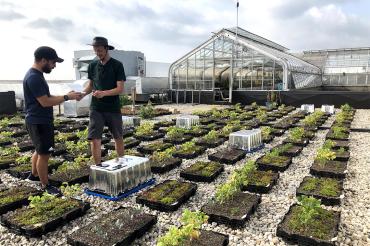 A group of University of Toronto researchers are looking at ways to convert Toronto's numerous green roofs into places where people can grow food. 
Canada's largest city has one of the most progressive green roof policies in the world – and was the first city in North America to enact a bylaw making them mandatory for many new buildings.
"Urban agriculture is emerging as a key component in bringing resilience to our food systems," says Marney Isaac, a professor in the department of physical and environmental sciences at U of T Scarborough who is overseeing the project along with Scott MacIvor, an assistant professor in U of T Scarborough's department of biological sciences.
"At the same time, new green roofs are popping up across the city, but they aren't set up to grow food. This project is merging these two trends." 
There are currently more than 700 dotting the city of Toronto, but MacIvor says most are "extensive" green roofs with shallow substrates (a mix of organic material, crushed brick and minerals like sand and shale) with little to no irrigation. They're also planted almost exclusively with a type of succulent called sedum. The durable and drought tolerant plants are excellent at storing water and growing in harsh environments, but are functionally limited and help only to improve water drainage and cool buildings.
The U of T Scarborough project, by contrast, is looking at ways to test the limits of what's possible with current green roof technology and approaches.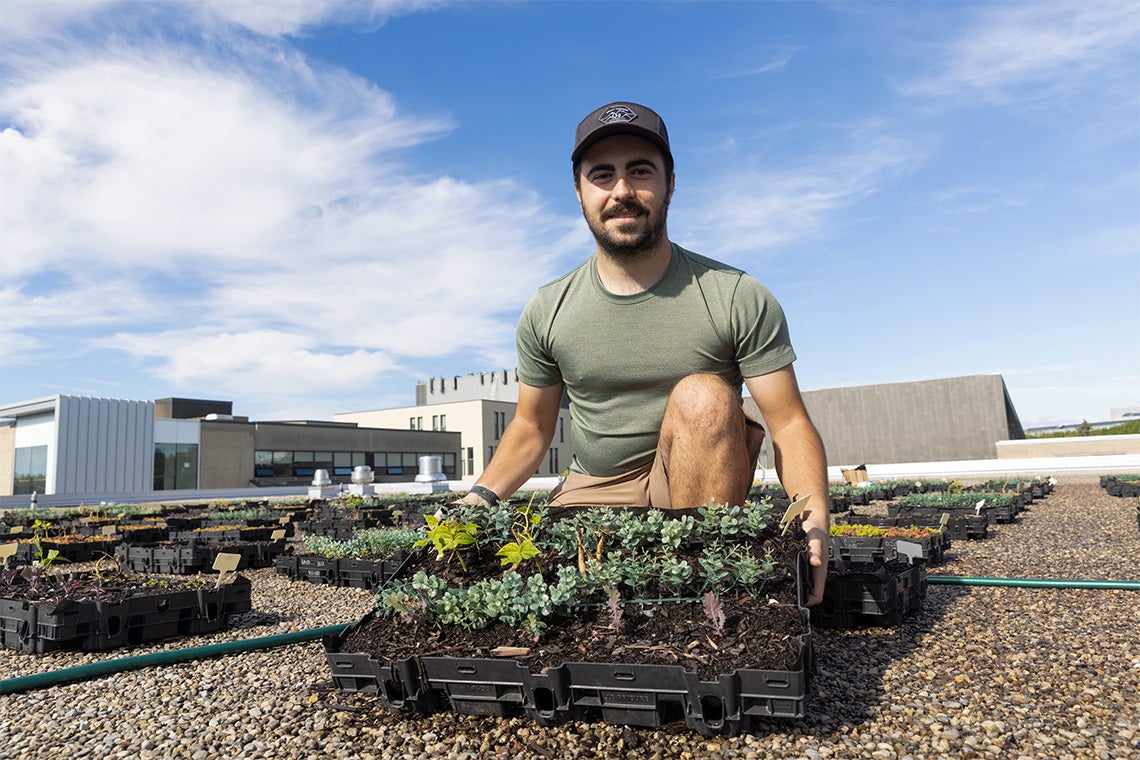 PhD student Adriano Roberto harvests crops and records data from one of the green roof modules on top of Highland Hall (photo by Don Campbell)
"We are really interested in transitioning these extensive sedum green roofs into ones that can perform multiple services such as growing food," says Isaac, who is an expert on plant-soil interactions and making agricultural more sustainable. 
While most green roof research has been done on a large scale, the team at U of T Scarborough is looking at more detailed interactions between plants and soils on a smaller level to see how growing food will be possible.
One project led by PhD student Adriano Roberto and master's student Andrew Nichols currently involves 300 hundred modules – boxes measuring 60 centimetres by 40 centimetres – on the roof of Highland Hall and another 100 modules on the roof of the Science Wing. Each contains one crop –beans, parsley, or kale – grown with and without sedum and subjected to different environmental stressors such as low water and low nutrient availability. The goal is to see how these plants interact with each other and whether sedum can help these crops grow and survive in harsh environments.
"If we just planted beans or parsley in these shallow, exposed substrates, not much would grow," says MacIvor, who is an expert on pollination and biodiversity in urban environments.
"But if we mix these with plants that grow well in harsh conditions – that hold water in the substrate and provide shade – they may act as nurse plants to support these crops and increase their yields."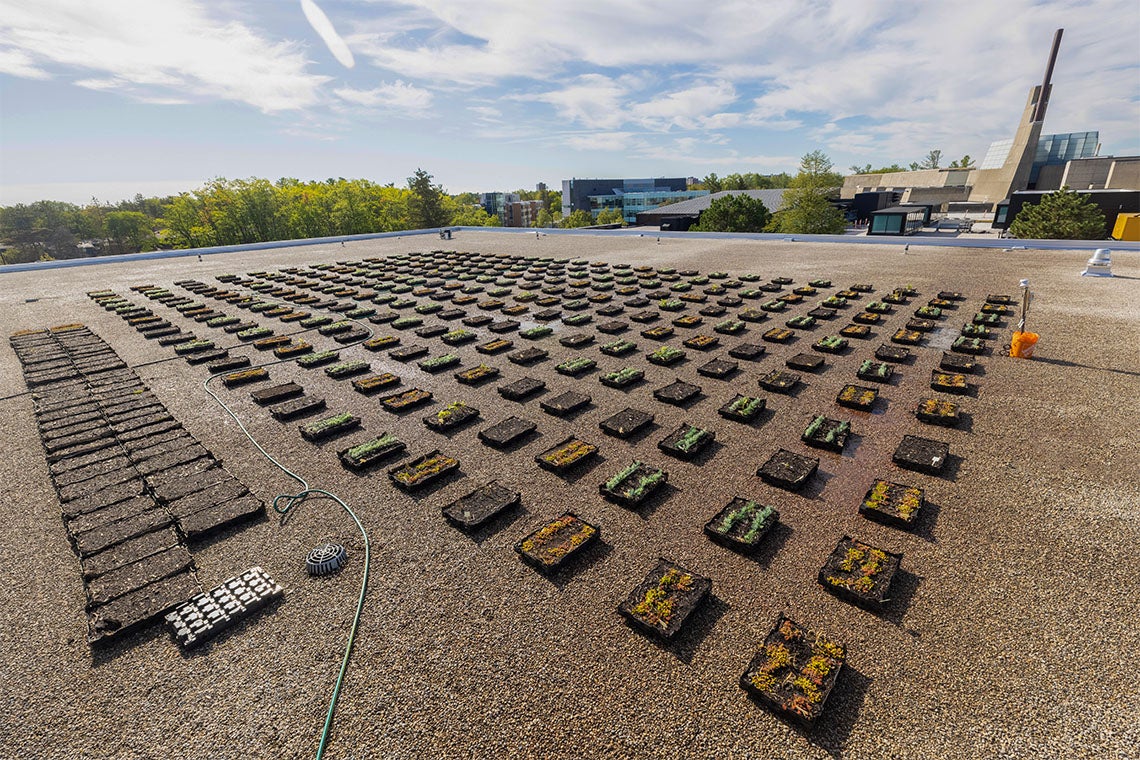 This past summer 300 modules were tested on the roof of Highland Hall (Photo by Don Campbell)
This process of mixing, known as intercropping, has been studied extensively in the past but the U of T Scarborough team is using that knowledge and applying it to the harsh growing conditions found in green roofs. Isaac says they chose the crops based on how well they grow together and how compatible their root systems will be with sedum.
Also, since inorganic fertilizer isn't ideal for use in rooftop gardens, the team is experimenting with using worm castings, a type of organic fertilizer, to provide necessary nutrients for plant growth.
The project received funds as part of a larger $1.6 million Natural Sciences and Engineering Research Council of Canada grant for the DesignLIFES (Design of Living Infrastructure for Ecosystem Services) network. The network includes the Green Roof Innovationg Testing Laboratory at U of T's John H. Daniels Faculty of Architecture, Landscape, and Design, which MacIvor has collaborated with over the past decade.
The last of this year's green roof crops were harvested in early October and the next steps for the project will be to analyze crop growth, root traits and water use efficiency from this summer's growing season.
Next year, the team plans to look at how different organic matter and nutrient availability can assist with growing conditions over the long term in green roof systems.
UTSC