Midnight Madness Basketball at U of T
Partnership between U of T's Varsity Blues and Toronto Community Housing brings high school students to U of T's Goldring Centre for High Performance Sport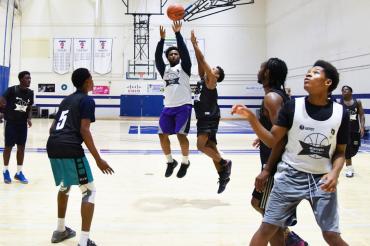 When Toronto Community Housing (TCH) approached U of T's Varsity Blues about a venue to host the Midnight Madness Basketball program, it was a no-brainer.
Every Friday night, teams from Jane and Finch, East Mall, Scarborough, Sparroways and Albion are bused to U of T's Goldring Centre for High Performance Sport for basketball drills and friendly competition under the guidance of mentors.
Before stepping on the court, the high school students enjoy a TCH sponsored dinner and take part in life-skills workshops to learn about how to access positive life-changing opportunities, including preparation for post-secondary education, nutrition and financial literacy.
The program, which was developed by TCH in partnership with U of T Scarborough athletics & recreation in 2013, brings together youths from six TCH neighbourhoods – communities where TCH believes kids may be at risk of being targeted by drug dealers and gangs. And, over the years, those helping out have included home-grown NBA talent such as Jamaal Magloire.
"This is an opportunity to assist a Toronto community partner in a project that makes a real difference in the lives of young people," says Beth Ali, executive director of the Faculty of Kinesiology and Physical Education's co-curricular athletics & physical activity programs. "The use of sport to provide leadership and educational development opportunities for these young people is a perfect fit for our faculty and the University of Toronto."
Varsity Blues basketball player Wilson Torres has been happy to share his experiences with the youth participating in the program, helping Ali and Varsity Blues basketball coach John Campbell and football coach Greg Gary deliver some of the workshops, and joining the teams on court afterwards for warm-ups.
 
"I tell them no matter what circumstance you are in, there is always a way out. I was not supposed to go to university because of the path I was on when I was younger," says Torres. "But, sometimes we have to be shown a different perspective to decide if what we are doing is really worth it. These kids just need a little inspiration. If they know I could do it, they can do it."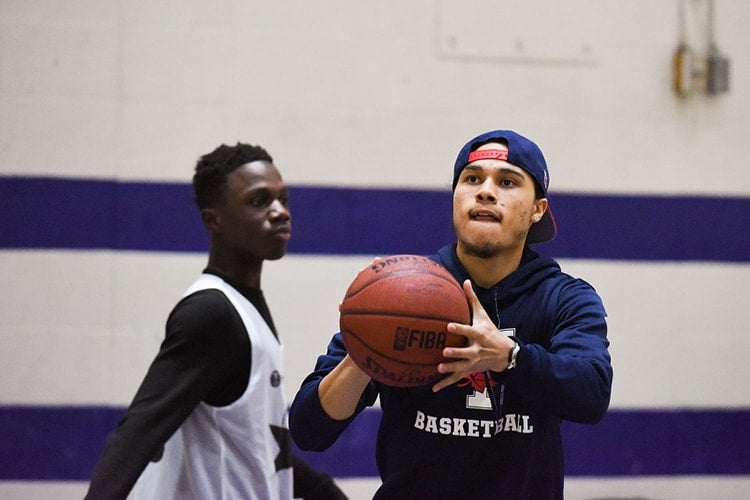 Varsity Blues' basketball player Wilson Torres shoots hoops with high school students at Midnight Madness Basketball (photo by Martin Bazyl)
Mahdi Hazime, 15, plays basketball for his high school team. He decided to join the program after seeing many of his friends sign up. "I like to play basketball," he says. "I'm not really that good, but playing with good competition makes me better." 
That's what it's all about, says Jonathan Meredith, who has been coaching the Sparroway neighbourhood community team for 15 years. This was the first year he's participated in the program with his team.
"It's a good opportunity. The kids love basketball and just getting out of their neighbourhood and meeting all these new people is good for them. Basketball is really big in all TCH communities, and it brings everybody together and helps the kids stay out of trouble. Instead of being on the side of the street corner, you can be here playing basketball and listening to some great speakers. They get free jerseys. They might be getting free shoes, so it's a win, win for them." 
Naythan Savoy, 17, plays basketball on his high school team and hopes to become a basketball player one day. He says the program was useful and fun. "It gave me more time to play basketball, meet new people and challenges. And the court is really nice," he says. 
The fall 2016 season of Midnight Madness Basketballs ends on Friday Dec. 2, and TCH's Willians Herrada says plans for the future include consolidating the partnership with U of T not just in basketball, but in other sports like swimming.
"We want to continue to include the university as a place where youth can explore the potential of becoming students at U of T," he says. 
That's also Ali's hope. "We hope that the young people from TCH feel welcome and comfortable on the St. George campus, and that they see themselves as U of T students in the future." 
Back in the workshop, coach Gary tells the high school students he'd like to see every one of them at U of T at some point. 
"It can happen. This is real," he says.
"A 100 per cent," says Torres, nodding.