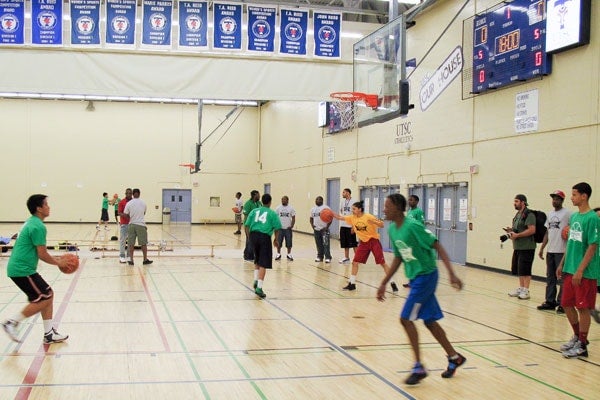 Jamaal Magloire helps launch summer program at UTSC
Shooting hoops, building character
Kids from around the University of Toronto Scarborough community shot hoops late into the night at UTSC's Athletics & Recreation Centre, in a Midnight Madness event July 12.
It's part of a new community engagement program that gives youth an opportunity to develop personal and professional skills through basketball – with evening sessions and shoot-arounds that run until one am.
Throughout the summer, 70 kids between ages 14 and 16 will also take a series of workshops including leadership development, community building and healthy active living, managing and avoiding conflict and violence, and financial literacy.
The program is a partnership between UTSC and Toronto Community Housing. Participants come from social housing neighbourhoods such as Alexandra Park, Flemingdon Park, Jane Street, Morningside and Rexdale.
"We use our infrastructure to uplift local communities in a bid to make a better place," said Desmond Pouyat, dean of student affairs, as he welcomed members of the program at UTSC.
Participants also heard testimonials from grown-ups who've had similar experiences in the past.
One was Jamaal Magloire, former Toronto Raptors player and now a basketball development consultant and community ambassador.
Magloire grew up in Scarborough and played in UTSC's summer community basketball league as a teen before being drafted into the NBA. He urged the kids to make sacrifices and work hard to achieve their goals, while at the same time behaving appropriately.
"Nobody wants to be around a jerk," he told an admiring crowd. "So, work hard in class and work hard on your game. You have no excuse; the reason why we are here is because we care about you."
UTSC summer league players will be providing mentorship, helping them with practice on court and other assistance.
Atheena Dy is a UTSC alumna currently working as a summer program assistant at the athletics and recreational centre. As a student, she was involved in helping organize and run the summer leagues, and now she is among the planners.
"It really warms my heart to see the smile on these kids' faces, and to have our summer league guys give back to the community through this program," she said.
Midnight Madness is one of many other UTSC experiential learning and mentorship programs that the university uses for community involvement, explained Scott McRoberts, director of athletics and recreation. It is similar to Henry Norrington Tennis program, an initiative that mentors kids between the ages of eight and 13 through tennis instruction.
Other partners in the Midnight Madness program include the Toronto Police Services, Ascot Co-Op, Concrete Roses Youth Services and the East Scarborough Boys and Girls Club.
Gilbert Ndikubwayezu is a writer with the University of Toronto Scarborough.