Michael White joins U of T as special projects officer to support the university's Truth and Reconciliation efforts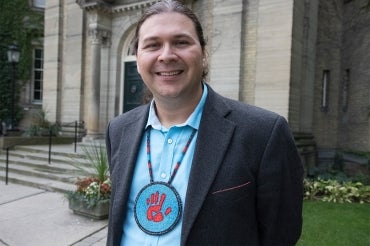 When Michael White saw that the University of Toronto, his alma mater, was becoming actively engaged in the work of reconciliation through its own Truth and Reconciliation calls to action, he wanted to be a part of it.
And now he is.
Michael, who asked that he be referred to by his first name, has joined U of T in the newly created role of special projects officer, Indigenous initiatives.
"It's now a very different climate to be Indigenous in this space," says Michael, who graduated from U of T in 2005 with a BA in anthropology. He says the university is more receptive now to Indigenous perspectives and methodologies.
Reporting to Jonathan Hamilton-Diabo, director of Indigenous initiatives at U of T, Michael will play a key role in consulting and implementing projects that support the university's efforts to enhance Indigenous presence and programming.
He comes to the role with a wealth of experience designing training programs for employers, teaching community-building, and planning events. For the past five years, Michael – a band member of M'Chigeeng First Nation – worked as a trainer for the Ontario Federation of Indigenous Friendship Centres, travelling around the province working with organizations and institutions to help them answer TRC calls to action, and delivering courses around Indigenous community development.
"I have seen Indigenous issues at a larger scale, and it prevents me from having a narrow perspective being an urban Indigenous person," says Michael, who has spent most of his life living in Toronto.
Michael says he's thrilled to return to U of T, and to spend more time closer to home with his young family. He is also pursuing a master's degree in education, language, culture and teaching at York University.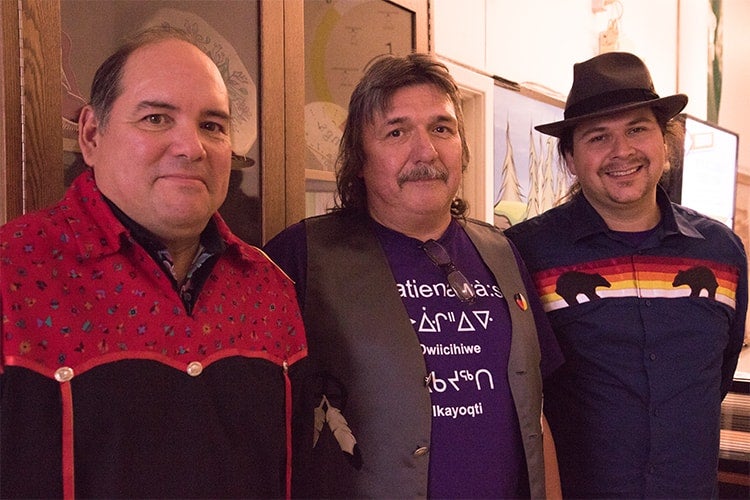 Left to right: U of T students James Bird and Roy Strebel with Michael White at the Elders' Symposium at U of T on Oct. 30 (photo by Hannah James)
"He's very giving of all the gifts and skills he has to offer," says Hamilton-Diabo, who worked with Michael at First Nations House after Michael graduated. "He's also got a very vibrant personality and has a lot of knowledge of U of T from his time here as a student and working in different areas of the university."
The two men are already working on a university-wide strategy to help people at U of T connect with appropriate resources as efforts to respond to TRC calls to action continue.
"The big thing that led me back is Jonathan," says Michael. "He's a peacemaker and for me professionally, I'm going to learn a lot. I'm hoping we can walk together for a bit."  
In his short time at U of T, Michael has already organized a major Elders' symposium in October where Elders from various communities came to share traditional knowledges about land, language and "ways of being and doing" with the U of T community, and he is working on cultural competency programs for U of T's faculties and departments.
"The way I see it, it is Indigenous spaces, Indigenous places and the processes that are informing how the university does what it does," says Michael.
UTC