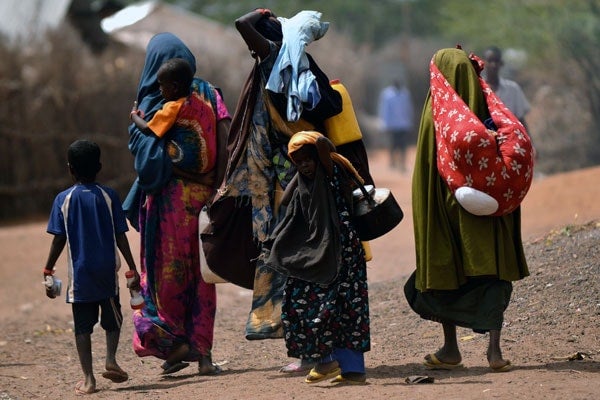 Mentoring students in Kenyan refugee camp by Facebook
U of T students help female scholars in Dadaab
Social media is bringing together a student group from the University of Toronto with young female scholars in Kenya who live in what has been called 'the world's largest refugee camp.'

"They have a lot of questions about how we do research, the courses we take, how to study most effectively," said Madiha Naseem, a third-year medical student and founder of the University of Toronto Refugee Alliance or UTRA, which has been mentoring students in Dadaab, Kenya through a Facebook group conversation.

"It provides a really supportive environment for the girls to study and it's been great to learn about their lives."

In many ways the experience of being a female student at U of T couldn't be more different than that of a female student living in one of a cluster of refugee camps near the Kenya/Somalia border, where families from conflicted areas seek shelter, food and education. But this newest project for UTRA draws on something that's a part of life for both groups: Facebook.

Naseem and other women members of UTRA check in on the group about once a day as they chat with female refugees pursuing higher education courses. For the most part, students in the camp use Internet cafés although "the few students who have Internet mobile access are more frequently involved than the others," says Naseem.
Harvard is studying the mentorship project that's bringing the two groups together.

"Many things in their life are familiar to us," said Naseem. "We can easily share ideas about our studies. But other things, like their security concerns, are alarming – stories about rape in the camp, or their worries about getting home safely."

The high stakes have brought them closer together, said Naseem.

"It makes us realize there is a big difference between the way we learn and the way they learn. They need to have a supportive environment they can go to, and seeing that has helped us value the Borderless Higher Education for Refugees project even more."

Last year UTRA worked to raise funds for a scholarship program attached to Borderless Higher Education for Refugees, run out of York University, which offers academics to students in Dadaab. This year UTRA extended its involvement by volunteering advice and friendship to women taking studies within the program.

It's just one of many UTRA programs that work to raise support, awareness and funds for refugees in Toronto and abroad. The group's students, from varied backgrounds including law, engineering, medicine, and Middle Eastern studies, volunteer at local organizations such as Christie Refugee Welcome Centre in addition to their international work.

UTRA's upcoming gala fundraiser at the Bata Shoe Museum on March 19 will reflect that global and local focus, benefitting the Scarborough Community Volunteer Clinic and Red Cross's work in Syria.

"I became interested in refugee issues because I want to work as a humanitarian. I want to help those living with conflict or human rights abuses that force them to adopt a life they shouldn't have to," said Naseem. "Other members of the group have had personal experience with families involved with refugee situations, others came to one of our refugee talks and were inspired to help."

"It's been great that we're so different but have a common purpose. I love that about UTRA. Having started this, it's kind of what I was hoping for, to see it grow."
Brianna Goldberg is a writer with University Relations at the University of Toronto.