Melanie Woodin to become new dean of U of T's Faculty of Arts & Science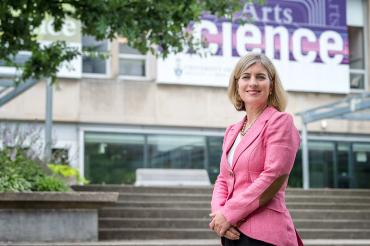 Professor Melanie Woodin, a neuroscientist in the department of cell and systems biology, will become the University of Toronto's next dean of the Faculty of Arts & Science.
Woodin, who is currently the faculty's vice-dean of interdivisional partnerships, will serve a five-year term beginning on July 1.
"I'm incredibly humbled and honoured to have this role," says Woodin.
"We have outstanding faculty members who are working at the forefront of their research disciplines and have an incredible dedication to undergraduate and graduate students. My primary role is to ensure I'm supporting those faculty members so they can be supporting the students to have the best educational experience they can."
Cheryl Regehr, U of T's vice-president and provost, calls Woodin an "exceptional leader."
"Her experience and commitment to strengthening and building relationships within and beyond the Faculty of Arts & Science will help to advance the faculty's academic goals and enrich the experiences of our students," she says.
Woodin replaces David Cameron, who has led the faculty since 2013. Cameron, a professor of political science, has held a number of leadership roles within the university, including chair of the department of political science and vice-president of institutional relations. Outside of academia, Cameron has worked with countries around the world to rebuild and reform their governance structures amid conflict.
Woodin says her new role is an opportunity to celebrate and build upon the interdisciplinary nature of the faculty.
"We have colleagues with expertise in a broad range of disciplines, so we want to make sure we're leveraging the full range of educational and research opportunities this breadth provides."
This means continuing to provide undergraduate and graduate students access to experts in a variety of fields across the humanities, social sciences and sciences, she says.
"If we continue to produce students who can approach a problem from a variety of different perspectives, this leads to a creativity in thinking – which is of course critical for problem-solving and for innovation."
In her own lab, Woodin says such an approach has been beneficial when it comes to research on neurodegeneration, including the ethical implications of neurotechnologies.
"When you form strong collaborations, you don't need to be an expert in every field because you're going to use the expertise of your colleagues to combine the power of multiple techniques."
Woodin first came to U of T as an undergraduate student at Victoria University, studying biology. The program was then part of the departments of zoology and botany, which later became cell and systems biology, and ecology and evolutionary biology.
While earning her master's degree at U of T, Woodin studied the relationship between respiration and circadian systems by researching whether a duck's ability to hold its breath while diving for food is affected by the time of day.
Woodin's research ignited an interest in how the brain facilitates the interaction of the body's systems – a topic she continued to explore at the University of Calgary, where she completed her PhD, and at the University of California, Berkeley, where she did post-doctoral work.
Today, Woodin continues her research in neuroscience, focusing on how neurons communicate in the brain through the release of chemical neurotransmitters and electrical activity. Changes in the strength of that communication, called plasticity, help people learn and remember. Woodin's lab looks at what happens when plasticity fails in neurological disorders and diseases, primarily Huntington's disease and amyotrophic lateral sclerosis, or ALS.
Her research is supported by the Natural Sciences and Engineering Research Council of Canada, the Canadian Institutes of Health Research, the Simons Foundation Autism Research Initiative and the Amyotrophic Lateral Sclerosis Society of Canada.
Woodin is also a recipient of the New Ideas Award, a Medicine by Design initiative that aims to accelerate advances in regenerative medicine, for her work using gene therapy to delay the onset of symptoms in neurodegenerative disease.
Woodin's administrative work in the Faculty of Arts & Science has led to closer and more effective collaboration between the faculty and other divisions across the university. That includes making enhancements to the commerce program, shared with the Rotman School of Management, and first-year mathematics courses in partnership with the Faculty of Applied Science & Engineering.
Woodin says she has enjoyed getting to know people from across the university as vice-dean, sparking her curiosity about a range of subjects.  
"I'm making a long list of programs I'm going to have to take many years down the road when I retire," she says, adding that she has particular interest in cinema studies, criminology and sociolegal studies, and industrial relations and human resources. 
UTC