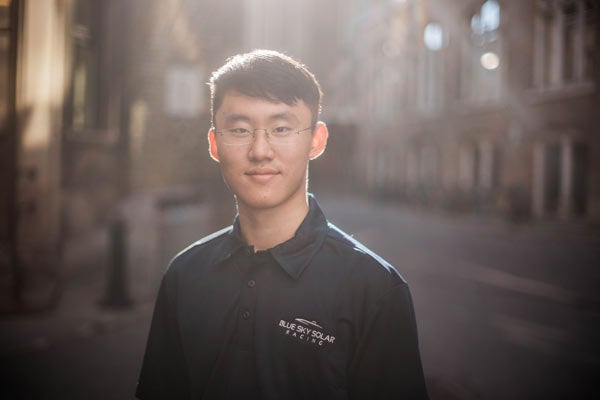 Meet undergrad Frank Gu, one of the U of T interns lighting up Nanoleaf
Travelling to Shenzhen, China, the second-year Engineering student discovers he has no limits
How does a second-year undergraduate student nab a coveted internship with a global lighting startup like Nanoleaf?
It helps to offer critical thinking, creativity and boundless energy – but having the boss share your intellectually impressive hobby doesn't hurt.
When Nanoleaf CEO Gimmy Chu met electrical and computer engineering student Frank Gu, he discovered that the young applicant was a member of U of T's Blue Sky Solar Racing Club. Chu had worked on the acclaimed Blue Sky car almost a decade earlier.
"Gimmy gave me an assignment to prove my capability for the intern position," Gu says. "Then, Gimmy and I proceeded to talk about Blue Sky Solar Racing at U of T." 
"The U of T presence is still very strong at Nanoleaf, and I believe it always will be," says Nanoleaf spokesperson Leslie Chen. "When we were looking for interns to join our team, the first place we looked was at U of T."
U of T News writer Brianna Goldberg spoke with Gu about his experiences at Nanoleaf, which he joined in early 2015.
---
How did Nanoleaf recruit you?
I met the Nanoleaf team during the
You're Next
startup career fair 2015. They had a booth in the lower level of the MaRS building, and a
very
bright light bulb for demonstration. I remember the first thought that flashed past my mind when I saw what they were doing: "MY EYES!" So that blinding experience was how the Nanoleaf people made their impression on me.
(Read more about the You're Next career fair)
I did the standard routine of shaking some hands, taking a card, and dropping off a resume. After one day, no reply, not even a confirmation. One week, still nothing. Finally, I emailed
Gimmy Chu
, Nanoleaf's CEO, and he got back to me pretty quickly wanting to schedule a meeting to chat. We spoke briefly about some current technological trends. Gimmy gave me an assignment to prove my capability for the intern position. Then, Gimmy and I proceeded to talk about Blue Sky Solar Racing at U of T. Gimmy also worked on the Blue Sky car almost a decade ago, and I am an active team member of the Blue Sky team. I guess that's how Nanoleaf recruited me! 
(Read more about Blue Sky Solar Racing at U of T)
Why did you want to work with them?
At first I just wanted a job for some additional learning experience and a challenge. But after meeting with Gimmy, I was immediately attracted to Nanoleaf. Of all the CEOs/managers/bosses that I have dealt with in the past, I can confidently say that Gimmy is the most "chill" (excuse my slang). At the time, I was merely a frosh in school for only half a year. Gimmy did not seem to mind.
He was interested in two things: what I can offer, and what I want to obtain from working with Nanoleaf. It is almost a feeling of urgency, a liveliness that shouts, "We are going to do great things, so if you are ready, hop aboard!" I think it's this energy that drew me to them, and it's because of this energy that I am staying with them. The first day at work, I stayed till 8 p.m. because I felt like I was finally in a place I belonged. 
Does your work at Nanoleaf connect with or supplement what you've learned at U of T?
The projects I work on at Nanoleaf give me an opportunity to convert theoretical knowledge obtained in the classrooms into real applications that serve real purposes. Specifically, the project management and strategies I learned in my Engineering Strategies and Practice course were used heavily during the discussion and design of a solution at Nanoleaf. Computer Fundamentals taught the basics of the C/C++ programming language, and writing kernel drivers at Nanoleaf allowed me to apply this abstract knowledge. These are some aspects that connect directly with my courses.
I believe university is also a place to learn how to socialize and form new connections and friendships. Beyond the scope of courses at U of T, working at Nanoleaf has exposed me to an exciting cross section of different social groups in our society: programmers, PhDs, electrical engineers, artists, writers, marketing and strategists. As a surprise, during my stay in the Shenzhen office, I was also offered the opportunity to visit Nanoleaf's production facility, providing me with a rich first-hand experience of the modern electronics manufacturing industry.
So yes, I would say working at Nanoleaf complements my academic and social pursuit at U of T greatly!
What have you learned in working with Nanoleaf that surprised you?
Your "limit" is where you define it to be. When I first started working at Nanoleaf, I had only a preliminary knowledge of the programming languages used: C, Javascript and Swift. However, Gimmy let me begin with a highly experimental project that involved networking, servers, databases, cloud architectures, and whatever other jargon that's out there in the industry. I took it up as a challenge. A month into the project, and I was already comfortable with the technologies involved. Two months in, I began cooperating with the rest of the team in the main program development. By May, I was patching up kernel drivers (advanced development) with guidance from Tom.
At Nanoleaf, I was surprised by my "limit." I have no limit. We all have no limits. If I take something as a challenge, I can always push myself ever harder and further to accomplish it no matter how daunting the task. The key is to always believe in yourself and acknowledge that you can be your own greatest enemy.