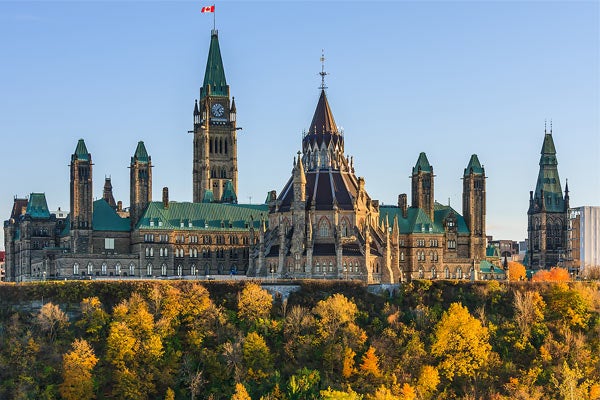 Meet the new cabinet ministers from the University of Toronto
Sworn in at Rideau Hall: Dr. Jane Philpott, Catherine McKenna, Kirsty Duncan, Dr. Carolyn Bennett and Dominic LeBlanc
Members of the University of Toronto community are solidly represented in the new federal Liberal government, with five of them sworn in as cabinet members.
Justin Trudeau became Canada's 23rd prime minister on Nov. 4 after winning a majority government on Oct. 19. He was sworn in at Rideau Hall, along with a cabinet divided equally between men and women. 
The new Parliament includes dozens of U of T alumni. Former grads from all three campuses were elected from across all three major parties, including Conservative Tony Clement (University College, Faculty of Law), Liberals Bill Blair (University of Toronto Scarborough) and Gagan Sikand (University of Toronto Mississauga) and New Democrat Murray Rankin (Faculty of Law).
Among them are the new cabinet ministers, taking charge of some impressive portfolios.
Dr. Jane Philpott: Minister of Health
Philpott has a clinical, part-time appointment with the department of family and community medicine at U of T at the rank of associate professor. In 2012 she completed a Master of Public Health degree at U of T. Philpott founded Give a Day to World AIDS in 2004 which raised more than $4 million to help those affected by HIV/AIDS in Africa.
She served as chief of the department of family medicine at Markham Stouffville Hospital from 2008 until 2014. Philpott was elected for the first time on Oct. 19 in the Markham-Stouffville riding.
Catherine McKenna:  Minister of Environment and Climate Change
McKenna attended the University of St. Michael's College at U of T and graduated in 1994. A former legal adviser and negotiator for the United Nations peacekeeping mission in East Timor, she co-founded Level (previously known as Canadian Lawyers Abroad).
McKenna, who has taught at U of T's Munk School of Global Affairs in the past has a degree in international relations and French at U of T and a master's degree in international relations at the London School of Economics as well as a law degree from McGill. She was elected for the first time on Oct. 19 in the riding of Ottawa Centre.
Kirsty Duncan: Minister of Science
Duncan, who earned a BA from University College in 1989, studied geography and anthropology at U of T and earned a PhD in geography at the University of Edinburgh. She has previously taught at the University of Toronto Scarborough and at Royal Roads University.
Duncan served on the intergovernmental panel on climate change, an organization that won the 2007 Nobel Prize with Al Gore and wrote a book about the Spanish flu pandemic in 2003. First elected in 2008, she was re-elected in Etobicoke North on Oct. 19.
Dr. Carolyn Bennett: Minister of Indigenous and Northern Affairs
As a former minister of state for public health, Bennett set up the Public Health Agency of Canada. She obtained her degree in medicine in 1974 and is the author the book Kill or Cure? How Canadians Can Remake their Health Care System.
Bennett was president of the medical staff association at Women's College Hospital and has a clinical adjunct appointment in the department of family and community medicine at U of T, at the rank of assistant professor. First elected in 1997, she was re-elected on Oct. 19 in in the downtown Toronto riding of St. Paul's.
Dominic LeBlanc: Government House Leader
LeBlanc, who holds a BA in political science from U of T and graduated from Trinity College in 1989, is the son of former Liberal cabinet minister and governor general Romeo LeBlanc. He is a lawyer from New Brunswick who served as a special adviser to former Prime Minister Jean Chretien before being elected in Beausejour in 2000. He has been re-elected four times since. He ran for the Liberal leadership in 2008 before bowing out to support Michael Ignatieff.