Meet five women who are among U of T Engineering's 'grads to watch' in 2023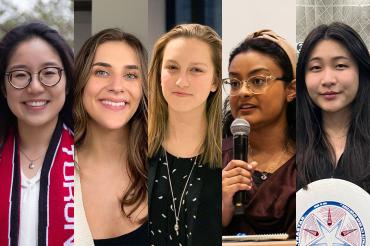 As students from the University of Toronto's Faculty of Applied Science & Engineering celebrated their convocation this week, they looked ahead to a future where they will draw on their education to address pressing challenges around the world. 
They now join a global network of U of T Engineering alumni whose creativity, innovation and global impact embody the spirit of the faculty and the U of T community.
Here are five inspiring women from the Faculty of Applied Science & Engineering's annual Grads to Watch list – each selected by their home departments and institutes.
---
Maeesha Biswas
Bachelor's degree in industrial engineering plus professional experience year co-op
During her time as an undergraduate industrial engineering student, Maeesha Biswas' academic interests were focused on health-care systems, human factors, technology and design geared at understanding people better.
She also devoted more than 2,000 hours to various activities and organizations, including planning the Undergraduate Engineering Research Day (UnERD) in 2020 as co-chair; and co-founding and co-hosting 1% Inspiration, a podcast that features stories and wisdom from the U of T Engineering community, including faculty, alumni and current students.
"After UnERD 2020 – which was held online due to the COVID-19 lockdown – we observed some students miss out on career development and networking opportunities due to a lack of on-campus interactions," she says. "We created the podcast in response and since it launched, it has received over 1,100 listens over 22 episodes."
After graduation, Biswas is looking forward to working on a startup with some of her fellow graduates to build generative artificial intelligence tools for media creators.
"I began learning to be a software developer during my co-op at PocketHealth – a company which helps patients share their diagnostic imaging records and own their medical information," she says.
"I want to continue to enrich human lives and experiences through software technology, and I believe my most important life's work will be here."
Michelle Lin
Bachelor's degree in materials science and engineering, plus professional experience year co-op
As a commuter student, Michelle Lin made a great effort to balance her academics with extra-curriculars and part-time work. She participated in intramural ultimate frisbee starting in her first year and has held mentorship and outreach roles within the faculty.
During her co-op work term, she had the opportunity to hold two positions at Li-Cycle, a North American leader in the recovery and recycling of lithium-ion batteries, which was co-founded by a U of T Engineering alumnus.
"I was able to gain different perspectives on the business and all the work it takes to ensure that the different sectors are functioning cohesively towards the same goal," she says. "It's an evolving industry, and it was amazing to see the rapid growth the company and industry experienced in just 16 months."
Lin will be starting a master's in material science and engineering in the fall, which will allow her to gain more knowledge and expertise on materials characterization.
"I hope to be able to contribute positive change in the sustainability space and promote engineering and STEM to younger generations, especially girls and women," she says. "I would love to be a source of inspiration for other women in engineering the same way my role models were for me."
Anaïs Poirier
Bachelor's degree in electrical engineering, plus professional experience year co-op
In studying engineering, Anna Poirier found an opportunity to effect real change – and that is how she plans to use her degree.
For her PEY co-op, Poirier moved to Kentucky to work as a software engineering intern at Space Tango, a microgravity research company.
During this time, a colleague suggested she apply for the Zenith Canada Pathways Fellowship, Canada's first space fellowship, which aims to build a more inclusive Canadian space sector.
"I was selected as a fellow in the inaugural class, leading to a summer internship at GHGSat," Poirier says. "I got to experience the positive global impact that working in the space industry can have."
Poirier will be moving to San Francisco after graduation to work as a software engineer at Zipline, where she will test flight hardware. The company, which manufactures drones that serve as eco-friendly delivery vehicles, delivered over a million COVID-19 vaccines to Ghana.
"I am excited to be working in a multi-disciplinary role that will use both the electrical and computer sides of my degree, and for a company whose mission I strongly believe in," she says.
Saskia van Beers
Bachelor's degree in engineering science, plus professional experience year co-op
While her engineering classes taught Saskia van Beers how to learn and think critically about the world around her, she was able to put those concepts into practice in her extracurricular activities.
"My worldview shifted greatly through all the initiatives I got to be a part of," she says. "I definitely feel like I have undergone a lot of personal growth."
From her role as co-president of Engineers Without Borders to co-chairing both the Engineering Science Club and the Sexual Violence Education and Prevention group, van Beers has worked tirelessly to help make all students feel welcome and seen.
Along with her classmate Savanna Blade, she ran a virtual consent culture town hall that brought together more than 80 of her fellow engineering science students to discuss all aspects of consent and the kinds of change they would like to see within their community.
After graduation, van Beers plans to pursue the collaborative specialization in engineering education program at the master's level at U of T, with research focused on the intersectionality between equity advocacy work and the fundamentals of engineering education.
"I have been a longstanding believer that diversity within the engineering field allows for better engineering progress," she says. "I would like to continue to make a positive impact on the changing culture of engineering."
Kim Watada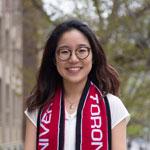 Bachelor's degree in chemical engineering plus professional year experience co-op
Kim Watada is graduating with nearly two years of experience in sustainability consulting, research and investing already under her belt.
"There are a lot of ways you can work in sustainability, and coming from an engineering background has given me the chance to explore many different paths," she says.
"I've built a cleantech startup, worked in decarbonization strategy and studied renewable energy in Iceland. With each new perspective, I've been able to hone where my interests lie in sustainability and climate action."
This spring, Watada and her team – the only one from Canada – won the Emerging Markets prize at the Climate Investment Challenge, a graduate-level climate finance design competition run by Imperial College London.
All this experience will come in handy after graduation, as Watada completes an internship with the United Nations' Circular Economy and Resource Efficiency Unit in Vienna before taking up a position in management consulting for the Boston Consulting Group.
In the future, Watada hopes to leverage her knowledge to bridge the gap between environmental need, clean technology and tangible climate action.
"The greatest skill I have learned at U of T is how to be curious," she says. "Being intrinsically open to learning new things is the key to solving problems in whatever field you choose."
Engineering