Mark Carney to U of T grads: 'Recognize that while diversity is a reality, inclusion is a choice'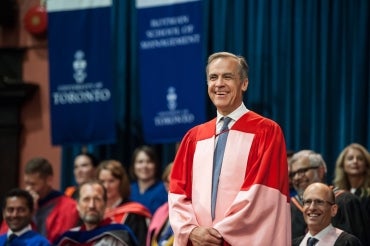 There are few people more capable than Mark Carney during an economic or financial crisis – a good thing since he often seems to find himself at the epicentre of one.
The former investment banker was appointed governor of the Bank of Canada just before the 2008 meltdown on Wall Street blew a hole in the global economy, threatening to take Canada down with it. 
Then, in 2013, he took the job as governor of the Bank of England – just in time for the 2016 Brexit vote, which roiled global markets and sent the British pound plummeting to a 30-year low.
In both cases, Carney, who received a Doctor of Laws, honoris causa, from the University of Toronto on Monday, moved quickly to defuse a potentially disastrous situation, earning him a reputation as a "rock star" of the central banking world – a title friends and former colleagues say is well-deserved.
"Working with Mark was a real privilege," Tiff Macklem, a former senior deputy governor of the Bank of Canada and the current dean of U of T's Rotman School of Management, told Maclean's magazine back in 2016. 
"He has an extraordinary ability to really get to the nub of an issue quickly. He's not someone to sit on his hands and allow things to deteriorate."
Carney was born in Fort Smith, N.W.T., and raised in Edmonton. It wasn't long before he was earning economics degrees from Harvard and Oxford, and fashioning himself as a rising star at Goldman Sachs, the legendary Wall Street investment bank.
In between, Carney also managed to find time for his other passion: hockey. He was a backup goalie at Harvard and helped whip into shape an Oxford team as co-captain. 
A deeply ingrained sense of civic duty ultimately led Carney to Ottawa, where he spent time as the Bank of Canada's deputy governor as well as in the federal finance department.
"Some people feel an obligation to public service, and if they do, then they should pursue it," he explained to Report on Business magazine in 2009 when asked why he left a promising career in the private sector. "Others don't."
Carney returned to the Bank of Canada in early 2008 – this time as governor. Three years later, he also took on the role of chair of the Financial Stability Board, which seeks to promote global financial stability through the co-ordination of regulatory and supervisory policies. 
Carney was later approached about the top job at the Bank of England, a nearly 325-year-old institution that was in need of reform. He accepted on the condition that he only commit to a five-year term, three years shorter than the usual appointment. 
In late 2016, however, Carney announced he would stay on for an additional 12 months, until June 2019, as the U.K. plotted its EU withdrawal, his sense of duty kicking in again. Beyond that, Carney's next big move – and whatever fresh crisis awaits – is anyone's guess.
A message to U of T grads from Mark Carney:
Always remember that, as leaders, you will be stewards of your organizations. Leadership is the acceptance of responsibility rather than the assumption of power and true leadership is not an end in itself but rather as a means to accomplishing a worthwhile goal.
Define your purpose and stick to it obsessively. Remember that purpose, including of business, must be grounded in the objectives of clients, society and humanity. As John Kay observed, "Profit is no more the purpose of business than breathing is the purpose of living."
And, in a world prone to division, fusion will bring breakthroughs. Select your teams wisely and recognize that while diversity is a reality, inclusion is a choice. Take it and enjoy the ride.
UTC