Margaret Atwood reveals she's writing a memoir: NBC's Today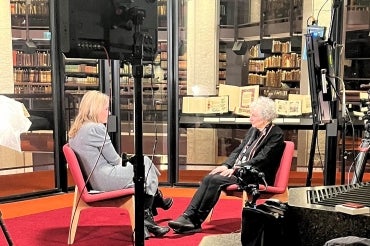 Her bibliography includes more than 50 titles spanning fiction, poetry and essays, but author Margaret Atwood says she's tackling new terrain in her next book: her own story.
Atwood revealed on the NBC's Today show that she's working on a memoir – a project she'd previously denied any interest in tackling.
"That's the kind of thing you say in your youth," Atwood, 83, told host Jenna Bush Hager during an interview shot inside the University of Toronto's Thomas Fisher Rare Book Library. "You say that when you're maybe 70."
Atwood – who completed her bachelor's degree at Victoria College and was a U of T writer-in-residence in 1972 – talked about her latest collection of short stories, Old Babes in the Wood, and leafed through selections from her extensive archives housed at Fisher, which may serve as a useful resource as Atwood turns her pen on herself. "You can't just make stuff up," she says.
Back in the studio, Bush Hager told her Today co-hosts she was excited to spend time with Atwood at her alma mater. "U of T was where Margaret did her undergrad, so it was very cool to be back there with her," Bush Hager said, thanking Thomas Fisher for hosting the interview. "They very rarely let people film there, but of course, when the queen of Canadian literature comes, they roll out the red carpet."
UTC