Low-glycemic diet reduces cardiometabolic risks for people with diabetes: U of T study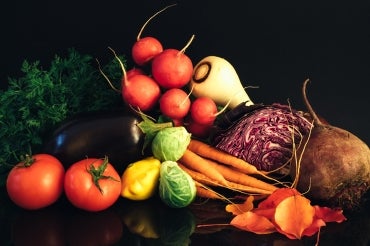 A low-glycemic diet results in small but important improvements in cardiometabolic risk factors, including blood sugar levels and body weight, for people with diabetes, according to a University of Toronto study analyzing multiple clinical trials.
The improvements were evident over and above existing drug or insulin therapy, suggesting that a low-glycemic diet might be especially useful as an add-on treatment to help people with diabetes achieve therapeutic targets.
The glycemic index (GI) rates how quickly different foods affect blood sugar levels. White breads and highly processed foods have a high glycemic load, while whole foods, vegetables and fruits tend to rate lower.
"Diet and lifestyle modifications are foundational for managing diabetes, but for patients who require insulin or other medications, dietary patterns with a low GI are likely to improve blood glucose control as well as cholesterol levels, body weight and markers of inflammation," said John Sievenpiper, an associate professor in the departments of nutritional sciences and medicine at U of T's Temerty Faculty of Medicine and the study's principal investigator.
The study, published in the journal The BMJ, included more than 1,600 participants with type 1 or 2 diabetes from over two dozen randomized, controlled trials that looked at the effect of low-GI diets in diabetes. Participants were mostly middle-aged, overweight or obese with moderately controlled type 2 diabetes treated with drugs or insulin. 
The researchers saw reductions in risk factors such as fasting glucose, low-density lipoprotein (LDL) cholesterol, triglycerides, body weight, systolic blood pressure and C-reactive protein (a chemical associated with inflammation), but not blood insulin levels, high-density lipoprotein (HDL) cholesterol or waist circumference.
"We predict that these reductions would translate to an important reduction of risk for major cardiovascular events, the leading cause of death in people with diabetes," said Sievenpiper, who is also a staff physician and scientist at St. Michael's Hospital, Unity Health Toronto. "So there is clearly an opportunity for patients to benefit by shifting to low-GI dietary patterns."
The glycemic index was developed by U of T Professor David Jenkins and colleagues in the 1980s. He and other researchers have shown that low-GI foods, which include fruits and vegetables, as well as many pulses and whole grains, can help keep blood sugar levels steady and reduce the risk of heart disease in people with diabetes.
Clinical guidelines for diabetes treatment across the world recommend a low-GI diet, although the last guideline from the European Association for the Study of Diabetes is more than 15 years old and researchers have conducted many trials since then.
The researchers, including first author and post-doctoral fellow Laura Chiavaroli, found that the certainty of evidence was high for reduction in blood sugar levels and moderate for most other outcomes.
They point out limitations that may have affected their results, including imprecision in the evidence for the effect of low glycemic index dietary patterns on LDL cholesterol and waist circumference, and the small number of available trial comparisons for blood pressure and inflammatory markers.
Yet, they write that, overall, the evidence supports existing recommendations for the use of low-GI dietary patterns in the management of diabetes.
The study was funded by the Diabetes and Nutrition Study Group of the European Association for the Study of Diabetes, the Canadian Institutes of Health Research, Canada Foundation for Innovation and the Ministry of Research and Innovation's Ontario Research Fund.
The study is the largest and most comprehensive synthesis to date, and will help inform an update to the European Association for the Study of Diabetes's guideline.
Medicine