'The longest-lasting injury': U of T marks Orange Shirt Day, National Day for Truth and Reconciliation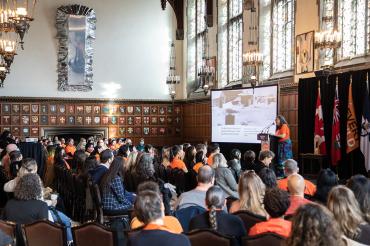 The University of Toronto community gathered in-person and virtually Friday to commemorate Orange Shirt Day and the second annual National Day for Truth and Reconciliation – and to reflect on Canada's treatment of Indigenous Peoples and the lasting impact of the residential school system on Indigenous communities.
As many as 100 people – most wearing orange shirts – attended a ceremony at Hart House on the St. George campus that was streamed live over YouTube, where hundreds more watched.   
Keynote speaker Brenda Wastasecoot, an assistant professor at the Centre for Indigenous Studies who is Cree from Churchill, Man, reflected on the trauma residential schools inflicted on her family.
"Residential schools, taking kids away from their families … that's the longest-lasting injury," she said. "There are many of us who didn't go to residential schools, but we saw off our siblings."
She shared personal details of her story through a visual presentation of her doctoral dissertation titled, "The Nikis Story is the Story of Canada: Reflecting on the Impacts of the Indian Residential Schools." 
The youngest of 11, Wastasecoot recalled seeing each of her siblings be taken away to residential schools. But she said she was spared because residential schools were no longer compulsory in Manitoba when she became school-aged – the result of the federal government handing over control to the provinces.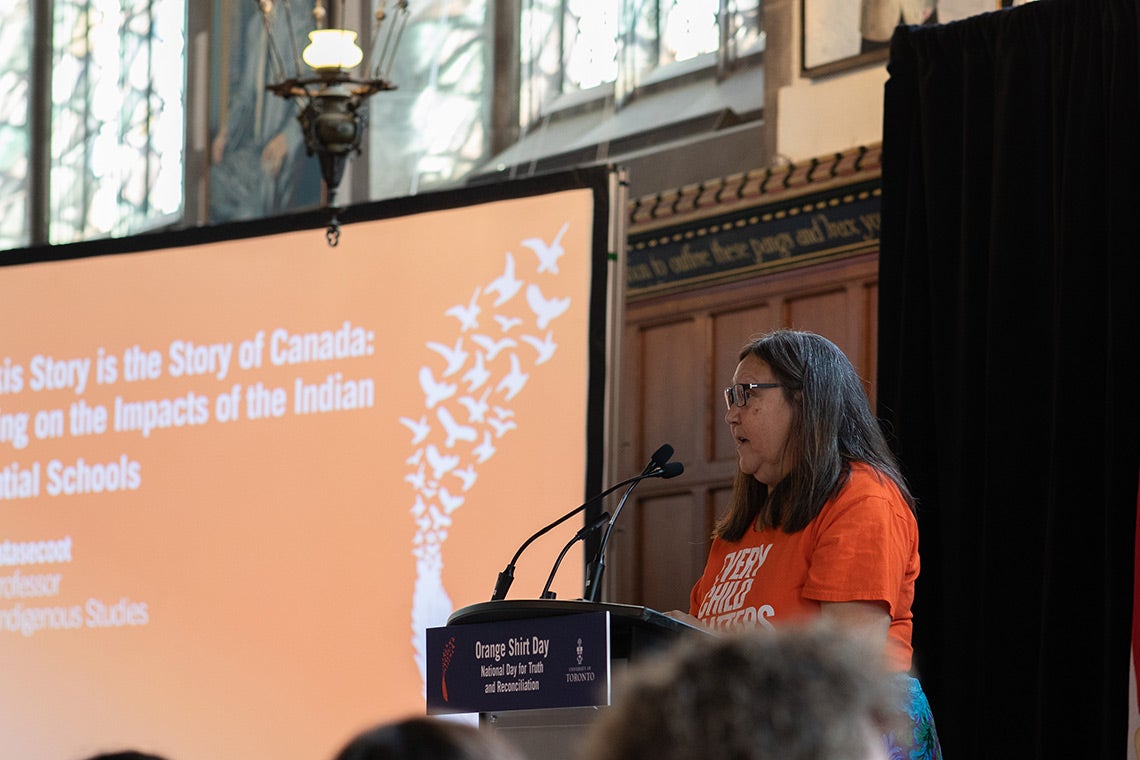 (photo by Polina Teif)
Her daughter, Dayle Wastasecoot, sat in the audience. She said she originally planned to stay home but decided to come to be with the Indigenous community instead.
"I grew up learning these stories and I feel like it's important to share with the community," said Dayle, who is in the transitional year program at U of T.
"It's such an important day, but it's also a lot of grief. It's the day of grieving and mourning," she said. "I want people to know that Indigenous people are still affected today."
The event also included remarks from Kelly Hannah-Moffat, vice-president of people strategy, equity and culture, and Alexandra Gillespie, U of T vice-president and principal of U of T Mississauga.
"I'm grateful for the opportunity to work on this land, in Toronto, Scarborough and Mississauga, which stems from relationships formed in Treaties 13 and 13A," Gillespie said during a land acknowledgement. "I know that that opportunity carries responsibilities embedded in the living history of this place."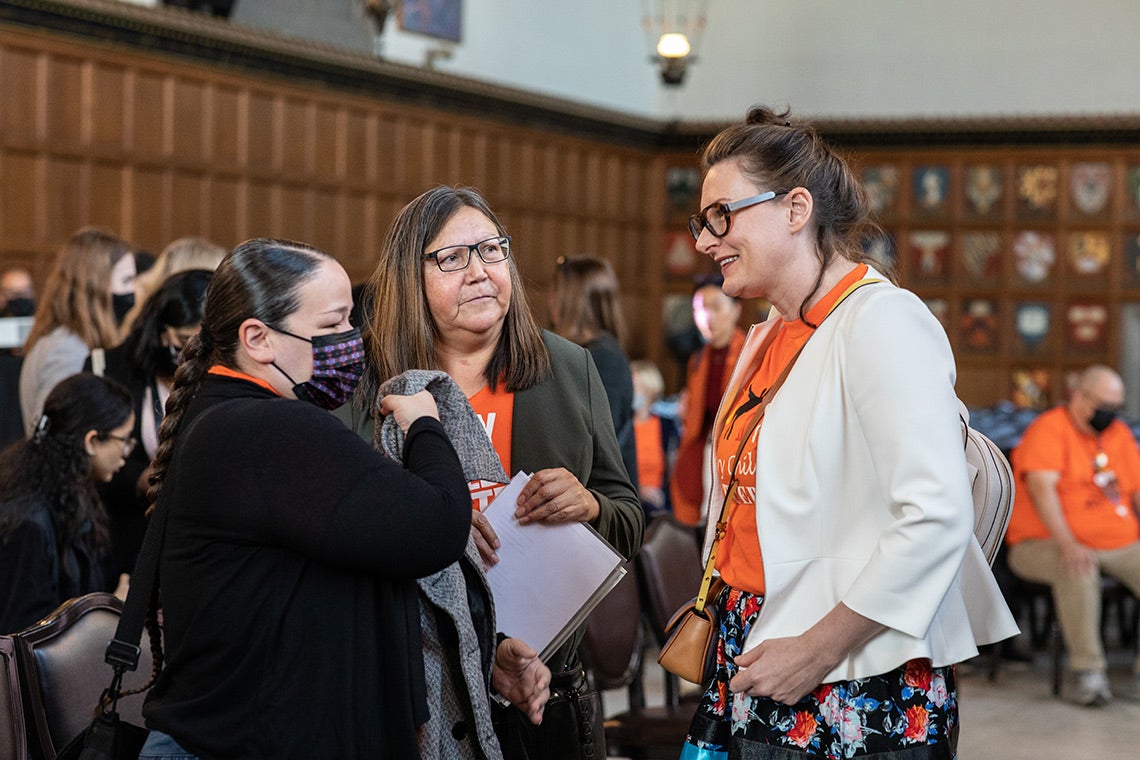 From left: Jaime Kearns, president of the Association of Part-time Undergraduate Students, Brenda Wastasecoot, assistant professor, Centre for Indigenous Studies and Alexandra Gillespie, U of T vice-president and principal of U of T Mississauga (photo by Polina Teif)
Hannah-Moffat acknowledged the presence of the Eagle Feather on stage, which was gifted to the Office of the President by Elders at the 2017 entrustment ceremony for the U of T Truth and Reconciliation Steering Committee's Report, "Answering the Call: Wecheehetowin."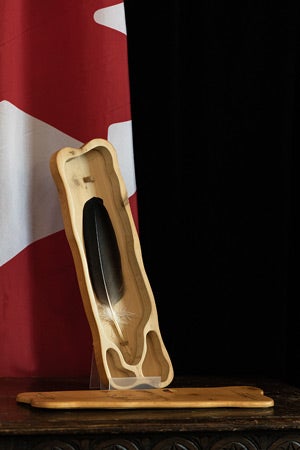 "The Eagle Feather symbolizes such qualities as respect, strength, courage and wisdom," she said. "All of that was absent in the decision to establish residential schools across Canada and to sustain this horrific system until the late 1990s.
"Yet those qualities are top of mind today as we reflect upon and honour the generations of children who attended residential schools, the many who were lost and those who survived."
The commemoration at Hart House was just one of many ways U of T sought to honour Indigenous Peoples.
Across all three U of T campuses, flags were flown at half-mast to observe the National Day for Truth and Reconciliation and to honour residential school survivors, their families and communities, and ensure that public commemoration of the history and legacy of residential schools remains a vital component of the reconciliation process. Earlier this month, the Every Child Matters Flag was raised over Varsity Stadium.
U of T Scarborough commemorated Orange Shirt Day and the National Day of Truth and Reconciliation with events throughout the week, while the Indigenous Centre at U of T Mississauga made tickets available for virtual tour of the Mohawk Institute Residential School in Brantford, Ont.
The Office of Indigenous Initiatives worked with the U of T Bookstore to bring orange Every Child Matters T-shirts to the bookstores on all three campuses for the first time. All were sold out.
Evelyn Bolton, a second-year student in the department of political science in the Faculty of Arts & Science who attended the Hart House event, said generations of her family were forced to go to residential schools.
"It's a history that's impacted my family for decades and it still impacts my family today," she said. "My grandma never talks about it but being here today makes me realize that it is something we need to talk about."
Bolton recalls high school classmates and teachers not being familiar with the history of Indigenous Peoples. Originally from Beausoleil First Nation, she said she is on a journey to reconnect with her roots and her community.
"I'm planning to speak to different Elders and be more involved in different ceremonies."
Giselle Del Valle, a second-year psychological health sciences student at U of T Scarborough, is on a similar journey to reconnect to her community.
"It's been extremely hard. There's a lot of trauma when it comes to that side of my identity," said Del Valle, who is originally from Upper Mohawk First Nation at the Grand River Six Nations Reserve.
"I'm doing it on my own, but having First Nations House and being able to speak with Elders through the university has been a major help."
Del Valle said she was grateful for the opportunity to introduce Wastasecoot at the event.
"It was another opportunity to get to know the Indigenous community and hear another knowledgeable and experienced voice."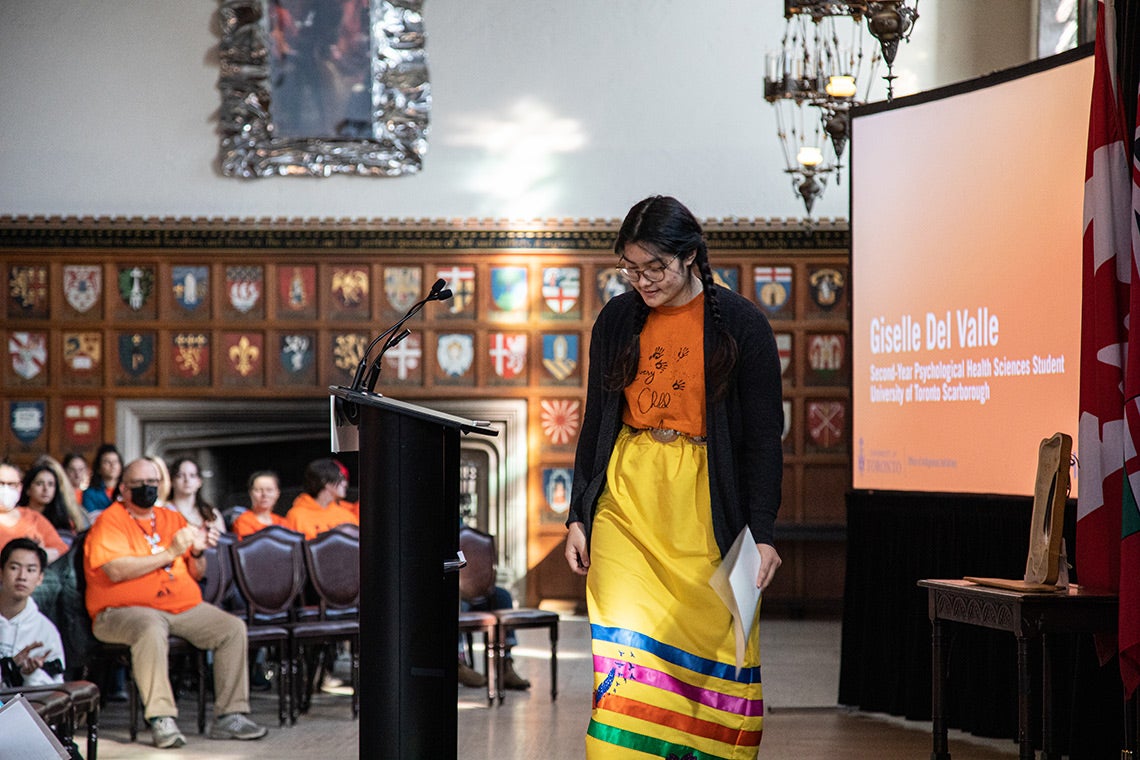 Giselle Del Valle, a second-year psychological health sciences student at U of T Scarborough, introduced keynote speaker Brenda Wastasecoot (photo by Polina Teif)
After the Hart House event, Indigenous students, staff and faculty and librarians were invited to a fire at Kahontake Kitigan Garden, the Indigenous Students' Association medicine garden, outside Hart House.
They are also invited to a U of T Indigenous Community Gathering on Oct. 3 at Hart House Farm, which is being organized and supported by the Office of Indigenous Initiatives, Hart House, the Faculty of Arts & Science, the Faculty of Kinesiology & Physical Education, Woodsworth College, U of T Mississauga Indigenous Centre and First Nations House.
Del Valle said she wants people to remember that "this is not just a one-day thing."
"Indigenous folks have to live with this reality every second of their lives. It's stuck with you and it's impossible to get away from," she said.
"So, it's not just September 30. In order to make progress and make a better future for everyone – not just Indigenous folks – we need to keep pushing forward."
---
Members of the Indigenous U of T community in need of support can reach out to:
The National Indian Residential School Crisis Line (1-866-925-4419)
Students:
U of T My Student Support Program (My SSP) can be accessed 24/7 by phone or via the My SSP app.
Other mental health resources, programs and supports are available through the student mental health resource page.
Staff and faculty:
Employee and Family Assistance Program (1-800-663-1142)
UTC