Level Up: what video games will U of T and OCAD U students unveil this year?
Students pair up to design video games for the 7th annual showcase on April 5
Designing the next Angry Birds isn't all fun and games. 
"There are a million reasons why a game can fail, compared to the few reasons that make it succeed," says Steve Engels, an associate professor, teaching stream in the University of Toronto's department of computer science. "Typically, success can only come after encountering and regrouping from failure."
His students teamed up with OCAD University students to develop games for the Level Up Showcase, a conference for budding programmers from 15 universities and colleges. Now in its seventh year, the showcase attracts over 2,000 guests, including many in the industry who will be rating and critiquing the 75 games on display.
Remember Pitfall Planet? That game was first unveiled at Level Up in 2015. Since U of T began offering the half-semester course in video game design 10 years ago, enrolment has tripled. 
Since 2011, the class has been co-taught with Emma Westecott, an assistant professor in OCAD U's Faculty of Design.
"The benefit for the students is that they're put together with people with different literacies and skills, and they get to make something together," she said. "It's as close as you can get to the real experience" of designing a game.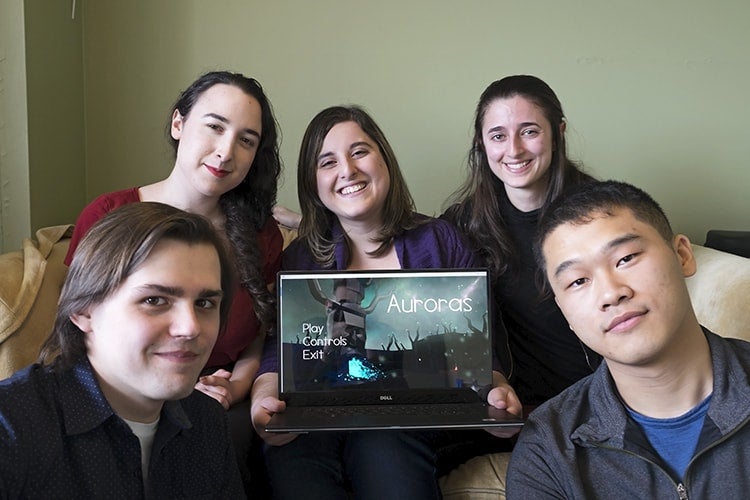 The brains behind the video game Auroras. From left to right, Daniil Kouznetsov, Leora Rogovein, Christine Murad, Jasmin Lantos and Linden Li (photo by Geoffrey Vendeville)
If any of the students' projects is half as entertaining or addictive as Angry Birds, it will probably get an "A." Its creators may also get jobs out of it. Ubisoft and Google have hired past stars of Level Up, Engels said. 
The U of T-OCAD U games this year run the gamut from a Doctor Who-inspired "puzzler" to a stealth game in which the goal is to steal stuff from a house party without getting caught. Here are the highlights:
Auroras
Team members: From U of T, Emily Han, Daniil Kouznetsov, Jasmin Lantos, Christine Murad and Leora Rogovein, and from OCAD U, Linden Li and Jacqueline Lee
Number of players: Two
Type of game: First-person co-op puzzler
Inspired by Slavic mythology and an episode of Doctor Who with a cult following, Auroras is set in a castle in which a "Doomsday beast" has been set loose. The players take the roles of twin sisters, the evening and morning stars.
"We wanted to start with a message or underlying theme," said Lantos. "We decided to go with identity because it resonated with a lot of us." 
The sisters have to solve puzzles while avoiding deadly statues that only move and attack when the players are looking away or closing their eyes.
Neon Ascension
Team members: From U of T, Grace Zhu, Philip Bilodeau, Jeffrey Deng, Catherine Wang and Daniel Son, and from OCAD U, Sam Rasmussen and Matt Crans 
Number of players: Two
Type of game: Arcade
"Neon Ascension is a competitive endless climber game, where two players compete for survival on a wall of infinite height," said Zhu, who is in her last year of a computer science major.
"The game is fast-paced, action-packed and features retro-futuristic design in dazzling neon colors. Players stay alive by rearranging adjacent blocks on the wall, giving them plenty of opportunity to save themselves or sabotage their opponents."
Pickup Artist
Team members: From U of T, Bo Yuan Zheng, Isabelle Chan, Chang Cheng Zhang, Wayne Zhang and Juan Camilo Osario, and from OCAD U, Bailey Stanutz and Angelo Flores
Number of players: Up to 11, but currently best played with two to four
Type of game: Casual/indie/stealth
You're the worst guests at a house party, trying to make off with as much of the hosts' furniture without attracting attention. The laws of physics don't seem to apply here – fridges and couches bounce around, adding an element of silliness.
"Quickly steal small objects yourself, work together to steal bigger objects, and win by being the person who steals the most," said Zhang.
Don't try this at anyone's home.  
Sizis
Team members: From U of T, Ben Hu, Anthony Chernyak, Kelley Tai, John Lacuna, Olusola Nylander and Daniel Murphy, and from OCAD U, Colin Brannon and Melissa Gaa
Number of players: One
Type of game: Exploration and puzzle
The player is set loose in a cartoonish fantasy world with floating islands where they can choose a path to go on different adventures. The goal is to collect special rocks along the way, but to do that one must grow or shrink objects using magical powers.
"During testing, we saw that people would get stuck and would have to wrap their heads around how to solve the puzzle," said Hu, a fourth-year computer science student. "Once they did, they felt great."
At the end of the game, the player gets to flex their powers in a "sandbox area" where there are no limits to their ability to enlarge or shrink things. (A demo of Sizis for OSX and Windows can be downloaded here) 
UTC