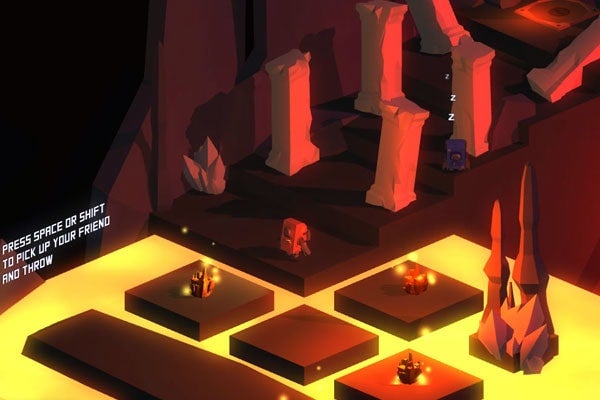 Interested in video game design? This is the place to be
Level Up, Ontario's premier showcase of student game design, is ready for players April 2
Level Up offers members of the public the chance to check out 80 interactive projects from 16 different institutions, says the University of Toronto's Steve Engels. And everyone is welcome – from gaming enthusiasts to industry leaders.
What began as a small academic collaboration, mixing Engels' game programmers with a cohort of designers from the Ontario College of Art & Design (OCAD U), has evolved into Ontario's premier gaming event, Engels said. The fifth annual Level Up takes place April 2 at the Design Exchange. (Read The Toronto Star article about Level Up.)
"Level Up has grown so much," said Engels. A senior lecturer at U of T's department of computer science, Engels co-founded the event with Emma Westecott, an assistant professor at OCAD U.
"We expect over 2,000 people to attend. It's not just a student event anymore. It has become part of the gaming community's agenda."
Level Up was created as an end-of-term exhibition where students could showcase their work but Engels and Westecott soon decided to invite other universities and colleges to participate. The showcase highlights the best student game developers and designers using the most current technology and gaming platforms.
"Level Up validates students' work," said Engels. "Their creations are acknowledged outside the course. Students get feedback and affirmation from not only their instructors, but their peers and people who work in the gaming industry."
Fourth-year computer science student, Daphne Ippolito says Level Up is about far more than a course grade.
"Level Up is an incentive to work hard – no one wants to make a bad game. We all want to make something amazing that we can be proud to demo to our friends, professors and the industry."
Ippolito is one of the creators of a game called Pitfall Planet, along with fellow U of T programmers Alexander Biggs and Adam Robinson-Yu, and OCAD artists Emma Burkeitt, David Czarnowski, and Guy Torsher. The game takes place in an extra-terrestrial mine. The levels consist of puzzles that are best solved when the players, acting as astronauts, work together.
The course theme for Engel's students at Level Up this year is "indie games", as the trend in the gaming industry has shifted to self-publishing. Students were asked to create games that are unique, small-scale and concentrated to the user's experience.
"Now with downloadable content and app stores, it's opened the gaming world to anyone who has the tools to create these games," said Engels, whose game design students have gone on to self-publish successfully. "This has influenced our courses, and so we decided to move in this direction and focus on games that were small and agile, as they appeal to players today."
The lead organizers of Level Up 2015 include Algonquin College, Ontario College of Art & Design (OCAD U), the Ontario Institute of Technology (UOIT) and U of T's department of computer science. The event receives additional support and sponsorship from multiple organizations in academia, government and industry.
(Image below: Level Up 2014)
Computer Science