Leah Cowen named U of T's vice-president, research and innovation, and strategic initiatives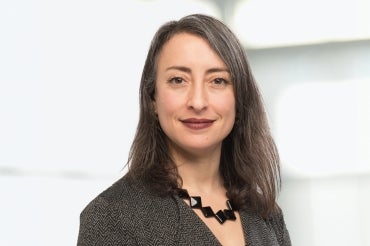 Professor Leah Cowen has been named the University of Toronto's vice-president, research and innovation, and strategic initiatives.
A leading expert on infectious fungal diseases, Cowen takes on the position after serving, since March, as U of T's inaugural associate vice-president, research – a role that saw her collaborate with heads of academic divisions and U of T's Research Advisory Board to advance research excellence and impact.
In her new position, Cowen will, among other things, lead U of T's globally recognized strategic research mission, foster research collaboration and partnerships, and champion equity, diversity, inclusion and accessibility in research and innovation.
She will serve for a term that begins Jan. 1, 2022 and ends on June 30, 2026.
"It's really an honour and a privilege to have the opportunity to lead such an incredible research community at the University of Toronto, with such tremendous diversity and breadth of excellence and impact," Cowen said.
She added her stint as associate vice-president, research exposed her to the wide range of research at the university.
"That role was a great opportunity to learn about what's happening in all the faculties, campuses and divisions – and to get a sense of the different cultures, communities and context for research across the university," Cowen said. "It really allowed me to understand the opportunities and challenges in enabling continued excellence and impact in our research ecosystem."
Cowen will succeed University Professor Ted Sargent, who is stepping down from the vice-presidential role on Dec. 31 to take a new role at Northwestern University after a transition period that begins in early 2022.
President Meric Gertler said Cowen was selected for the position following a "comprehensive international search" led by the Advisory Committee on the Vice-President, Research and Innovation, and Strategic Initiatives, which he chaired.
"Professor Cowen brings an outstanding track record of interdisciplinary scholarship, high-impact research and teaching excellence, and a proven record of knowledge translation and entrepreneurship," he said.
"We very much look forward to Professor Cowen joining the vice-presidential team."
Cowen, a professor in the department of molecular genetics in the Temerty Faculty of Medicine, joined U of T as a faculty member in 2007, having previously received her PhD from U of T and an undergraduate degree from the University of British Columbia. She eventually rose to the rank of full professor and chair of the department of molecular genetics in 2016.
Her lab studies how fungal pathogens, which infect billions of people and kill more than 1.5 million people each year, gain resistance to drugs and cause disease. Her research program wields an interdisciplinary approach to address the need for new lifesaving antifungal drugs.
Cowen holds a Canada Research Chair in Microbial Genomics and Infectious Disease and is co-director of the CIFAR program "Fungal Kingdom: Threats & Opportunities."
She is also co-founder and chief scientific officer of Bright Angel Therapeutics, a pre-clinical stage biotechnology firm that focuses on the development of novel therapeutics to treat fungal infections.
Cowen says she looks forward to taking over the stewardship of U of T's research and innovation ecosystem and says her core priorities will include:
Recruiting the world's best and brightest scholars
Enabling a culture of inclusive excellence and high-impact, interdisciplinary research and collaboration
Growing the university's research funding from a rich array of national and international sources
Increasing the impact of U of T's research enterprise by mobilizing knowledge to "really address the grand challenges of our time"
She says U of T researchers' response to one pressing challenge in particular – the COVID-19 pandemic – speaks to the skill and creativity across U of T's research apparatus.
"What we've seen in our academic community is an exceptional ability to pivot," Cowen said. "People have transformed their research programs to address this critical health crisis, and we've seen a major increase in the level of collaboration and partnership, with people working collectively toward a common goal."
"There has been tremendous engagement and a recognition that we need really great, diverse minds at the table with different kinds of skillsets to solve such a grand challenge."
Cowen hailed Sargent, her predecessor in the vice-presidential role, as a "remarkable scholar and an inspiring academic leader" who leaves an indelible mark on the university.
"Ted Sargent has had a phenomenal impact and leaves a remarkable legacy," said Cowen. "I've had the pleasure of learning from him … and understanding how the goals and strategic plans he set were not his alone, but rather a collective reflection of the priorities of our broader community.
"What he did was build community and mobilize toward a collective goal, using an approach of inclusive excellence to make sure that we work together centrally to support and enable our divisions, and collaborate to achieve something that's much greater than the sum of the parts."
While Sargent is moving on to Northwestern, he will continue to maintain a significant research presence in Toronto, allowing him to retain his longstanding affiliation with U of T and supervise graduate students and post-doctoral researchers.
For his part, Sargent said he was delighted to see Cowen taking on the role of vice-president, research and innovation, and strategic initiatives.
"Professor Cowen is a globally celebrated scholar who has an outstanding record of leadership at U of T. She is an accomplished entrepreneur and a renowned member of the global research community – for example, through her leadership of a prominent CIFAR program," Sargent said.
"Her deep knowledge of the research, innovation and strategic initiatives portfolio – combined with her passionate commitment to U of T, its scholars, staff and students – equip her perfectly to continue her remarkable record of success and impact as an academic leader."
UTC