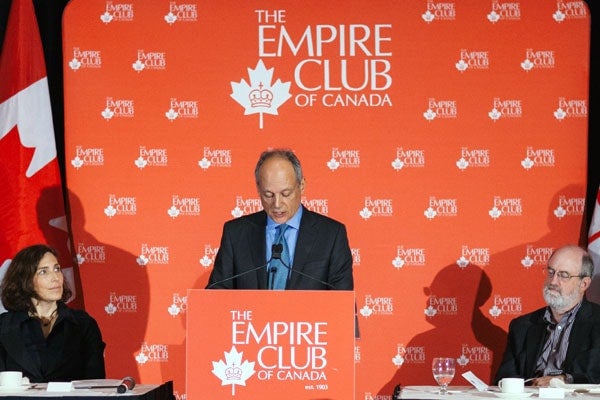 Laying the groundwork for prosperity: Canadian cities and their universities
President Meric Gertler addresses Empire Club of Canada
Canada's cities are building the foundations of our future prosperity, University of Toronto president Meric Gertler told a capacity crowd at the Empire Club of Canada. 
Though in the past the country has been able to prosper from high oil prices or a strong manufacturing sector, Canada needs to look at the bigger picture, he said at the May 22 talk at the Toronto Sheraton Hotel. 
"Given the obvious risks associated with relying on oil to power our economy, and with the uncertain prospects facing our traditional manufacturing heartland, it seems obvious to be asking ourselves a larger, existential question: where will the future prosperity of our city, province and nation come from?" Gertler asked.
For the answer, he said, we need to "turn our collective gaze towards our cities" and their universities. Cities are thriving because of sectors such as financial services, the creative economy, tourism, information and communications technologies, and a host of other industries that benefit from the dynamism of our urban regions. Creative people and innovative companies are drawn to cities, and cities are also home to large concentrations of sophisticated customers, he said."Cities are privileged sites for innovation, entrepreneurship and the flourishing of ideas and opportunities."
Because of this, governments need to support and nurture cities and their institutions of higher learning, Gertler said. 
"Our own efforts in Canada are improving, but still pale in comparison," Gertler said, noting that the United Kingdom has created a cabinet-level position with a mandate for universities, science and cities.
"Canada needs to provide more thoughtful, strategic support for its urban regions. Transportation funding, housing support and other investments that enhance the livability and functional efficiency of our cities are the obvious places to start," said Gertler, adding that the commitments made in this year's Ontario and federal budgets to invest in transportation infrastructure represent a welcome step forward.
Gertler used Toronto's strengths in biomedicine to support his argument. "Toronto is at the heart of a biomedical cluster with few equals in the world." 
This biomedical strength is thanks in part to U of T, Gertler said. Besides housing Canada's largest medicine faculty, U of T is also home to several other health science faculties, such as nursing, dentistry, pharmacy, public health and social work, as well as the Institute for Biomaterials and Biomedical Engineering, and the Donnelly Centre for Cellular and Biomolecular Research, Gertler said. Other strengths include the Mississauga Academy of Medicine, a health sciences network of nine renowned partner hospitals and other healthcare institutions in the region, he said.
U of T is also at the heart of one of North America's fastest-growing entrepreneurial clusters. "Since 2010, no single university in North America has helped create more startup companies than U of T and its partner hospitals."
But Toronto's strengths are not due only to U of T, he said. Other institutions of higher education and research, such as York, McMaster, Waterloo, Ryerson, OCADU and Guelph, contribute greatly to the region's success. 
"The Toronto region's remarkable and diverse strengths are already a major force in our province's and our nation's prosperity," he said, but "we can do better." 
Gertler pointed to the overlap between major research centres and major economic centres, stressing the increasing importance of international collaboration in building prosperity.
"Well-connected, globally-networked centres of knowledge production are increasingly coming to the fore as the world's leading economic centres. Venture capital and other forms of mobile investment now seek out these special places and the opportunities that are signaled by their worldleading research and talent."
Gertler noted that other Canadian cities such as Montreal, Vancouver and Edmonton are also thriving, thanks to strong research universities. 
"This isn't just about Toronto. It is about Canada. Canada's urban regions and its urban universities are building the foundations of our nation's future prosperity." 
Read the complete speech: http://www.president.utoronto.ca/speeches/foundations-for-canadas-futur…
Terry Lavender writes about cities and global issues for U of T News.