Kylie Masse completes Tokyo medal haul with silver in 200-metre backstroke, bronze in relay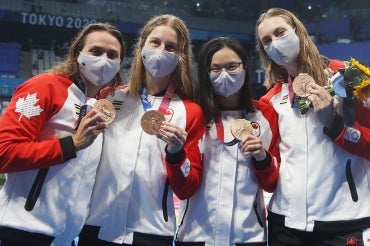 Recent University of Toronto graduate Kylie Masse helped Canada win bronze in the 4x100 medley relay over the weekend, earning her third medal of the Tokyo Olympic Games. 
Masse, who graduated from the Faculty of Kinesiology & Physical Education this year, swam first in the relay and gave Canada the lead after the backstroke leg with a time of 57.90. The Canadian team – which also featured Sydney Pickrem (breaststroke), Maggie Mac Neil (butterfly) and Penny Oleksiak (freestyle) – went on to set a Canadian record in the event with a time of 3:52.60. They finished behind the Australian and the American teams, who took gold and silver. 
"It's so special," Masse, a former Varsity Blues swimmer from LaSalle, Ont., told CBC when asked about the difference between swimming in individual and relay events. "These girls have been my people, especially this past year through all the challenges with COVID.
"We've been together and by each other's side so I'm really happy to have done this here with them tonight."
One day earlier, Masse took silver in the 200-metre backstroke, beating her personal best time and the previous Canadian record, which she held. Last week, she took home a silver in the 100-metre backstroke.
A bronze medal-winner in the 100-metre backstroke at the 2016 Games in Rio, Masse has now climbed the podium four times over two Olympics. 
Byron MacDonald, head coach of the Varsity Blues swim team, praised Masse's performance in Tokyo. 
"The word 'incredible' really doesn't seem to do justice to what Kylie has accomplished today and over the past six years," he said in an email from Japan, where he's working as a CBC swimming commentator.
"Elite sports is about performance on demand and Kylie has always done that. She is so humble and gracious with her success. She is a true champion of sport."
KPE