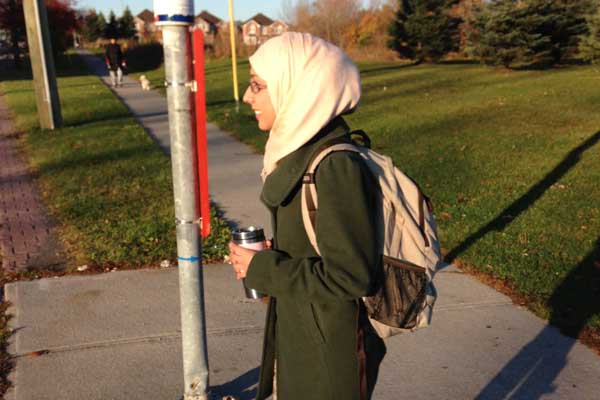 Just how bad is your commute?
For Aqsa Malik it's a two-hour journey between home and campus
It's Monday, 7:45 a.m. and Aqsa Malik is starting her long trek from her Markham home to U of T. She'll be in class for three hours, but spend at least an hour more than that commuting to and from the downtown Toronto campus.
Malik's travel adventure is not atypical. Thousands of post-secondary students in the GTA face a similar journey. U of T and three other universities in Toronto want to know more about it, and in September launched a transit survey for students. Malik is taking part and says she's looking forward to receiving the survey in the mail.
Up at 6:45 a.m., she receives a car ride from older sister Aqdas, who drops her off at the corner of Steeles Ave. and Markham Rd., her usual bus stop at 7:45 a.m. A U of T News writer accompanied her on the rest of the way downtown.
7:57 a.m. The Steeles Ave. bus arrives, half full. Malik is carrying her cell phone, a container of tea and her knapsack.  In it she has two school books – The Economy of Cities by Jane Jacobs and Rule by Aesthetics by Asher Ghertner.  She also has her lunch, sliced cucumbers and apples and a tuna sandwich, and her dinner, Chinese rice.
Malik, 21, is in her first year of the master's program in science and urban geography. She's been interested in public transit since high school, then during her years as an undergrad at U of T Scarborough.
"Going to UTSC was great," she says. "It really prepared me for St. George. Scarborough was like a small community but its programs were really diverse."
She is one of five girls in the family, all born in Canada. Her parents are from Pakistan.
8:32 a.m. Steeles and Old English Lane. Standing room only on the bus. Many young people are listening to music on their smart phones but Malik begins working on a class project.
"The bus is sometimes my desk, sometimes my breakfast table, and sometimes my bed," she says, noting that she occasionally falls asleep both on the bus going to school and going home.
She is working on a project for her methods class, taught by Matti Siemiatycki, associate professor, teaching stream, in the department of geography and planning, and one of the organizers of the transit survey. It is being sent out to thousands of students and the results will be known in the new year.
Malik says getting a car ride to the bus stop is the only way she can travel. Cycling is out, with the narrow roads in Markham and the lack of street lights. "It's just not safe," she says.
8:44 a.m. Yonge and Steeles. The bus turns left and comes to a dead stop. It's a slow crawl to the Finch subway station. Malik says when she finishes her master's she hopes to get a job with the City Toronto, focusing on community development.
9:02 a.m.  The subway train leaves the Finch station. It is the first stop heading south toward the Yonge/Bloor station but virtually all the seats are filled. Malik continues working on her project.
On this day Malik has one class from 1 p.m. until 4 p.m. She likes to arrive early to read or study, or work on a group project. At the end of the day, if she is tired, she might go straight home. Or she might wait and do some work or socialize. "That time between 5 p.m. and 7 p.m. is really busy on the TTC," Malik explains. She also has to synchronize the car ride home with someone in her family – the "last-mile issue," she calls it.
9:26 a.m.  Arrival at Bloor and Yonge for the transfer to the Bloor-Danforth line, and then a short walk from St. George subway station to Sidney Smith Hall.
9:43 a.m.  Arrival at Sidney Smith hall. Despite the commute, Malik says it is a "real privilege" being in her program at U of T, and the trip is worth it. And, she says, there is a Tim Horton's at the Finch Station on her way home, where she can get a nice cup of tea.