Janet Ecker takes over from Brian Lawson as chair of U of T's Governing Council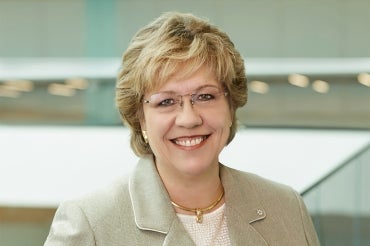 Janet Ecker knows her way around large institutions – she served as finance minister and education minister in the Ontario government; was founding CEO of the Toronto Financial Services Alliance; and established the Global Risk Institute, which fosters thought leadership on risk management for the financial industry.
But she said her time with the University of Toronto's Governing Council has been as rewarding as any of her endeavors.
"I've always believed that education is one of the great levelers in our society," she said. "Educating our young people and giving them the tools they need to succeed in whatever career they choose – and hopefully be good, productive citizens – is one of those important tasks that government and society have to get right."
Ecker, who was first appointed to Governing Council in 2015, took over as chair of U of T's governance body on July 1 for a one-year term. She succeeds Brian D. Lawson, with whom she served as vice-chair during the 2021-2022 academic year. Anna Kennedy, who formerly chaired the council's business board, will serve as vice-chair for the next 12 months.
"I'm honoured and humbled to have been chosen and to have the support from council to do this," Ecker said of her new role. "I look forward to working with my colleagues, President Meric Gertler and all the good people who are around that council and doing incredible work."
Ecker's term as chair comes as U of T marks the 50th anniversary of Governing Council. U of T initially had a bicameral model comprising a senate and a board of governors, similar to other Canadian universities. As of July 1972, the university moved to a unicameral model, whereby Governing Council was tasked with overseeing the university's academic, business and student affairs.
For Ecker, U of T's governance model is cause for marvel.
"I've always been interested in complex organizations that have one foot in the public sector and one foot in the private sector, as U of T does," Ecker said. "It makes it a very complex environment from a management and governance perspective.
"The governance structure of U of T is quite different – we have the Governing Council and its boards, campus councils and committees. On the surface you would think, 'How on Earth could something this big and complex work?' But it does work, and very well."
President Gertler congratulated Ecker on her election as chair.
"From her service in government to her leadership in the financial sector and contributions to so many non-profits and advisory committees – including the University Pension Plan Board of Trustees – Janet Ecker has an incredible track record of leadership and achievement," he said.
"It is only fitting that we should usher in the 50th year of U of T's Governing Council by welcoming as chair someone with such an outstanding history of public service and advocacy for the education sector."
President Gertler also hailed outgoing chair Lawson for his contributions to U of T's governance during his final Governing Council meeting on June 29.
"Let me say for the record that your contributions to the University of Toronto have been exemplary," President Gertler said. "You combine calm professionalism, expertise, and sound judgment with a wonderful personal warmth and sense of humour.
"Your advice and leadership in this challenging year have been extraordinary … You ensured the health and integrity of our governance and confidence in our processes, despite some challenging circumstances [due to the global pandemic]."
He also announced that U of T will establish an award in honour of Lawson's distinguished service – the Brian Lawson Nutrition Award, which will go to a medical student with a strong desire to incorporate nutrition for disease prevention and management into clinical practice.
An alumnus of U of T's Trinity College, Lawson is a vice-chair of Brookfield Asset Management. He and his wife Joannah are the founding sponsors of the Lawson Centre for Child Nutrition at the Temerty Faculty of Medicine, and helped establish the Lawson Centre for Sustainability at Trinity College, which is scheduled to open in fall 2024.
Lawson was appointed to Governing Council in 2014 and served as chair during 2021-2022. He says his longstanding involvement with his alma mater has brought him tremendous fulfilment.
"My university experience was both foundational and formational for me. I learned a tremendous amount and developed great friendships and experiences," said Lawson. "Getting involved really came from a recognition of the number of ways in which U of T enabled me and my family to achieve our goals and aspirations as we went through our lives."
Lawson is also a co-chair of Defy Gravity, U of T's ambitious fundraising and alumni engagement campaign. He says he hopes the campaign will grow and strengthen U of T's commitment to inclusive excellence.
"To be able to provide inclusive access to education to so many students in Toronto and internationally – and to be able to do that at such a high-ranked university and an institution of this caliber – is something that's phenomenally important for Toronto, Canada and the world," Lawson said. "To me, that's one of the overarching and fundamental key objectives of U of T and Defy Gravity."
Lawson says a highlight of his term as chair was seeing President Gertler agree to extend his term as president to 2025.
"Meric has been a stellar leader. Knowing that the university is going to benefit from his continued leadership for the next three years is one of the major events of the past governing cycle," Lawson said. "Having the opportunity to work with Meric and his team was definitely one of the most enjoyable and inspirational aspects of the role."
Lawson also threw his support behind his successor as chair of Governing Council.
"Janet has already made tremendous contributions to Governing Council over the years, and she's been involved in many leadership roles in public service and many important institutions," Lawson said. "She brings a remarkable breadth of experience and insight in a number of areas that will be really important to the continued success of U of T going forward."
For her part, Ecker credited Lawson with helping to foster closer relationships with government, strengthening U of T's risk management processes and bringing his financial expertise to bear on the management of U of T's capital expenditure.
"One of the things I don't think a lot of people appreciate is just how strong U of T's balance sheet really is. U of T has been financially very well-managed," said Ecker. "Brian's leadership has helped management continue to strengthen along those lines. He accomplished a lot and had a steady hand on the till."
Ecker takes over the chair position as U of T emerges from the worst of the COVID-19 pandemic, a period that she says has shown the important role the university plays in shaping the response to pressing challenges. "U of T experts and researchers were right in the thick of it, helping the health-care system and government deal with a once-in-a-lifetime event," she said.
Ecker added that she is heartened by U of T's efforts at fostering equity, diversity and inclusion across the three campuses. It's a matter that's close to her heart since she was the first woman to deliver a budget in Ontario and is a co-founder of Equal Voice, a national, multi-partisan organization that works to get more women elected.
"Whether it's governance or management, diversity of perspectives is really valuable. That includes certainly gender diversity, but also people from different walks of life, different communities and diverse backgrounds," Ecker said. "We all have different ways of thinking and coming at issues – and that's a strength, not a weakness. We need to tap into that.
"I'm hoping that I can contribute to that in some small way and continue what U of T is trying to do in that regard."
UTC