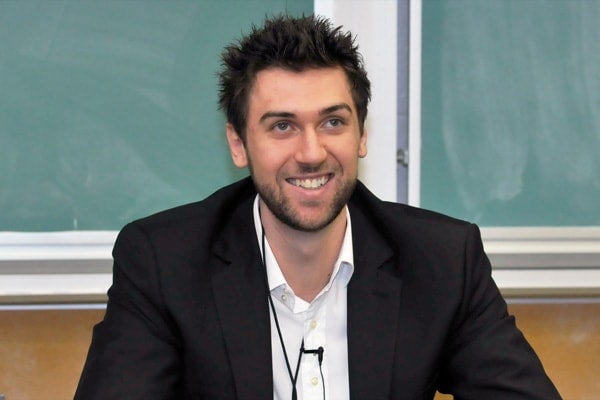 Italian writing students interview 'red-carpet' celebrities
Toronto Raptors' Andrea Bargnani visits UTM for his interview
When seven-foot tall NBA star Andrea Bargnani ducked to enter a University of Toronto Mississauga classroom, he was greeted by 21 students — all speaking in near-perfect Italian.
"It was nerve-wracking when I asked Mr. Bargnani if he is proud of his heritage," said second-year language studies student, Jena DiGiambattista. "He answered, 'Of course, I'm proud — I am Italian'."

The Toronto Raptors power forward met with DiGiambattista and her classmates on March 6, as part of their course work in Word and Image-Writing with Pen and Camera, an Italian creative writing class. Co-taught this year by Professor Anthony Mollica and Paola Bernardini, and founded in 2006 by UTM's Guido Pugliese, the course uses experiential activities such as writing poetry, reinventing nursery rhymes and conducting face-to-face interviews with Italian celebrities to enhance writing and language skills.
"Students have fun and they forget that they are studying a language," Mollica said. "It's painless learning."

For the celebrity interviews, students speak with the stars in person or by Skype, and although the professors correct questions in advance for structure and grammar, they don't censor them in any way.
"Students ask insightful questions," Mollica said. "They find out what an audience would like to know but is in no position to ask."

Bargnani is just one of many 'red-carpet' stars attached to the course this year. In February, students spoke with singer/songwriter Elisa Toffoli, and later in March they will interview singer/rapper Lorenzo Jovanotti and actors Sofia Milos (CSI Miami) and Antonio Cupo.

Bernardini bypassed publicists to recruit stars directly through her connections as editor-in-chief of Corriere Canadese, a Canadia-Italian newspaper. After months of planning and several last-minute tweaks, the celebrity line-up finally came together.
"We chose celebrities that our students could really relate to," Bernardini said.

In 2012, UTM's Department of Language Studies will expand their unique curriculum with the addition of Recreational Linguistics, a course focused on word games and wordplay.Mollica, who will teach the course, believes that wordplay aids language development.
"Besides, it's fun," Mollica said. "Many people don't even read the news, they go straight to the crossword puzzle."