There are about 200 students still living at U of T's Chestnut Residence, prompting staff to come up with ingenious ways to implement physical distancing while maintaining a sense of community (photo by Johnny Guatto)
In mid-March, students living in residences at the University of Toronto were asked to return home if they able to do so in order to safeguard their health and help curtail the spread of the novel coronavirus.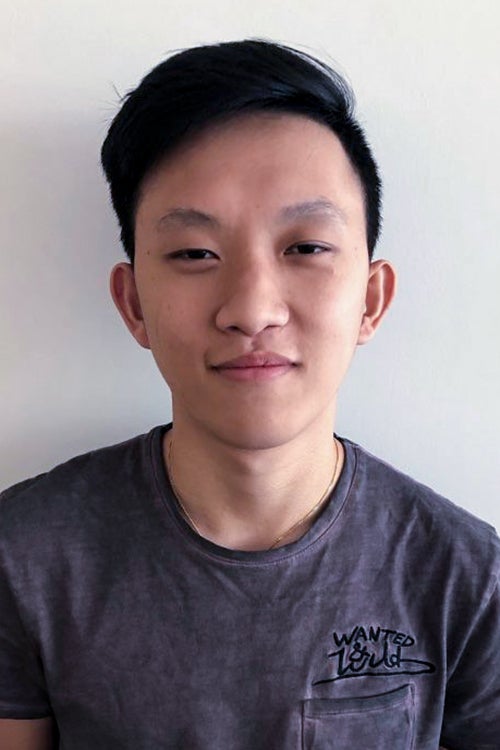 But that wasn't an option for 
Brandon Tan Chin Hian
(left)
,
 an international student from Mauritius. He is one of nearly 200 students who stayed on in U of T's Chestnut Residence, which typically boasts a community of about 1,150 residents.
Though being so far from home hasn't been easy, Tan Chin Hian says residence dons and staff are doing a good job supporting students who have no choice but to remain in the downtown residence highrise as airlines scrap international flights and countries shut their borders.
"The dons have been organizing Zoom video meetings," says Tan Chin Hian, a second-year Innis College student majoring in physics and philosophy. "For some of them, you can talk to your don, while some dons have activities like dancing and one of them is doing origami, which is pretty cool."
It's a scene that's playing out in residences across U of T's three campuses as students and staff figure out ingenious ways to keep spirits up and maintain a strong sense of community while also ensuring physical distancing and other measures needed to keep everyone safe.
Though given the option of stepping away from their duties, many dons at Chestnut – upper-year students who live and work in residences and provide support to residents – insisted on remaining a source of support for students amid a uniquely trying time: a pandemic on the rise, with final exams around the corner.
"The dons indicated that they wanted to continue doing programming, running activities and events and checking in with students, even though they weren't expected to," says David Kim, dean of residence and director of student life at Chestnut.
"This is in addition to themselves being students and managing the stresses of the current situation. It really is heartening to see."
Mindful of physical distancing guidelines issued by government authorities and adopted by U of T, dons and staff at Chestnut moved social activities, academic workshops and health and wellness initiatives online.
"I've seen them come up with incredibly impressive and innovative means to continually interact with and support each other and the students," says Kim. "People have stepped up and said, 'I really want to continue fulfilling this role' because they know it's for the benefit of students in our community."
Tan Chin Hian says Chestnut Residence has implemented an array of measures aimed at achieving physical distancing and mitigating person-to-person contact.
"They've taken good precautionary measures," he says. "For example, at the front desk, they set up a tape barrier that makes you stand two metres away."
Residents have also been given time slots to pick up their meals from the dining room, which is now strictly take-out and limits the number of people who can be inside at any given time.
"The dining hall is usually self-service but it's not self-service anymore. They pack everything in boxes for you," says Tan Chin Hian. "For that, we've had to interact more with the kitchen staff than we normally would.
"They've been very friendly –they're really nice, and it brings a smile to your face."
Kim adds that staff are conducting regular one-on-one check-ins to ask students how they're doing and whether they need any help or guidance.
"We recognize that students are being bombarded with information so we want to maintain that one-on-one, personal touch," he says.
Kristen Moore, dean of students at Trinity College and chair of a new tri-campus group focused on co-ordinating policies and communications with U of T residences, says this sort of one-on-one attention is crucial.
"With the number of residences that U of T has, and being a tri-campus operation, there are a lot of moving parts. But what the university prides itself on is being able to have those personal connections within individual residences," she says.
"The working group is co-ordinating messaging centrally so that we're all talking with each other and making sure we're on the same page with regards to practices, but each division is adapting that messaging locally depending on the situation in their individual residence."
Moore lauds students for being "incredibly understanding and willing to work with us" through a difficult situation, and says residence staff will continue to keep student concerns and well-being top of mind.
"We know that this is an unprecedented time and things have been moving very quickly," says Moore. "Our primary focus is to ensure that all of our students feel supported and cared for and recognize that, while the University of Toronto is a large operation, there are people in the individual divisions and residences who are focused on taking care of them and ensuring that they have the appropriate support throughout the duration of this crisis and beyond."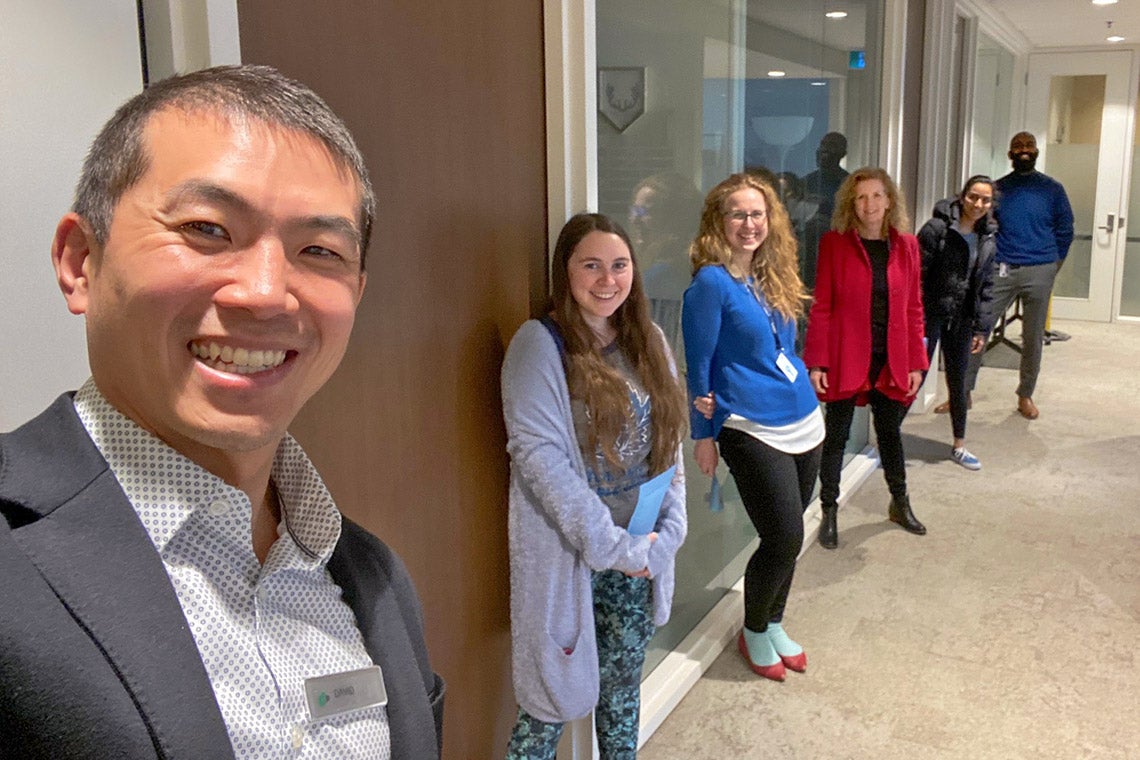 From left to right: Chestnut's David Kim, dean of residence and director of student life, Sabrina Mable, residence don, Klara Kovarova, assistant dean, residence life, Cheryl Regehr, U of T vice-president and provost, Aditi Malhotra, residence don and Vithushon Thayalan, residence life co-ordinator (photo courtesy of David Kim)
At the Student Family Residence, located near Yonge and Bloor Streets, staff have also taken a number of steps to protect residents. The two buildings are the primary residence for 2,000 or so U of T students, their partners and children. More than half of the residents are graduate students, and most are also international students.
Those steps include: expanding hours and limiting the number of people who can use the laundry room at a given time; limiting the number of people in elevators; increasing the frequency of cleaning services and disinfecting high-touch areas once every hour.
While the building had to shut down its playgrounds and on-site day care centre, residence staff have come up with online initiatives to help parents entertain and stimulate kids who may be getting bored at home.
"You can well imagine that, with the number of children living in our buildings [between 300 and 500], it's very difficult for them to stay active and engage both physically and mentally, so we're developing programs and resources for family members to engage with their children," says Gloria Cuneo, director of faculty, residential and student family housing.
Examples of such efforts include a YouTube channel called Song's Daily Drop-In in which Song Limpanapongpan, a registered early childhood educator who usually offers in-person drop-in sessions for kids in the building, shares tips for parents on things like reading with their children and teaching them sign language.
Lauren Spring, a student resident, says the drop-in sessions were a regular part of her and her two-year-old daughter Amelie's schedule, so she appreciates the online alternative.
"There's a lot of us in the building who go to the daily drop-in, a lot of us whose kids are not in day care – which is the case with a lot of us because we're students so our schedules are a little bit more flexible and day care is so expensive – and so that's the home base where our kids socialize and get to make friends," says Spring, who is doing a PhD in adult education and community development at the Ontario Institute for Studies in Education (OISE), and lives in the Student Family Housing building with her husband and daughter.
"It's so sweet and really nice of Song to do [the YouTube channel] ... it's a neat way to connect. My daughter loves it," Spring says.
Spring praises residence staff for their clear communication amid the fast-moving public health crisis.
"I feel like every step of the way, when there was something new to communicate, we would be told," says Spring. "I definitely feel like they've been on top of things."
Communication is something Cuneo says is important to make residents feel at home and supported during the pandemic.
"It gives people security to know that we're here and that we'll continue to support them in a virtual way, and that while we're doing things a little differently than is the norm for us, we'll continue to engage and make sure that they have the right supports," she says.
"We will continue to adapt over the coming days as there may be lengthier periods of restriction that health authorities impose on us as a community, so we'll continue to adapt to make sure that we're there to support our families."