Islamic law expert among six U of T scholars named to Royal Society of Canada's College of New Scholars, Artists and Scientists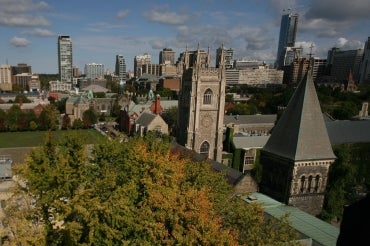 You may think medieval texts on Islamic law have no relevance in the 21st century.
In fact, international child custody cases today are often entangled in modern statutes that draw upon that historical tradition, and which are insulated by a  technical legal claim of "jurisdiction" – something Muslim jurists wrestled with in the classical period of Islamic law (circa ninth to 14th centuries), as empires expanded trade routes and clashed over territory and competing world views.
Those legal traditions, insulated by claims of jurisdiction, are why children are so difficult to get back when a parent takes them to certain Muslim majority countries, explained Professor Anver Emon, a leading scholar of Islamic law from the University of Toronto's Faculty of Law.
Today, he and five other emerging scholars at the University of Toronto have been named as members of the Royal Society of Canada's College of New Scholars, Artists and Scientists. (See the full list of recipients below.)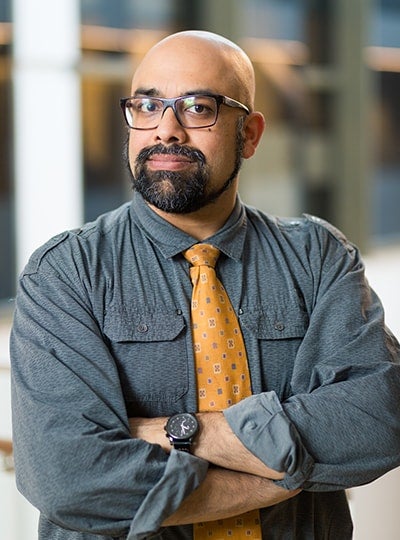 "Being inducted as a member is an honour. It means a lot to know that my colleagues see value in the scholarship that I've done," said Emon (pictured left), who is also the Canada Research Chair in Religion, Pluralism and the Rule of Law.
Three years ago, the society decided it needed to create a special college to recognize and foster scholarly leadership and interdisciplinary collaboration among Canada's "new" generation of scholars, artists and scientists who have received their PhD within the last 15 years.
"The University of Toronto is proud of our six new members joining the Royal Society of Canada College of New Scholars, Artists and Scientists. They represent some of our most exciting up and coming researchers in a variety of critically important fields in the sciences and humanities," said Vivek Goel, U of T's vice-president of research and innovation.
Emon, a father of two young children who moved to Canada from the United States a few years ago, said it's "so unexpected and reinvigorating" as a legal historian to receive the honour, especially since we're "living in a post-fact world" filled with recent disheartening news, from the Trump travel ban and the violent white supremacist demonstration in Charlottesville to the rise of the anti-Muslim  "Three Percent" chapter in Alberta.
"This recognition by the Royal Society of Canada shows that knowledge matters, scholarship matters. In a world where we can limit people's movements across borders, it's important to remember that we can't limit the movement of ideas, whether across space or time," he said.
In addition to his teaching at the Faculty of Law, Emon has acted as a consultant for the federal government on Islamic law and private international law in child custody cases involving the Muslim world. Several high-profile Canadian cases demonstrate how difficult these negotiations can be, such as the ongoing Alison Azer saga.
Muslim majority states can invoke their commitment to Shariah to justify why they refuse to accede to the 1980 Hague Convention on the Civil Aspects of International Child Abduction, Emon said. But as his research shows, jurisdiction lies at the heart of both the convention and the diplomatic gap between signatories and non-signatories to the 1980 Abduction Convention.
The multilateral treaty seeks to "protect children internationally from the harmful effects of their wrongful removal or retention and to establish procedures to ensure their prompt return to the State of their habitual residence, as well as to secure protection for rights of access."
Muslim-majority states are concerned the treaty violates Shariah-based rules on child custody. For many of these countries, such rules inform domestic statutes on family or what is often called personal status law, Emon said.
"Medieval Muslim jurists saw the world through as a duality [split into] Muslim and non-Muslim regions," he explained. "They saw the [issue of jurisdiction] as a zero sum game. Either we won't take jurisdiction, or we'll take it and judge it according to our domestic laws, namely Shariah. To them, there was no law outside the Muslim world."
This position, he said, draws on a similar, exceptional world view that informed U.S. legal policy toward China. From the late 19th century into the early 20th, the U.S. administered the Federal District Court of Shanghai, which served to legally protect the interests of American financiers and traders operating in the region. At that time, Americans believed China had no law.
The goal of Emon's research is to find a way forward to overcome the current political stalemate. In recent years other holdouts such as Japan, which was a "black hole" for many years in parental child abduction cases, has now acceded to the 1980 Abduction Convention, as have Morocco and Iraq.
Joining Emon as a member of the Royal Society of Canada College of New Scholars, Artists and Scientists are:
Professor Kelly Metcalfe, Lawrence S. Bloomberg Faculty of Nursing
Professor Kevin Lewis O'Neill, department for the study of religion, Faculty of Arts & Science 
Associate Professor Cheryl Suzack, department of English, Faculty of Arts & Science 
 
Professor George Yousef, department of laboratory medicine and pathobiology, Faculty of Medicine and St. Michael's Hospital
Professor Wei Yu, Edward S. Rogers Sr. department of electrical & computer engineering, Faculty of Applied Science & Engineering
In addition to being named a member, Emon is also the recipient of the Kitty Newman Memorial Award awarded by the Royal Society of Canada for outstanding contributions from an emerging scholar in the field of philosophy.
He is joined by University Professor Mark Lautens, of the department of chemistry, who is the recipient of this year's Henry Marshall Tory Medal, which is awarded once every two years for outstanding research in any branch of astronomy, chemistry, mathematics, physics, or an allied science.
UTC