Invictus Games and the power of parasport: U of T's David Onley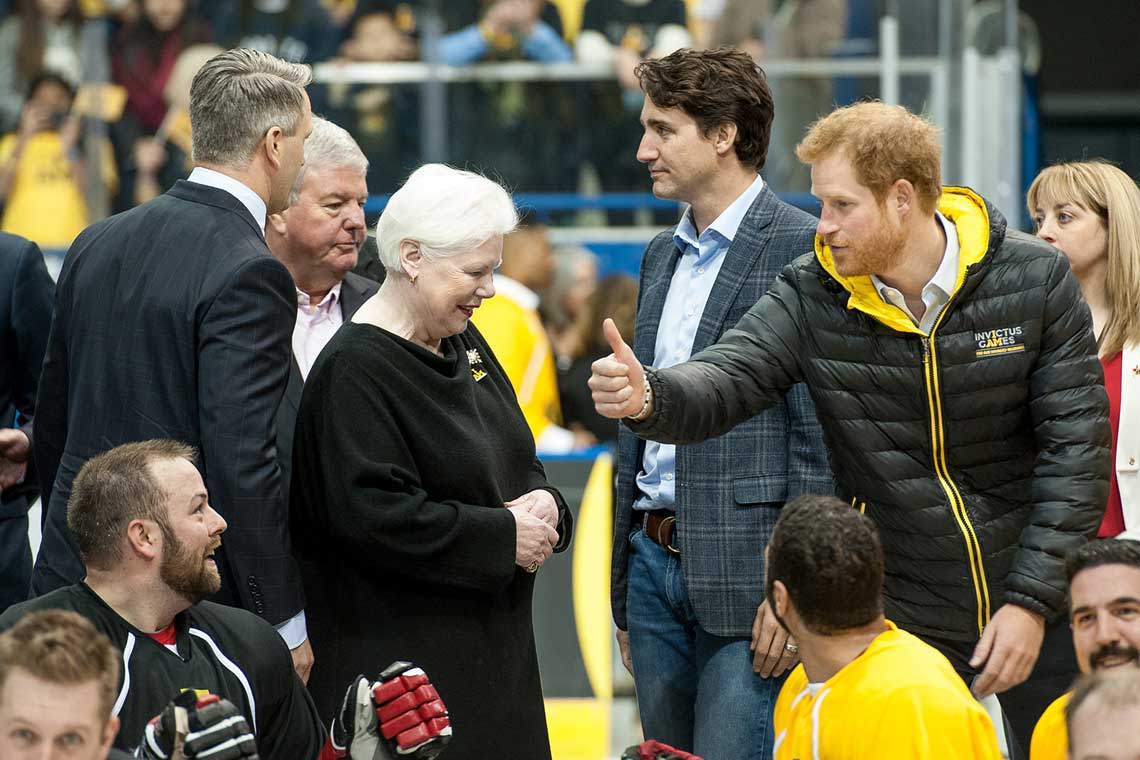 Prince Harry dropped into town this week to celebrate Toronto being named host venue for the 2017 Invictus Games, raise the profile of the Paralympic-style event and create more buzz on social media.
Inspired by the Wounded Warrior games in the United States, the prince created the Invictus Games in 2013 so wounded, injured or sick veterans could compete in a variety of sports. 
The University of Toronto's David Onley is an expert on the transformative role of parasport. Ontario's former Lieutenant Governor and U of T's Special Ambassador for the 2015 Pan Am and Parapan Am Games, Onley also represented Canada at the 2008 and 2012 Summer Paralympics. 
As Lieutenant Governor, Onley met countless Canadian soldiers and veterans, many of whom were wounded in recent conflicts. He's also been a tireless advocate in removing physical barriers for people with disabilities throughout his career. He spoke with writer Don Campbell about the importance of the Invictus Games, which kick off in Orlando May 8.
Is there a precedent of using sport as a means to inspire recovery in veterans?
The Invictus Games are a bit of a throwback in the sense that sport was used to help rehabilitate wounded British veterans. This was done by Dr. Ludwig Guttmann at the end of the Second World War with physically injured soldiers by using sports as an integral part of their recovery and rehabilitation process. It led to the Stoke Mandeville Games in 1948, which was named after the hospital where the veterans were being treated. It was a small event but the idea, even back then, was that sport could fulfill an important restorative role in the lives of the soldiers. I doubt Dr. Guttmann could have imagined his idea would grow to where it was at the 2012 Paralympics in London where there was a sold out stadium for the opening ceremony. 
Can parasport play an important a role in these soldiers' psychological rehabilitation? 
Athletics demands discipline and a soldier by definition functions under extreme forced discipline. No one gets up at 4 am because they want to or train to great extremes. This is something that is taken away from them when they are damaged in combat. I think the best aspects of the military include developing comradery, teamwork and discipline, which all can be immediately paralleled in sport.
[embed_content nid=7191 (class="additional class")/]
When an athlete retires they're often asked what they miss the most and invariably they say 'well, I miss my teammates.' In a military context soldiers rely on the support of their comrades and if they're injured they lose that aspect and can't get it back. If some of those elements can be replaced by sport, it has to help. 
Prince Harry has really gotten behind the Invictus Games, and in general the monarchy has always supported the military. During your time as Lieutenant Governor did you witness this relationship first hand?
Many times. I remember being at Petawawa to see troops off to Afghanistan and also meeting veterans who had been wounded in Afghanistan. Also going to many sporting events where I met soldiers that had been wounded in some capacity, many who were trying to move on with their lives. I even met veterans who participated in the 2008 and 2012 Paralympics as well as the 2010 and 2014 Parapan Am Games. 
Personally I'm really looking forward to the Invictus Games in Toronto. Much like the Parapan Am Games it will be a great moment for the city. It's a great forum for these veterans to prove themselves as athletes. I also think it's tremendous that Prince Harry is continuing with this effort. He served with distinction in Afghanistan and hasn't just taken the easy route in avoiding service. He's now lending his name and the authority of his position to promote this endeavour and he needs to be congratulated for that. 
How important important is something like the Invictus Games to keep veterans in the spotlight, to provide them support and not simply forget about them once their service is done?
Clearly we're in a different era compared to the First and Second World War, and even more recent conflicts in the '50 and '60s when veterans didn't really talk about their experiences and the support services weren't there. We now call it Post Traumatic Stress Disorder, but back then it was generally called shell shock. The benefit of the doubt was not with the soldier, they had to disprove they weren't a malingerer and had to get back to the front line. 
It's a cliché to say how terrible war is and thankfully many of us have never had to experience it.  War is something that people don't cope with well. It's a tremendously traumatic experience with a terribly high cost both individually and collectively. My parents' generation had a lot of veterans of the Second World War and many didn't talk about their experiences or receive the support they deserved. Thankfully things have changed. Our society is much more open and therapies are far more progressive than in the past. 
It's also important to note that the Invictus Games is about supporting veterans, not about promoting war or militarism? 
Many of our recent veterans served in Afghanistan. The idea of glory in war may have been a concept in the past, but it's certainly not the case now. There must be respect for the soldiers who have gone over and put themselves in harm's way. It's also about realizing they're in an ugly situation but they're trying to improve the lives of others living under oppression. 
It's also about providing one more outlet these veterans can use to help them move on with their lives. They can receive help from counsellors, spiritual advisors, family members and friends, but at a certain point they want to get on with life. If they can't do that readily it just underscores how damaged they are from the experience. The question is how do you proceed? If they're young and otherwise physically fit outside of the injuries they suffered, something like the Invictus Games, Paralympics and other parasport events can give that person another pathway back to a normal existence.