A sleek, bullet-shaped vehicle will be zooming across the Australian Outback this fall, harnessing the power of the sun to make it through the toasty terrain.
The solar car is the latest model created by University of Toronto's Blue Sky Solar Racing, a team of undergraduate students from the Faculty of Applied Science & Engineering who build and race solar-powered vehicles.
Viridian, the 10th car built by the team in 23 years, will be put to the test during the Bridgestone World Solar Challenge, a 3,000-kilometre race from Darwin to Adelaide that takes place Oct. 13-20.
The car has four square metres of silicon solar cells, a new electrical system and a design the team hopes will prove to be its most aerodynamic model yet.
"The team's objective is to promote and provide students with an opportunity to grow and develop themselves outside of the classroom as well as to promote sustainable technology through the building and designing and racing of solar-powered race cars," says Hubaab K. Hussain, managing director of Blue Sky Solar Racing and a mechanical engineering student.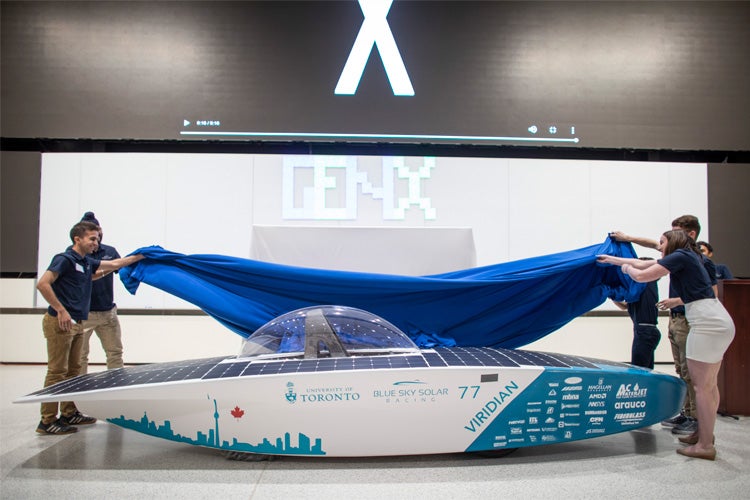 U of T's Blue Sky Solar Racing team unveils Viridian at the Myhal Centre for Engineering Innovation and Entrepreneurship (photo by Nick Iwanyshyn)