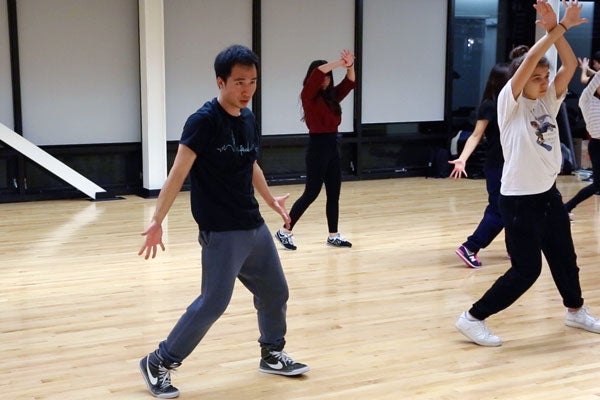 At the intersection of dance and nitroglycerin
PhD student leads on the dance floor and in researching why angina treatment works
By day, Kangbin Zhou researches what makes nitroglycerin – a common treatment for chest pain also known as angina – effective.
By night, the fourth-year pharmacology and toxicology PhD student can be found tearing up the dance floor as the founder and instructor of a U of T urban dance club.
Zhou is the first recipient of the Dr. Malle Jurima-Romet Award in Pharmacology and Toxicology, which recognizes both his academic excellence and his involvement in the arts. The award is named in honour of Jurima-Romet, who earned her PhD from the department while doing research into pharmacogenetics.
Before her death last year from cancer, Jurima-Romet had a diverse range of interests encompassing both science and art. As a scientist focused on drug metabolism, she wrote more than 60 peer-reviewed publications, and co-edited books on biomarkers in drug development as well as drug-to-drug interactions. During her career, she worked as a scientist for Health Canada followed by a successful career in the pharmaceutical and biotechnology industry and served as an adjunct professor at both the University of Montreal and the University of Ottawa.
Jurima-Romet was also an accomplished artist who worked with watercolour and oil paints as well as pastels. She received invitations to display her work at group and solo shows, and her paintings can be found in private collections in Canada, the United States and Europe. She was also a master instructor of Japanese Ikebana flower arranging and had a love for music with included experience playing piano and violin.
Like Jurima-Romet, Zhou's passions include science and art.
"Dance not only gave me a brand new experience, it also gave me a new way to reduce stress," he says."I feel happy after I dance and that happiness helps me overcome despair or frustration after a difficult day in the lab."
Zhou's PhD studies explore nitroglycerin, which has been most commonly used to treat angina for more than 100 years. Despite the drug's well-established utility for treating chest pain, scientists still don't understand why it is effective, and why people become less responsive to it during long-term therapy. Zhou focuses on a special protein called aldehyde dehydrogenase (ALDH-2), which some scientists believe could be responsible for making nitroglycerin work. This protein might become inactivated during chronic treatment.
Many people, and especially people with Asian ancestry, carry ALDH-2 in a mutated form. Current literature suggests this mutation may cause the protein to function less efficiently. Zhou wants to know if this protein is what makes the drug work, and if so, whether the dose and delivery method need to be tailored for people with the enzyme mutation. He also wants to know how this protein becomes inactivated in patients during long-term treatment.
"My mother had angina when I was a child. I can remember her asking me to grab her medication whenever she had acute chest pain. That's what inspired me to become involved in drug research."
As Zhou completed his BSc at the University of British Colombia, he began to dabble in salsa dance. While he pursued his MSc, Zhou also trained at a professional Latin dance school, helping him maintain a balanced lifestyle and grow a broad social network. As he began his PhD studies at U of T, he joined the U of T Dance Club and took dance classes at Hart House. He went on to launch a new club called Urban Dance Revolution, which offers affordable lessons to U of T students.
"Graduate and PhD students may not have opportunities to pursue outside interests because often they just don't have that extra money to do it," says Tiit Romet, Jurima-Romet's husband of more than 25 years, who established the award. "There's more to a person than academics. If a student can realize some of their other potential and feed their passion for something else like music or art while they are furthering their education, their university experience will be all the better."
The award will help Zhou further his own dance training while expanding the dance club and its work.
"I want students to have a chance to learn from  – and be inspired by – their peers instead of professional instructors," Zhou says. "These students might say, 'I see my dance 'instructor' is taking the same academic classes I am, so maybe one day I can become like them."