International Women's Day, star athletes and a Trump insider: Check out these March events at U of T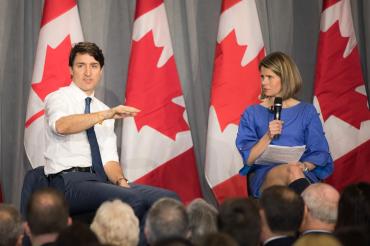 Prime Minister Justin Trudeau was at University of Toronto's downtown Toronto campus today to mark International Women's Day at the Rotman School of Management, kicking off a busy month packed with fascinating events – including a visit by a bestselling author with an inside scoop on Donald Trump's White House, Olympic gold medallist Rosie MacLennan sharing her secrets to success, and dozens of accomplished women speaking about empowering women and girls all over the world.
Here's a taste of what's in store as (fingers crossed) the weather gets warmer:
March 7
Today, hear Michael Wolff, journalist and author of Fire and Fury: Inside the Trump White House, share insights from his bestselling book on the first nine months of the Trump presidency. As of writing this, there are still a limited number of tickets available.
March 8
It's International Women's Day – an opportunity to highlight the amazing accomplishments of women around the world while acknowledging we have much more to do to achieve equality.
U of T's Munk School of Global Affairs and the United Nations are teaming up for an event featuring experts from the UN, Plan International Canada and U of T, speaking about how to empower at-risk women and girls, particularly in developing countries.
For a conversation about women's rights and health, students at the Dalla Lana School of Public Health are hosting an event at Women's College Hospital, featuring U of T Provost Cheryl Regehr.
The Faculty of Kinesiology & Physical Education is bringing Olympians to U of T, including gold medal-winning trampolinist Rosie MacLennan and basketball player Tamara Tatham, for She Moves! – an event to celebrate female leaders and physical activity – so don't forget your running shoes.
The Faculty of Law will be hosting filmmaker Sarah Polley, lawyers Alexi Wood and Jonathan Lisus, and Deepa Mattoo, legal director of the Barbara Schlifer Clinic, who will be talking about the #MeToo movement.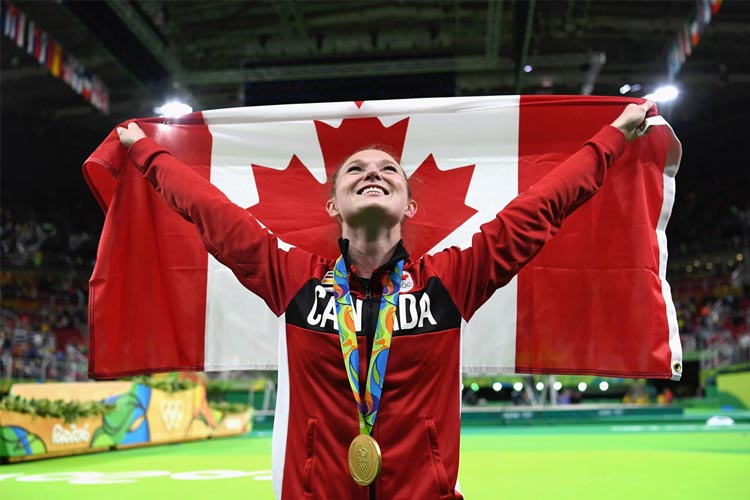 U of T's MacLennan, who won gold at the Rio Olympics, takes part in She Moves! on International Women's Day, March 8. (photo by David Ramos via Getty Images)
March 9
Author Robyn Maynard, U of T lecturer Beverly Bain and sculptor and anti-prison organizer Sheena Hoszko discuss the understudied impacts of state violence as it is experienced by Black women, Black people with physical challenges, LGBTQI and undocumented Black communities, at U of T Mississauga.
This year's Women and Minorities in Philosophy Conference features a keynote on medical management of transgender kids by Princeton's Catherine Clune-Taylor. 
March 14
Listen to the Canadian ambassador to Italy and the Canadian ambassador to the EU talk about Canada and European Union's trade relationship at an event hosted by Munk School of Global Affairs. 
At U of T Mississauga, hear Senator Ratna Omidvar's talk about how her personal story has influenced her pioneering work on diversity, inclusion and immigration policy.
March 19-20
To mark the International Day for the Elimination of Racial Discrimination (IDERD), U of T's Anti-Racism & Cultural Diversity Office is hosting its annual conference and will be looking at anti-racism change in postsecondary institutions. 
March 21
Distinguished Professor of Urban Systems Engineering Mark Fox will be at the Centre for Ethics speaking about how to build better – and smarter – cities. 
March 22
U of T Scarborough Indigenous Elder Wendy Phillips will be leading the What's Cooking Intercultural Food Discussion, teaching attendees to prepare and cook a number of Indigenous dishes, and talk about connections to the environment around us through what we eat.
March 22-23
Academics and activists are coming together at U of T's downtown Toronto and Mississauga campuses for a conference examining how women in the Middle East and North Africa are making use of cyberspace, and in particular, social networking sites, to explore new possibilities to transform virtual sites into feminist spaces, and to fight against the increasing threats of surveillance and censorship.
March 27
What data are companies collecting about you? Join Ron Deibert, director of the Citizen Lab at Munk School of Global Affairs, for a Centre for Ethics talk about big data, policy and privacy.
UTC