International Women's Day and Entrepreneurship Week: Check out these March events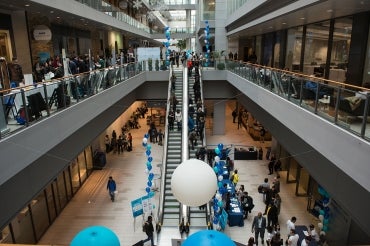 March is a busy month at the University of Toronto as we celebrate International Women's Week and Entrepreneurship Week. There are also plenty of arts and culture gatherings, including the third annual Honouring Our Students Pow Wow.
Here are just a few of the many events happening on and off campus this month:
---
March 5
Make flower crowns at U of T Scarborough as part of International Women's Week. Celebrate historical feminist movements and current change-makers around the world.
March 6
This is the last day to submit your photography to Hart House's 97th Annual Exhibition of Photography. Submissions are open to all U of T students and Hart House members. Photography awards will be presented at the exhibition's opening reception on March 28.
March 7
Ahead of International Women's Day, join MoveU for She Moves! on the downtown campus. This event celebrates women, leadership, and physical activity in an active setting. There will be a variety of activities, including Zumba, yoga, nutrition, and more.
Hear from three female U of T entrepreneurs in the inaugural Female Founders Edition of the RBC Innovation & Entrepreneurship Speaker Series at U of T's ONRamp. This panel features Saara Punjani of Structura Biotechnology, Pooja Viswanathan of Braze Mobility, and Leila Keshavjee of Happy Pops.
Discussions of hope play out in mayhem and hilarity on stage in House on Fire – A post-hope comedy, the mainstage show by U of T's Centre for Drama, Theatre & Performance Studies. The show runs until March 16.
Register for the annual Green Gala, where you can learn about U of T's commitment to achieving its carbon reduction goals on all three campuses. 
March 8
"Mentoring Women Leaders: A Conversation on International Women's Day" is a symposium featuring prominent women from various fields at U of T discussing advancements made by women as well as current challenges. The event includes a keynote speech by U of T Chancellor Rose Patten.
Don't miss the International Women's Day Variety Show held at Hart House, showcasing the diversity and strength of women's stories and art. 
March 14
Catch a performance of Mozart's La Finta Giardiniera (the girl in gardener's disguise), a story of disguise, deception, and love's power of redemption. The U of T Opera production runs until March 17.
March 15
See the Trashion Show at U of T Mississauga, promoting environmental sustainability through fashion and art.
March 16
Join the third annual Honouring Our Students Pow Wow, with guests from across Turtle Island. There will be drum groups, dancers, food, craft, vendors, and giveaways – everyone is welcome.
March 18
The kick-off of U of T Entrepreneurship Week, a celebration of startups and their founders.
Discover the ingenuity of U of T's start-up community at U of T Entrepreneurship Week, a series of panels, workshops, pitch competitions and more. The PITCH19 Innovation & Entrepreneurship Startup Gala takes place at U of T Mississauga on March 20. Meet U of T startups, founders and U of T's incubator and accelerator programs at the True Blue Expo on March 21.
March 21 
How do we ensure that U of T is an equitable an inclusive space for everyone? Join the anti-racism and cultural diversity office for a day of engagement, strategizing and discussion at the International Day for the Elimination of Racial Discrimination conference.
March 22
Take a walk through Yorkville and learn about the neighbourhood that was once a counter-culture hub. Toronto-based musician, producer and author Bob Wiseman will lead the tour, highlighting the history of the Mink Mile.
March 25
Top Broadway pieces from the past century are performed by U of T's voice studies department in this revue. 
March 27
Watch Metropolis, the classic sci-fi film by Fritz Lang, and enjoy discussion and cookies as part of the Ethics & Film series presented by U of T's Centre for Ethics.
What Could a Feminist City Look Like? Experts discuss public policy, decision-making processes, community engagement, the urban built form and potential paths for creating a more inclusive city at the Rotman School of Management. Speakers include U of T's Kofi Hope, Brigitte Shim and Matti Siemiatycki.
March 29
U of T Opera and the Faculty of Music celebrate the faculty's centenary with a program that features costumed and staged scenes sampling highlights from over one hundred operas produced since operatic studies began at the university.
March 30
Listen to the Hart House Chamber Strings perform in their final concert of the school year.
UTC