Inspired by her former peers, U of T alumna builds a Pakistani startup with a global flavour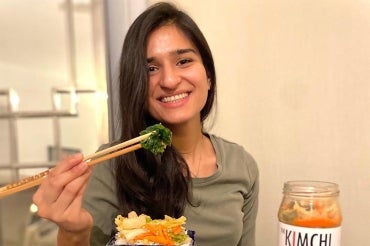 Exploring the city's boundless restaurant scene is one of Meraj Ellahi's favourite memories from her time at the University of Toronto, where she made friends from around the world.
Originally from Pakistan, Ellahi developed a particular taste for kimchi, a traditional Korean side dish consisting of salted fermented vegetables such as cabbage and radish.
She credits her fascination with the Korean staple to friend and fellow alumna Hailie Jeon, who Ellahi met in residence at Woodsworth College while researching an assignment on Kant.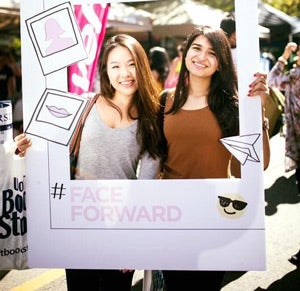 "Hailie knew all the best hole-in-the-wall Korean eateries. She taught me to recognize good kimchi, and how to integrate it into almost any meal," says Ellahi, who graduated in 2017 with an honours bachelor of arts degree. "She helped me acquire the taste, and I soon became a little addicted."
That addiction soon became a pandemic-era hobby as Ellahi – feeling nostalgic about her days at U of T after returning to Pakistan following a master's degree at Queen's University – learned to make kimchi herself. Fast-forward to today and she's now the founder and CEO of The Kimchi Girl, a culinary venture that sells a range of international foods with a distinct kimchi focus – from "kimchi butter" to "chicken katsu curry with kimchi slaw."
She credits her passion for cooking and diverse network of friends at U of T – where international students, representing 168 countries, comprise more than 25 per cent of the student body – for having a deep influence on her life path and aspirations.
"I decided to recreate some of the foods that reminded me of them."
Ellahi says her initial focus on kimchi took on a life of its own as requests began to flood her Instagram account. She rapidly moved from giving her kimchi away for free to selling at cost – and then finally deciding to scale up into a small business.
Operating out of her parents' kitchen in Lahore, Ellahi soon decided to expand the menu, transforming her business into a take-out restaurant – one that continued to tap her friend group from U of T for ideas and support.
"For example, Hailie allowed me to ask her mother for advice on the fermentation status of my kimchi," Ellahi recalls.
Jeon, for her part, says she's thrilled to have played a role in supporting Ellahi's effort to build a business in Pakistan – and couldn't be more thrilled for her success.
"It's so great to see the business thriving," Jeon says, "I think what she's doing is really admirable, especially for a female entrepreneur in Pakistan, and I have no doubt that she will continue being successful. I just hope I can visit her someday soon."
There were, as with any new business, struggles along the way. With import laws changing frequently in Pakistan, Ellahi faced an unreliable reserve of the produce and spices she needed.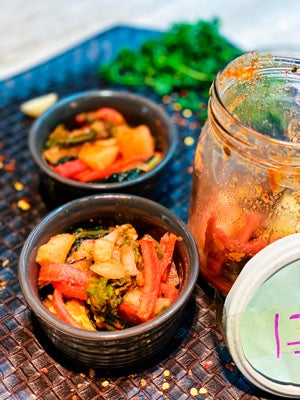 "The biggest challenge … was not food preparation or marketing, as demand kept growing organically," she says. "But it was often very difficult to obtain the needed ingredients."
When she learned of her husband's family-owned agricultural land in rural Pakistan, she decided to solve her supply-chain issue head-on by integrating the farming of her ingredients into her business model.
"The best part is that now the ingredients at Kimchi Girl are local and organic and I can be sure that they are free of chemicals or pesticides and this has made a noticeable difference in flavour, too," Ellahi says.
In addition to its take-out business, The Kimchi Girl is available in 26 retail outlets in Lahore, Islamabad and Karachi, where its kimchi, frozen meals, handmade pastas and other products are sold. Coca-Cola has featured her in an advertising campaign, and she was recently highlighted in a book on female entrepreneurs in Pakistan. 
Ellahi, who describes herself as a cautious and risk-averse entrepreneur, is keen on growing her business if she can maintain the quality of her products. Her vision for The Kimchi Girl includes a catering business and adding a sit-down restaurant over the next three to five years.
She also has plans unrelated to food. They include starting a school in Pakistan with her father and spending more time with her husband and their dogs.
Travelling is also on the menu.
"I've never been to Korea and would love to visit Hailie there," she says. "Much of the healthy and fulfilled life I'm living has to do with my time at U of T and the community I found there. I am certain that I will keep these connections for life, and I hope to visit as many of my international friends as possible."
VPI