Indigenous teens try out University of Toronto for March Break
SOAR introduces high school students to life on campus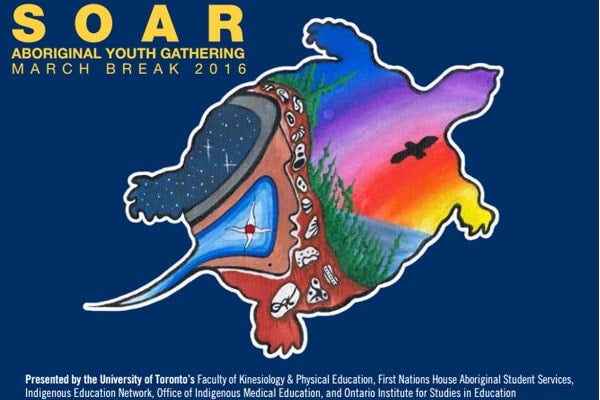 For a small group of Indigenous youth, this March Break was a chance to experience what life would be like as a student at the University of Toronto, through a program called SOAR.
The Faculty of Kinesiology & Physical Education (KPE) has been running SOAR since 2009. Open to Indigenous teens (14 – 17) from all across Ontario, the program is funded through the Ministry of Training, Colleges and Universities Ontario, guided by the Council on Aboriginal Initiatives at U of T and supported by U of T's First Nations House. 
Laurel Franks, a grad student at the Factor-Inwentash Faculty of Social Work at U of T, grew up in a Mohawk community in Northern Ontario. Franks says that for Indigenous children who grow up in isolated or remote environments, SOAR can help show them a safe and welcoming university community. 
"If you are by yourself all the time, like I was, going to university sounds very discouraging," Franks told Metro newspaper. 
Terry Gardiner, assistant manager, co-curricular diversity and equity at the Faculty of Kinesiology & Physical Education, worked with a team of volunteers, university staff and coordinators around the clock to coordinate this year's event. U of T News writer Larysa Woloszanksy spoke with Gardiner about the program; the interview below has been edited and condensed.
What will students take away from this week?
SOAR would like Indigenous students to experience and to know in a meaningful way that post-secondary education is a viable option and that university is a welcoming place where they can and will interact with other Indigenous people as well as Canadians from many different cultural backgrounds and identities. 
We would also like students to become comfortable exploring higher learning so that they explore a number of academic and professional pursuits on the way to making the decision for their post-secondary path. 
SOAR serves two purposes. First, to build awareness and interest for post-secondary education among Indigenous high school students, and second, to engage Indigenous students in leadership opportunities. So we also work with current Indigenous university students who we hire as coordinators and team members for the program. We build their leadership skills by allowing them to create, plan, promote, implement and evaluate the program with the support of KPE staff, and partners and SOAR collaborators including staff and faculty from First Nations House, Ontario Institute for Studies in Education (OISE), the Faculty of Medicine, and the U of T Indigenous Education Network.
Ultimately SOAR hopes that all participants leave the weeklong event knowing that they are welcome at the University of Toronto. We want them to be better informed about the wide range of services and programs available to support their success at the university with a supportive Indigenous and University of Toronto community.
How do you get students to attend the SOAR program? 
It's a multi-pronged approach. The First Nations House Recruitment Officer travels to various communities during the autumn, speaks with local youth and distributes the SOAR postcard to the community. Partners from the Faculty of Medicine Summer Mentorship Program also carry the message.  In the GTA, information about the program is distributed to the Toronto District School Board and the program coordinators visit local Indigenous organizations focusing on events such as community Pow Wows. In addition, email messages are sent to Indigenous organizations across the province to ensure we target all communities near and far. 
Reaction has typically been very positive with strong interest from parents who are eager for their children to access any opportunities that might present themselves to support entry to university.
What are some of the highlights of the program? 
Highlights of the program have been the opportunities for youth to participate in teaching and learning circles led by Elders who transmit knowledge in more culturally relevant ways. Elder Cat Criger led a session at Hart House which the students really responded well to.  
Visits to U of T faculties to learn more about what the programs are always well received and a highlight is always meeting other youth and making new friends in the program – they can see that there are other students like them and there is a place for them in higher education. 
Past SOAR participants have gone on to enrol in a wide range of post-secondary programs – at the University of Toronto and at colleges and universities across the province and a few in other provinces.  
Our goal is to promote higher education no matter the institution. The feedback we often get from our Indigenous youth is reluctance to attend university. They often feel like there are no other students who look like them and share the same upbringing and beliefs. This program shows them that there is a place for them and they can achieve great things with a post-secondary education.
(Below: Leslie McCue and Lindy Kinoshameg lead a traditional dance workshop as part of SOAR Aboriginal Youth Gathering 2016)