Indigenous star lore: Night skies over Turtle Island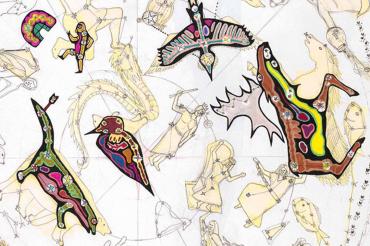 In the Indigenous legend about the constellation Orion, two sets of brothers – the first representing the cold wind, and the second symbolizing the Chinook or warm wind – are in a race toward a single star.
There's a big wrestling match, and the brothers of the Chinook wind appear to be winning.
Frank Dempsy, an astronomy enthusiast and member of the Royal Astronomical Society, shared this Indigenous star story from the Pacific Northwest at the University of Toronto last week. He was joined by U of T's Hilding Neilson, an associate professor at Dunlap Institute for Astronomy & Astrophysics, and Karyn Recollet, an associate professor of women and gender studies, in a panel discussion called Night Skies Over Turtle Island: Indigenous Astronomy. The panel was moderated by Renée Hložek, an assistant professor of astrophysics at U of T's Faculty of Arts & Science and a TED senior fellow.
The event was part of the AstroTours series, organized by Dana Simard, Deborah Lokhorst and other graduate student volunteers in the Faculty of Arts & Science's department of astronomy and astrophysics, exploring everything from pulsars to supernovas. This month, AstroTours teamed up with Indigenous Education Week to create an event featuring Indigenous perspectives on astronomy and star lore.
Dempsy, a member of the Dokis First Nation in Ontario, said he's been studying Indigenous astronomy since he was a young boy learning from Elders and Ojibwe family members. He said the Indigenous stories he learned differed from the Greek and Roman legends found in astronomy textbooks. He said he also noticed that legends are very regional, often reflecting the plants, animals and environment.
"There are variations on the same legends, from the same language group, across regions with different climate and geography," he said.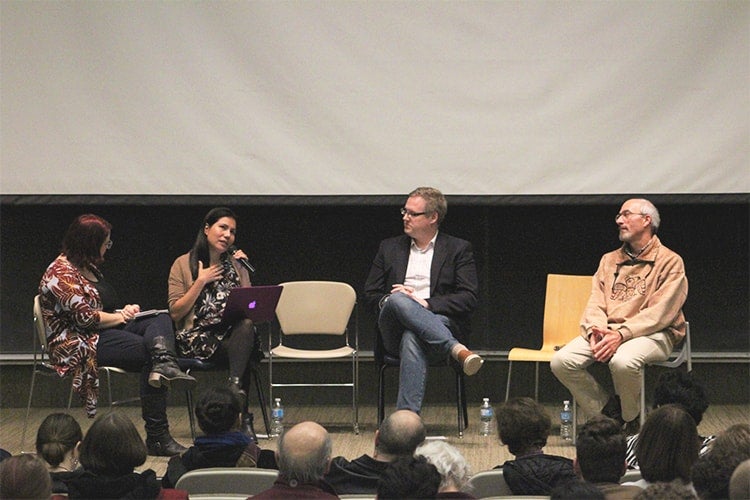 Left to right: Renée Hložek, Karyn Recollet, Hilding Neilson and Frank Dempsey came together to discuss Indigenous knowledge and star lore (photo by Anna O'Grady)
Neilson, who helped organize the event, is a member of the Qalipu band and grew up on the west coast of Newfoundland. He studies stellar astrophysics and the evolution of massive stars from the nuclear-burning centres to their surface and winds. He said he's been using astronomy as a way to learn about his own Indigenous past.
With Indigenous people working to preserve knowledge that was lost or eroded as a result of colonialism, Indigenous lore around astronomy should not be treated as "something cute" – legends and mythology – but as knowledge equal to western science, Neilson said.
He is now applying this idea to the classes he teaches at U of T.
"You use western science and Indigenous science to gain greater insight in combination, and so I'm hoping we can use this to have students question the axioms of western science and think more broadly and deeper about natural phenomenon," he said.
Recollet said Elders likely took guidance from the stars and looked to the night sky for lessons about how to interact with one another. She said she wanted to know more about things like dark matter and said, "How does dark matter gravitationally pull bodies together? I think if we had that language, we could really transform this world and jump scale."
Neilson said that he's already begun working with faculty members from the Centre for Indigenous Studies, Elders and knowledge keepers to begin talking about ways of promoting Indigenous knowledges in astronomy. He said he's also hoping to spend some time with Elders on the east coast to see if he can start to put some of the star knowledge out into the public domain and incorporate them into planetarium exhibits.
"We're sitting here in Toronto where at least three nations lived at various times," he said. "Everybody used the night sky and had knowledge of the night sky, so I try to take whatever I can from knowledges from Indigenous peoples that's freely available and expose students to it. I try to get them to look at science more holistically."
UTC