Indigenous communities drive Connaught-funded research projects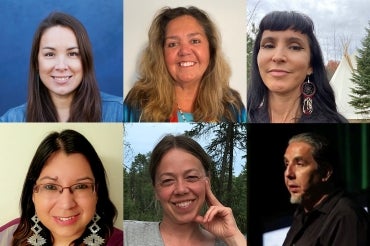 How can traditional knowledge be harnessed to help Indigenous people heal from the trauma of residential schools? Where do Indigenous community organizations want to focus efforts to recover healthy relationships to their lands? How can youth perspectives be meaningfully engaged for the betterment of the next generation of Indigenous Peoples?
These are some of the questions that will be explored by Indigenous-led non-profit and community organizations in collaboration with the University of Toronto's Eve Tuck as part of the Land Education Design Project.
Working together, the partners will create an incubator to support three Indigenous community organizations and a youth research collective. The initiative aims to nurture land-based education programs that are designed by – and for – Indigenous Peoples and their communities.
"Land education is education that happens with intentional relationships to land," says Tuck, a member of the Aleut Community of St. Paul Island, Alaska and an associate professor of critical race and Indigenous studies at the Ontario Institute for Studies in Education (OISE).
"This has always been the way that Indigenous Peoples have learned – in relationship to land and to one another."
The Land Education Design Project is one of nine U of T projects supported by the Connaught Community Partnerships Research Program's Indigenous funding stream. The stream aims to boost Indigenous community-driven research at U of T with culturally safe projects that place Indigenous values and principles at the forefront.
The projects, each of which are receiving $50,000 in funding, were compiled by U of T's Indigenous Research Circle through a consultative process that put the interests and concerns of Indigenous communities at the forefront. That's in contrast to the competitive funding process that typically governs most post-secondary research projects.
"We reached out to 600 Indigenous community organizations and First Nations across Canada and told them that we were interested in hearing if anybody had any research that they wished to do, and that we would like to explore matching them with researchers at U of T who had the skills, knowledge and capabilities to work with them," says Associate Professor Suzanne Stewart, the provost's academic adviser on Indigenous research and director of the Waakebiness-Bryce Institute for Indigenous Health at the Dalla Lana School of Public Health.
Next, the Indigenous Research Circle contacted U of T researchers with a track record in Indigenous-focused research. Those who were keen to participate were then introduced to the community partners and discussions held to explore opportunities for collaboration.
"What was different about this was that it was community-driven and co-operative, rather than academic-driven and competitive," says Stewart. "We strove to really base every part of the process on Indigenous principles such as co-operation, relationship, transparency, honesty and non-interference – cornerstones of Indigenous cultural values."
Several of the community organizations were understandably skeptical given past experiences with university researchers that had left them disillusioned.
"They've had many researchers come to them before and say, 'This is the problem, this is how it is and this is what we're going to do' – there was always this talking down," says Clayton Shirt, Traditional Knowledge Keeper and member of U of T's Indigenous Research Circle who hails from the Wolf Clan of Saddle Lake Alberta, Treaty 6. "It was never community-led."
Shirt says he and Cathy Fournier, special projects officer at U of T's Indigenous Research Network, had to work to assure community representatives that their relationships with the U of T researchers would be centred on trust and mutuality, and that the research would truly be steered by their ideas.
In the case of the Land Education Design Project, that means Indigenous community organizations will determine how they want to wield land education to benefit their people, says Teresa Edwards, executive director of the Legacy of Hope Foundation – which is working with OISE's Tuck on the initiative.
"We expect the community partners will work out what have been the costs or harms to their relationships with the land based on colonial harms – such as what survivors experienced while in residential and day schools or within the Sixties Scoop, and the racism they have experienced in Canada," says Edwards. "As well, based on understanding these situations, they can start to identify effective and locally relevant remedies that would directly address these harms."
Edwards cites substance abuse, depression and self-harming as examples of behaviours linked to trauma that could be addressed through cultural revitalization and land-based healing models.
"We reviewed additional research confirming the importance and power of land-based healing and treatment for Indigenous Peoples that was locally informed and shaped and empowered survivors," says Edwards. "In partnering with Dr. Tuck, we adapted our interests with her expertise so that a land education project could move forward, paving the way for the foundation to increase our capacity to do community research that resulted in concrete, positive, culturally-informed action."
For Tuck, who holds a Canada Research Chair in Indigenous Methodologies with Youth and Communities, the project taps into a longstanding interest in youth participatory design research.
"One of the lines of my work is youth participatory action research, where we bring teenagers into collectives and teach them the same things that I teach my graduate students – how to do qualitative research including interviews, focus groups, photovoice and other visual methods," Tuck says.
"In this instance, where our research question is, 'What are the kinds of land education programs that residential school survivors and their families desire?' – youth participatory research is a very fitting method."
One of the other projects funded by the Connaught Community Partnerships Research Program uses Indigenous knowledge to help the natural environment – specifically Lake Winnipeg's south basin.
Over the last several decades, Lake Winnipeg has suffered from eutrophication, or an increase in minerals and nutrients that results in excessive growth of algae that affects drinking water, fishing and enjoyment of the lake. To help address this problem, the Connaught Indigenous funding stream is supporting a project that will explore how Indigenous and Western knowledge can be combined to create natural infrastructure – such as the planting of vegetation to clean water and air – aimed at reversing the eutrophication.
"The idea that these two knowledges can build on and support one another towards environmental repair is an amazing agenda and will be hugely important to solving the complexities of eutrophication," says Alissa North, an associate professor of landscape architecture at the John H. Daniels Faculty of Architecture, Landscape, and Design, who will be working with the Winnipeg-based Centre for Indigenous Environmental Resources (CIER) on the project.
To that end, North, her graduate students and CIER will hold virtual "Knowledge Circles" – community engagements with First Nations – to exchange ideas and share perspectives that could inform future natural infrastructure projects. North's team will then work with CIER to put together a guidebook that draws on the insights gleaned from the Knowledge Circles.
Shianne McKay, senior project manager at CIER, explains the value of incorporating Indigenous Knowledge by using the example of a community seeking to build a wetland.
"You could bring in Elders and Indigenous Knowledge Keepers to inform on the types of plant species that could be grown there – because some of our most powerful medicines are found in the wetland areas," says McKay, who is Ojibway and a member of the Pine Creek First Nation.
"So, to have people at the table with that knowledge while designing something like that would be really beneficial."
McKay says the exchange of knowledge will also help Indigenous communities learn more about the process of building natural infrastructure, which could have a long-lasting impact.
"It's providing communities with examples of what is possible and teaching them about the different types of natural infrastructure, so that they can envision what's beneficial to their communities and how they can use natural infrastructure to help mitigate different environment problems," she says.
The project is part of a long-term effort by the Collaborative Leadership Initiative – which comprises elected leaders in the Winnipeg Metropolitan Region and First Nations chiefs – to boost environmental health and community well-being, with the health of Lake Winnipeg representing a key priority.
"It's a great way to advance the work the Collaborative Leadership Initiative was already undertaking," says Richard Farthing-Nichol, project manager at CIER. "CIER has been around for 25 years, so we have relationships with these communities and work with them already."
Farthing-Nichol notes that the project can serve as an example of genuine dialogue and reconciliation between Indigenous and non-Indigenous peoples, and ways of knowing.
"Incorporating Indigenous and Western knowledge on an equal basis is something that we have to do from the very outset, and throughout the project planning, design and construction," he says. "You shouldn't build natural infrastructure unless you're also trying to build those relationships."
For the members of U of T's Indigenous Research Circle, the coming-together of university faculty and Indigenous communities to pursue community-driven research is a watershed event that could serve as a model for the future. Stewart says she's been "overwhelmed" by the university's willingness to let the Indigenous Research Circle work to explore research possibilities without interference.
"This is really the first time that we, Indigenous Peoples, have been granted autonomy and sovereignty within any research funding system within a university," she says.
"I've never heard of research funding based on Indigenous values and principles happening before. As far as I know, no other university in Canada or around the world has done this."
Shirt similarly highlighted the opportunity to build a new relationship.
"I feel honoured to be able to say that I saw this massive institution called U of T give us the place to plant these seeds," he says. "This has the potential of growing into something really beautiful."
UTC