Illustration by U of T alumnus about U.S. family separation policy goes viral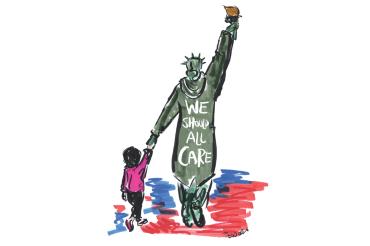 Justin Teodoro wasn't alone in feeling baffled by American first lady Melania Trump's choice of attire for a trip to a centre for migrant children last week. 
Many criticized Trump for wearing an olive green jacket with "I REALLY DON'T CARE, DO U?" written on the back, amid an uproar over the U.S. government's policy of separating immigrant children from their families at the border.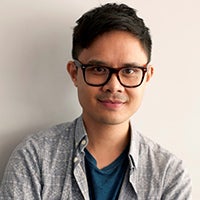 There was no question that Teodoro, at least, really does care. The New York City-based illustrator, who graduated with a bachelor's in art history from the University of Toronto in 2002, doesn't often mix art and politics, but he made an exception in this case. 
He drew a picture of the Statue of Liberty wearing a jacket saying "WE SHOULD ALL CARE" walking hand-in-hand with the crying girl from Getty photographer John Moore's famous photograph. He posted the illustration to his Instagram profile on Thursday, and it has since been liked over 34,000 times.
He has seen the image pop up on the BBC and the Washington Post, and he has given interviews to the Huffington Post and CBS News. 
Although the first lady's spokesperson has said the jacket was not intended to send a message, Teodoro says her choice of outfit was "mind boggling" in the circumstances. 
"It was baffling and tone deaf. You can spin it however you want, but in this day and age every word has a meaning," he said.
He's now working with an organization called Pincause to sell pins with his illustration and raise money for RAICES Texas, which describes itself as the largest immigration legal services provider in the state.
Teodoro told U of T News he was particularly glad to see that some people were moved by his art. Strangers sent him messages simply saying, "Thank you," he said.
UTC