If the walls could talk: U of T's Hart House offers a lesson in Anishinaabemowin
Words to help us "see Tkaronto (that's Toronto, by the way) in a new light"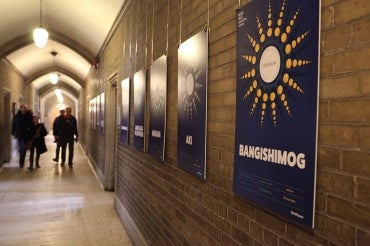 Long before Drake nicknamed Toronto "The 6ix" some French explorers and a cartographer prone to typos borrowed from the Mohawk word "Tkaronto" to give the city its name. 
How "Tkaronto" came to be known as "Toronto" is a long, convoluted – and debated – story. But as Hart House's new "Talking Walls" exhibit demonstrates, Indigenous languages have always played an important – yet unacknowledged – role in Canada.
Susan Blight, Aboriginal Student Life Coordinator at First Nations House, selected the Anishinaabemowin words and phrases for the exhibit. With the help of a graphic designer, they've been turned into colourful posters that now line a Hart House corridor. 
The exhibit follows an entrustment ceremony at Hart House, where U of T's Truth and Reconciliation steering committee handed over its final report calling on the university to take action in key areas. Hart House Warden John Monahan was on the steering committee and says the timing of the Anishinaabe "Talking Walls" is no coincidence. 
There has been a "booming silence" around Indigenous issues for too long, he says. Because of his work on the steering committee, he said he feels an even greater responsibility to respond to the actions in the report.
"Maybe I have a greater impulse to work very diligently to open this space up to Indigenous practice and ceremony," said Monahan.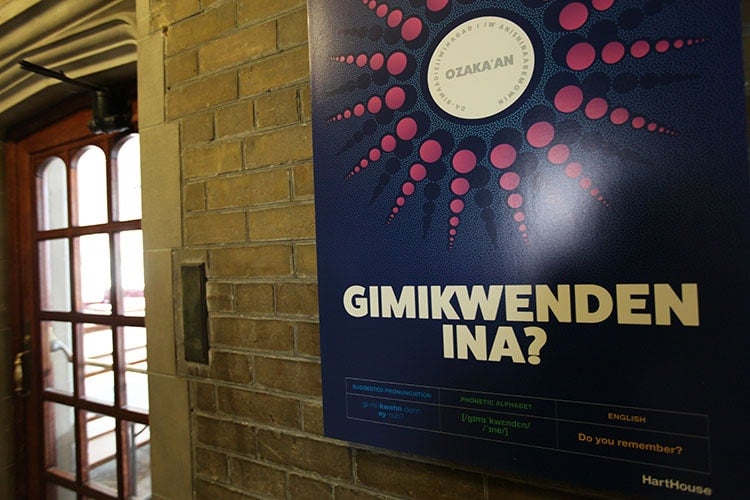 The posters offer a suggested pronounciation along with the phonetic alphabet and translation (photo by Hannah James)
Visitors walking along the first-floor corridor at Hart House can learn phrases such as "Gii-kashkadin i'iw zaaga'igan gii-kisinaag," meaning "The lake froze over when it got cold," or "Giminadan gagiginonshiwan," meaning "It was nice talking to you." 
The Anishinaabemowin posters are mounted as a lead up to the 2017 Hancock Lecture, "Land and Life in Tkaronto: New Solidarities Toward a Decolonial Future."  
Blight will be the keynote speaker at Tuesday evening's lecture at Hart House. From Couchiching First Nation, Blight is known for her work as a visual artist, filmmaker and activist. 
"I knew of her work locally and was really impressed by her," Monahan says. "I have just come to really respect her as a colleague and someone I can always count on to be truthful – and firm in speaking truth. I really respect that."
Blight co-founded the Ogimaa Mikana Project – an effort to reclaim and rename roads, streets and landmarks of Anishinaabe territory with Anishinaabemowin words printed on stickers and applied to English language signs. The project aims to transform a landcape "that often obscures or makes invisible the presence of Indigenous peoples," the project says in a statement on its website. 
Blight will explore these themes in her Hancock Lecture, "Land & Life in Tkaronto: New Solidarities Toward a Decolonial Future." 
"This is a great opportunity to actually have a conversation about conciliation between Indigenous and non-Indigenous people around the University of Toronto, and what that actually looks like," said Monahan. 
"Language is such an important part of that because it's such an important part of one's cultural identity."