From ice fishing to stargazing: U of T students talk science with Sandy Lake First Nation
When a group of U of T graduate students in the STEM fields were invited to Sandy Lake First Nation this spring, they shared their passion for science, helped with diabetes prevention programs and learned about local traditions and culture.
"It's a two-way sharing and learning experience," says Sandhya Mylabathula, a PhD candidate who helped coordinate the trip through U of T's Let's Talk Science site. Let's Talk Science is a national organization running outreach programs to encourage engagement in science, technology and engineering.
The trip was the latest chapter in a partnership between U of T and Sandy Lake, a fly-in community located more than 1450 kilometers northwest of Toronto in Ontario. It's a partnership that has been going on for more than 20 years. In the early 90s, Sandy Lake's Chief and Council invited U of T researchers specializing in Type 2 diabetes to help combat the disease that was plaguing their community.
Working closely with U of T researchers, Sandy Lake has developed its own diabetes prevention programs over the years. A local diabetes prevention radio show, a running club, healthy cooking classes and traditional hunting and fishing lessons are some of the initiatives that have sprung out of the community's federally-funded Diabetes Prevention Program.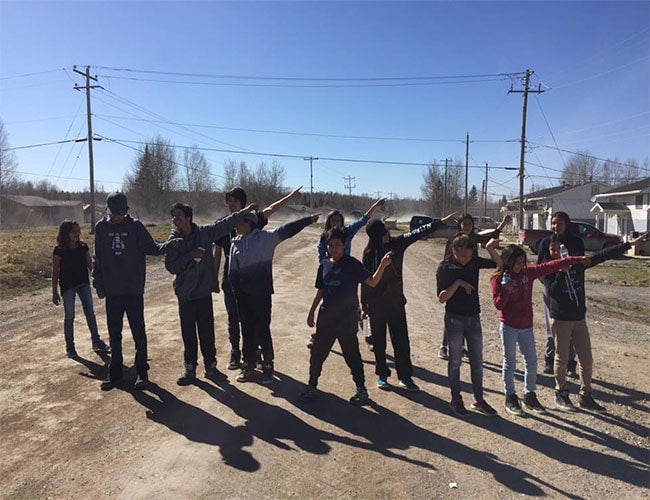 Faster than Usain Bolt: Sandy Lake's running club is one of several programs to keep kids active and healthy (photo via Facebook, Sandy Lake Running Club)
Gary Manoakeesic, the program's physical activities coordinator and diabetes program assistant says he worked with U of T Let's Talk Science student volunteers to develop science-based activities to support the community's diabetes prevention mandate.
"Being in the south they have more resources and access to information versus living here in a remote community," says Manoakeesic.
When the U of T students arrived in Sandy Lake in May, Manoakeesic says he put them to work on his latest program initiatives – building chicken barns for egg production and working in community vegetable gardens for growing potatoes, corn and carrots.
"We were busy from morning to night," said Candice Tang, a first year master's student in the department of immunology in the Faculty of Medicine at U of T. Raised in Toronto, Tang says visiting Sandy Lake First Nation was her first time in a First Nations community.
She says she liked the fact that Let's Talk Science volunteers tailored science-based activities to the needs of the community. They taught school children about food composition, water filtration and even physiology during fitness circuit training.
In exchange, the U of T students learned about the local Sandy Lake culture. Tang tried ice fishing, learned about hunting methods, and got to hear Indigenous celestial legends during a community-wide stargazing activity.
U of T Let's Talk Science volunteers experience ice fishing in Sandy Lake (photo by Elliot Fiddler)
Dr. Anthony Hanley,  the U of T diabetes researcher who has been working with Sandy Lake since 1993, says Canada's colonial policies and residential schools caused massive disruption to Indigenous communities. The loss of a hunter-gatherer way of life coupled with lack of access to healthy foods, poor nutrition and lack of physical activity have created many health problems for Indigenous communities today, Hanley says.
"I'm hoping that one day we have more understanding of the foods we used to eat and incorporate the Western concept with our traditional ones," says Manoakeesic of the partnership with U of T's Let's Talk Science students.
Tang says that while she has always loved doing science outreach, she never really considered herself to be a teacher. She says sharing science with students at Sandy Lake gave her a new perspective.
"It was so rewarding to see students react, ask really intelligent questions and give you things to think about," she says.
"You don't need to go abroad to meet people with different ways of teaching and learning." 
UTC