'I want to make room for people': Pilot program aims to level the playing field in field research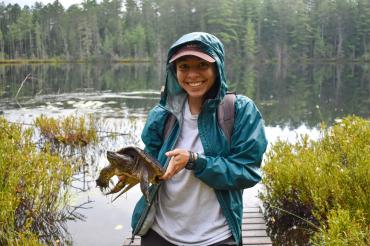 Field research experience is key to success for many University of Toronto students, and now the Field Research in Ecology and Evolution Diversified (FREED) program is helping those who identify as Black, Indigenous or people of colour have equal opportunities to thrive.
"Field work is extremely expensive, which closes the doors for so many people due to systemic factors or financial issues," says Mariel Terebiznik, who recently graduated from U of T with a master's degree in ecology and evolutionary biology and co-founded FREED alongside Aranya Iyer, a graduate student at Western University.
"I want to make room for people who don't have access to these spaces." 
In association with the department of ecology and evolutionary biology (EEB) in the Faculty of Arts & Science, FREED completed a successful pilot program this past summer. It involved a week of education, travel and accommodation at the Algonquin Wildlife Research Station, immersing student in paid and intensive field work environments where they gain crucial experience for future research positions.
Njal Rollinson, an assistant professor in the department of ecology and evolutionary biology, acted as faculty sponsor. He says he understands how crucial such programs are for students' success.
"It's important to get this type of research experience under their belt so they can put it on their resume," says Rollinson. "And it helps them clarify whether they want to go into field research in the first place.
"These are the fundamentally important things that most people like me had the privilege of experiencing early on in my career whereas others haven't."
This year, the program included students from U of T and Western, with donations from the U of T community, including alumni, going directly toward U of T students.
"We don't always have the support system to go into research or academia and it really meant a lot to have this kind of community," says Jasmin Jeong, who attended FREED as a life sciences student in her second year with Woodsworth College.
"It's comforting to know there are other people out there who want to do things that I want to do."
From canoeing and catching turtles to humanely trapping flying squirrels, as well as tree and insect identification, the students learned valuable skills about scientific research while they cultivated a network of peers and mentors.
"We talked about our experiences as racialized students and how it might have been harder for some of us, but talking about the intersectionality of our identities was really comforting," says FREED participant Angela Wang, a fourth-year life sciences student with Trinity College.
"It was the best summer experience of my undergraduate career. Even though it was a lot of hard work, it didn't feel like work."
Thanks to sponsorship from academic partners including U of T and Ontario Parks, the students had access to camping and research equipment, outdoor living and safety training, a hike along Algonquin's scenic Beaver Pond Trail off the Highway 60 corridor and a guided wolf howl by the midnight moonlight.
"It can be a little scary but don't be afraid to try new things and talk to different people," says Jeong, who advises future FREED participants to go outside their comfort zone if they want to get the most out of the experience.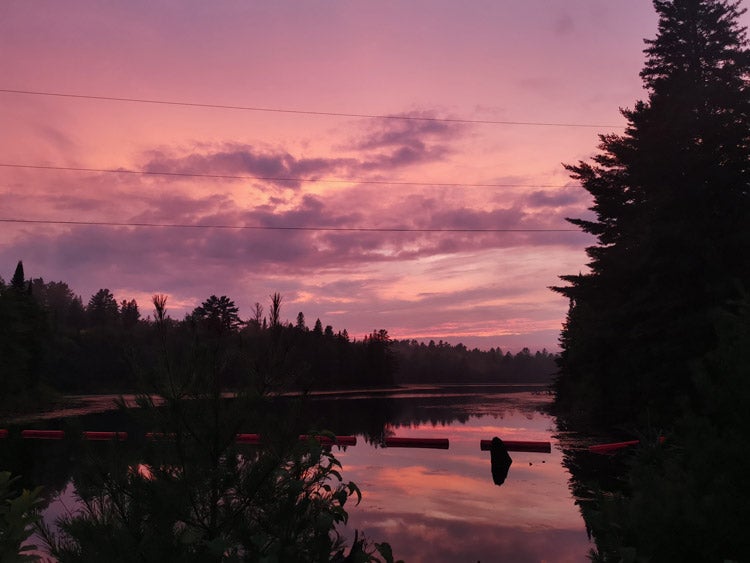 The sun rises at the Algonquin Wildlife Research Station, where students participated in the first ever FREED program (photo by Angela Wang)
The week-long program offers students an invaluable opportunity that might otherwise be inaccessible. 
"It's such a great opportunity to discover something you might be passionate about," says Wang, who adds she will always cherish the friendships she forged during her week in the wilderness.
"We even joked about having a 25-year reunion, and I think someone will make that happen."
FREED plans to run again in summer 2023 and organizers are already looking at expansion, with the possibility of adding more groups of students over multiple weeks.
"This was such an incredible success and I can't wait to see what the future brings," says Rollinson, who envisions different FREED chapters across Ontario in the years to come.
"Starting this program was one of the most fulfilling experiences of my life," says Terebiznik. "We were blown away by the support and we were never turned down by the people we looked to for help."
Arts & Science