'I feel hope': A devastating diagnosis prompted U of T alumna Natalie Jenner to pick up the pen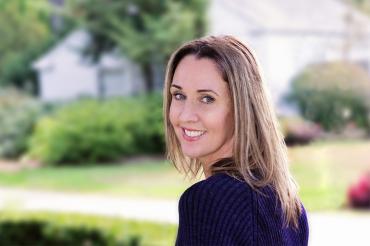 Five years ago, University of Toronto alumna Natalie Jenner decided to pursue a passion project: a bookstore in Oakville, Ont. But shortly after opening, her husband was diagnosed with idiopathic pulmonary fibrosis, a progressive and terminal condition impacting the lungs.
"The majority of people diagnosed with this disease will pass away within two to three years of diagnosis," says Jenner, a graduate of U of T's Faculty of Law and St. Michael's College. "My husband has outlived those statistics so far."
To cope with the devastating diagnosis, Jenner turned to her favourite author: Jane Austen. She read the author's six novels, delved further into Austen's life and even visited the cottage in Chawton, England where Austen worked on or wrote all six of her major novels during her final years.
"My respect for Austen is boundless in terms of what her books can give you," says Jenner. "They regenerate and give you different things at different stages in life."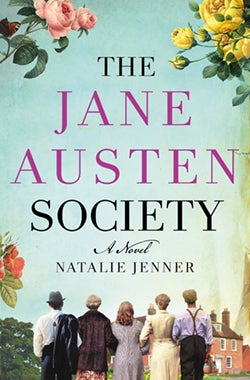 Austen – and her works – inspired Jenner to write her own novel, which was published last spring. The Jane Austen Society tells the story of a group of villagers – a doctor, a lawyer, a teacher, servant girl, a farmer, an heiress, a Sotheby's auctioneer and a Hollywood film star – who come together at the end of the Second World War to save Austen's cottage before it is sold off to a developer. It was released last year.
As a work of historical fiction, only the book's setting is real. The two Chawton structures featured in the story have been saved by ongoing real-life efforts and are now both public institutions.
As in her book, Jenner says a group of people met in someone's living room and decided to save the cottage – but were unable to raise the funds during the war. After it was over, a grief-stricken villager who had lost his son in battle bought and donated the cottage in his son's memory.
"I felt the weight of history and the beauty of what was around me, and from that, I must have derived some sense of hope," says Jenner, recalling a visit to Chawton.
"The whole time I'm reading Austen and researching her, I wasn't doing it thinking I was going to write about her at all. I was doing it purely to distract myself. I am so happy I had that light bulb moment, where I said to my family, 'I'm ready to write again'. My husband is stable. We don't know what's around the corner. But I feel hope.
"I think through [writing] this book, [I was] able to explore grief, actively living with grief, and that moment when you decide to re-engage with life again."
The Jane Austen Society has received several accolades, including runner-up for best historical fiction in Goodreads' Choice Awards for Best Books of 2020 and a finalist in the debut novel category.
The novel has been sold for translation in 18 different languages.
"I never thought I'd say these words, but just being nominated is an honour in itself," says Jenner. "The company that you're next to is such a thrill when it happens."
Jenner previously worked as a corporate lawyer in downtown Toronto. She says her inspiration to study law came from seeing the 1973 film The Paper Chase.
"We didn't know any lawyers. They were arguing contracts law [in the film], and I was fascinated. I looked at my mother and said, 'I don't know what they're doing – but I want to do that when I grow up.'"
After several years of practice, Jenner sought a new career path. For nearly 20 years, she worked as a career coach to national law firms.
Following her husband's diagnosis, she closed her just-opened bookstore to focus on his health and her coaching work was put on-hold to focus on her book's launch.  
"I'm not quite ready to say that I won't be going back – I love being a coach for lawyers. I feel very lucky and blessed to have had a few careers."
Although Jenner she says never thought The Jane Austen Society would be published – her first five novels had been rejected by agents – she has just sold her second book, which follows the later adventures of the society's servant girl.
"We have not left our house since March because of my husband's lung health," Jenner says. "That's been, as everybody knows, incredibly trying. But I feel very grateful that I have this skill that I can use, whenever I want and whenever I need to."
"This [past] year has taught everybody not only the importance of our health, but also to make the most of what we have."
Faculty of Law