'I don't have to depend on anyone else': U of T's Symone Peltier on how she found empowerment in education
Symone Peltier had her sights on the University of Toronto since she was in Grade 9. She gravitated to U of T's varied architecture while searching online for universities – particularly Robarts Library, the St. George campus's massive, brutalist peacock-shaped structure.
Her search also took her down a rabbit hole of rankings, world-renowned professors and interesting courses. "I thought: This is amazing, I have to come to this university." 
Earlier this year, she finally arrived at U of T Mississauga as a first-year student studying psychology, fulfilling a goal she set for herself four years ago. Her journey to U of T involved tireless effort and dedication, two brief stays on campus, a trip to the other side of the world and the endless support of her mother, Natasha.
Symone comes to U of T from Manitoulin Island in Lake Huron, among the largest freshwater islands in the world.
Located about a six-hour drive from Toronto, Manitoulin is home to six First Nations reserves and is a popular destination for visitors craving outdoor activities.
Symone, who was born in Ottawa, moved to Manitoulin in her early teens with her mom and sister Elainah, who's now nine years old.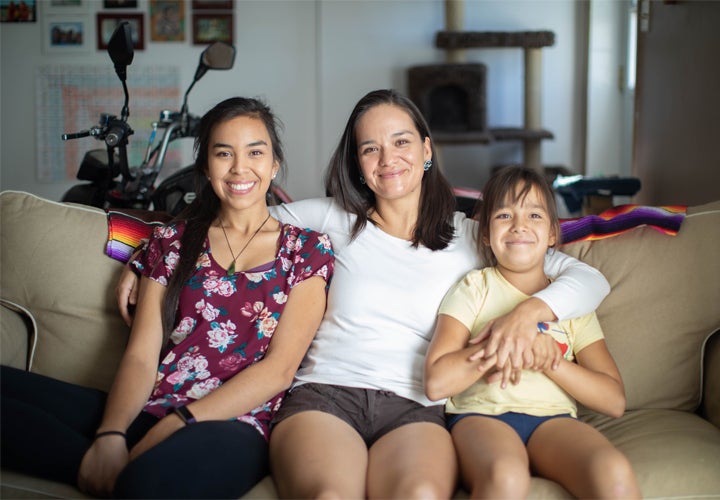 Symone (left) with her mom Natasha and sister Elainah (photo by Lisa Lightbourn)
In high school, Symone was not only a top student, but was heavily involved in extracurricular activities, from playing on the volleyball team to participating in robotics competitions.   
She also spent a semester in Grade 12 on exchange in Australia and New Zealand, which gave her a taste of independence and exposed her to new cultures and people.
"When I came back, I felt that I had grown," she says.
Symone's ambition to go to U of T was a big motivator throughout high school and, in 2018, she got a sense of campus life by participating in two university outreach programs. The first was the Soar Indigenous Youth Gathering, run by the Faculty of Kinesiology & Physical Education. It takes place during March Break and brings Indigenous teens to the St. George campus to learn about U of T's academic programs and resources.
Symone, who is Ojibwe, enjoyed getting to know U of T during the youth gathering, as well as learning about First Nations House.
"I thought that would be really helpful for Indigenous students – and it only solidified my decision of going to U of T even more than before," she says.
Symone returned a few months later for the Faculty of Medicine's Summer Mentorship Program – a four-week program that introduces students of Indigenous and African ancestry to health sciences at U of T. She stayed in residence, lived like a student, participated in hands-on activities and spent time at First Nations House.
Back on Manitoulin Island, Symone's hard work in school paid off and earned her an Ontario Scholar award and the Governor General's Academic Medal for the highest marks in her graduating class.
Symone's drive to succeed academically is rooted in her understanding of the importance of education – a core value instilled in her from a young age by her mother, who was just 18 when she was born. Her mom was a single parent who pursued a registered practical nurse designation, eventually earning a nursing degree as well. She's currently working on a master's in the same field.
"I was taught that as long as you have an education, then you're fine, and I don't have to depend on anyone else to do anything," Symone says.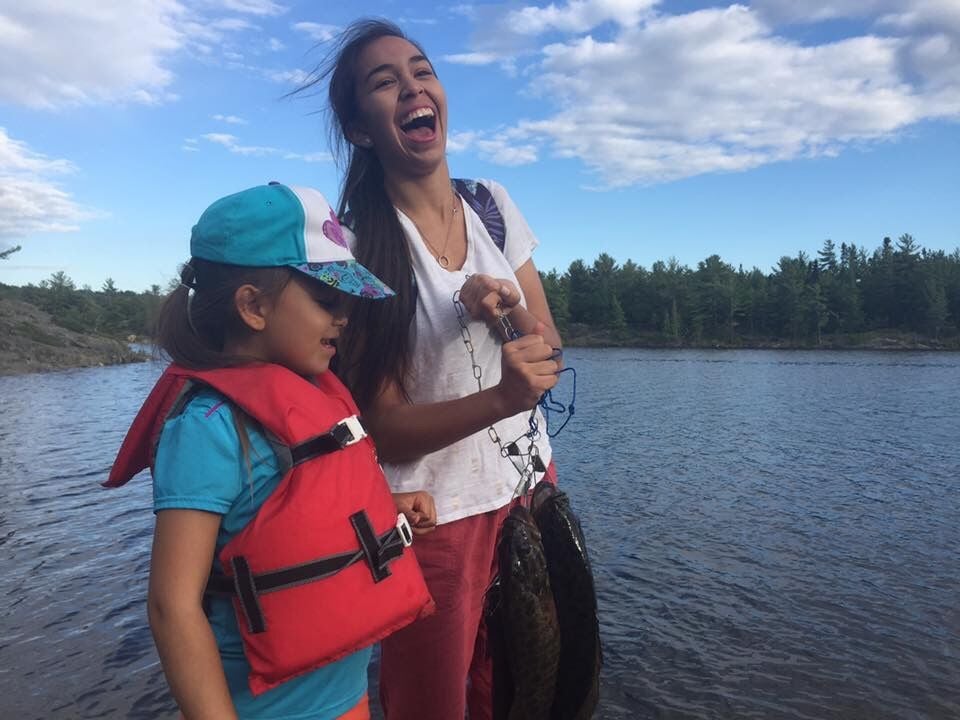 Symone and her sister Elainah fishing together (photo courtesy of the Peltier family)
Natasha, for her part, says education is also a way out of the negative stereotypes and statistical outcomes that plague many Canadian Indigenous communities – particularly Indigenous women.
"We're at higher risk for everything. Not only poverty, not only violence, not only assault – we go missing," she says. "At least if you have an education, you have that one extra thing in your toolkit to help you get away from that, to help you steer clear of some situations that could be pretty detrimental to your future, your well-being, your livelihood."
Symone says her decision to study psychology at U of T Mississauga stems from her desire to help people within her community and beyond.
"I chose psychology because I'm coming from an Indigenous community and a single-parent family," she says. "We have experienced a lot more unfortunate situations than most people have."
Always thinking a few years ahead, Symone hopes to work at the Centre for Addiction and Mental Health (CAMH) in Toronto after graduation, and then return to Manitoulin Island to work with the Wiikwemkoong First Nation community. She also wants to work with Indigenous communities elsewhere in Canada.
As an Indigenous woman, Symone says she feels very connected to her culture.
"I know quite a bit about my culture and I know that having that spiritual connection is really important," she says. "It's all about having that balance while you're away, especially during such a big transition in life."
On Manitoulin, Symone says she and her family regularly go to sweat lodges and participate in powwows. She's also taken to craft work – learning to bead so that she can design her own regalia for an annual powwow on the island.
For the Peltier family, education extends far beyond the classroom and onto the land, where Natasha teaches her daughters how to hunt and fish.
"I think by being so involved in a lot of the land-based education that I try and do with the girls – the hunting and the fishing and all of that – she's carrying both of those forward with her," Natasha says.
Traditional knowledge is also an important part of her daughters' education, according to Natasha. She says that Symone embodies the Ojibwe seven grandfather teachings – a moral code that includes humility, respect, love and bravery.
"I can see her demonstrating all of that in decisions she makes and the way that she carries herself."
With such a tight-knit family, Symone says it's tough moving away from her mom and sister to go to U of T.
"I'm going to miss them a lot," she says.  
But a few weeks into her university career, Symone is already looking forward to the year ahead. She's digging into her textbooks and, recently, spotted two local U of T Mississauga celebrities: a doe and her fawn.
"It was really cute and weird at the same time," she says. "I'm not used to seeing them in the city."
UTC