Hybrid immunity provides better protection from COVID-19 than prior infection or vaccination alone: Study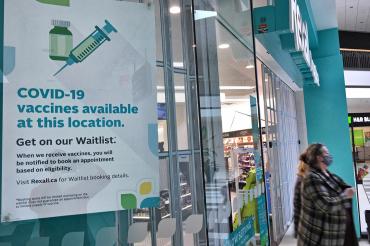 People who have recovered from COVID-19 and been vaccinated against the virus have the best and longest lasting protection against future infection, compared to people who have been only vaccinated or only previously infected, according to a new international study.
The findings are published in Lancet Infectious Diseases.
"These findings highlight the importance of vaccination, even for people who have already had a SARS-CoV-2 infection, and may also help inform planning and policies for future booster shot campaigns," says researcher and lead author Niklas Bobrovitz, a student in the MD program at the University of Toronto's Temerty Faculty of Medicine.
The study looked at the effect of COVID-19 infection or vaccination versus the combination of infection and vaccination (known as hybrid immunity) against future COVID-19 infection, hospitalization and severe disease. The researchers also explored how long protection lasts after the most recent infection or vaccination.
The findings show that people with hybrid immunity that includes a full primary dose regimen, which varies by manufacturer, are well protected from hospitalization or severe disease for at least nine months, with lesser but still substantial protection against reinfection.
The team found that prior infection and hybrid immunity both provided more robust and longer-lasting protection against the Omicron variant than vaccination alone. And although protection from infection quickly wore off following infection or vaccination (60 per cent reduced chance of infection at six months), the protection against hospitalization or severe disease remained high (97 per cent reduced chance of hospitalization or severe disease at 12 months).
To reach their findings, the team did a systematic review of 11 studies that examined people who'd been previously infected as well as 15 studies that featured people with hybrid immunity.
The study, which is the most comprehensive study of hybrid immunity to date, is part of SeroTracker, a group that tracks population immunity around the world using serology test results that show COVID-19 antibodies in a person's blood from either vaccination or infection. The platform was created by Canadian graduate and professional students and launched early in the pandemic.
Bobrovitz first became involved in SeroTracker at the invitation of his classmate Tingting Yan, one of the platform's co-creators who, at the time, was in the second year of the MD program and completing a master of science degree in the Institute of Health Policy, Management and Evaluation at the Dalla Lana School of Public Health.
Having recently completed a PhD in clinical epidemiology at the University of Oxford, Bobrovitz wanted to use his research skills to help protect the public from the consequences of COVID-19.
SeroTracker caught the attention of the Public Health Agency of Canada and the World Health Organization (WHO), which used the platform to develop models of the spread of infection. The project set the stage for Bobrovitz to work with researchers from around the world including Maria Van Kerkhove, WHO's top COVID-19 technical adviser, and members of the Canadian COVID-19 Task Force.
The team also included contributions from learners at universities in the United States and Canada, including Brianna Cheng and Christian Cao, who are both in their first year of Temerty Medicine's MD program, and Xiaomeng Ma, a PhD student at the Dalla Lana's School of Public Health.
Though the team's findings suggest that hybrid immunity offers greater protective benefit than vaccination alone, Bobrovitz stresses the importance of avoiding infection.
"Despite how much scientists and physicians have learned about COVID-19, it's still very difficult to predict how an infection will affect different people," Bobrovitz says. "Deliberately getting infected could result in death, a need for mechanical ventilation in the ICU or a host of serious chronic health consequences. It's not worth the risk."
Bobrovitz says that in addition to providing lessons for managing COVID-19 in the future, the study's results may also have implications for outbreaks of other infectious diseases.
Medicine