'A huge smile under my mask': U of T profs welcome students back to the classroom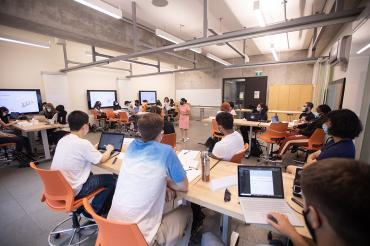 When Charlie Keil addressed his film-history class for the first time this fall, the first thing he said – before introducing himself – was "I cannot tell you how happy I am to see you all here." 
The principal of Innis College and professor in the University of Toronto's department of history and cinema studies teaches a year-long course that encompasses the silent film era to the 1960s.
Like thousands of others at U of T, Keil's course was moved online earlier in the pandemic. But Keil said the virtual format was less than ideal since students can't hear the laughs, gasps and other audience reactions that reveal important insights about a movie – in this case, Bonnie and Clyde.
"Film was conceived of as a form that you are meant to see with other people," Keil said. "Even if it's something that the film doesn't mean to be funny, and then everyone titters at it, that's a shared sort of spontaneous response and it can become helpful in the pedagogy." 
Keil is far from the only U of T professor who is welcoming the return to face-to-face learning this fall – albeit behind masks.
At the Myhal Centre for Engineering Innovation & Entrepreneurship, Elham Marzi recently taught a negotiations class for upper-year students in the Faculty of Applied Science & Engineering. The assistant professor, teaching stream, in the Institute for Studies in Transdisciplinary Engineering Education & Practice (ISTEP) said the in-person teaching experience has advantages over online instruction. 
"It gives us a better ability to learn from each other and with each other. So, it opens a lot of possibilities that we've missed out on during the pandemic," she said, adding that some students had difficulty when she was teaching remotely due to poor internet access or because they lived in a different time zone.
Now, she said, the entire class is back on a level playing field.
While COVID-19 remains a concern, Marzi said students are respecting safety measures, including wearing a mask throughout her class. Other U of T measures in U of T's 12-step plan include a proof of vaccination requirement, mandatory self-screening, improved ventilation and physical distancing requirements in non-instructional spaces.
"Students have been exceptional and everyone is working together – and being in it together is incredibly important," Marzi said. 
Yasmin Adem, a fourth-year mechanical engineering student in Marzi's class, said it feels good to be back in a lecture hall.
"I feel a bit more productive because I'm actually in a school setting this time," she said. "At home, I was either on the couch or my bed."
Jessica D'eon, an associate professor, teaching stream, in the department of chemistry in the Faculty of Arts & Science, said she held a "hybrid" class during the first week that gave students the option to conduct an air-sampling exercise in person or to use old datasets. All chose to pick up the equipment in person and collect fresh data from a range of indoor environments, including subway stations. 
"I'm excited to be in-person and I think it's going to work out well," D'eon said. "I hope – and I think – the majority of my students feel that way, too, but I do understand that many people have complicated emotions about it." 
If all goes well, D'eon hopes to take her students on a field trip to a site on the Welland River that was contaminated with fluorinated organic chemicals by fire-fighting training activities at the John C. Munro Hamilton International Airport. Her classes started gathering data to monitor the site's recovery five years ago but had to skip the exercise last year due to the pandemic.
"I found in previous years the class is night-and-day different after the field trip," she said. "I just find it's a really good bonding activity and that the dynamic of the classes is quite changed."
Chirag Variawa, an assistant professor, teaching stream, at ISTEP, will have to wait a little longer to resume in-person teaching. That's because his course, Orientation to Engineering, is one of the largest classes in the Faculty of Applied Science & Engineering, with more than 1,000 students.
Variawa said teaching remotely has some advantages – including the ability to bring in guest speakers from Google, Microsoft and Tesla – and his students still get to participate in 40-person tutorials that are conducted in-person by teaching assistants. There, they learn about ethics, time management and develop other core competencies. 
Variawa said some of his students stopped him in the hall last week after they recognized him behind his mask.
"I was just so shocked. I had a huge smile under my mask," Variawa said. "It was one incredible bonding moment. It was just so special to see your students in person, and for the students to see the human behind the camera.
"To have this moment where my students' eyes lit up brought on a lot of emotions and made me think, 'I'd do it any day for these students.'"
With files from Rahul Kalvapalle
UTC