How will U of T's new non-medical mask policy work in practice? Vivek Goel answers a few common questions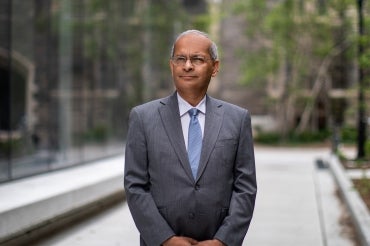 The University of Toronto this week said it was introducing a temporary measure that calls for the wearing of non-medical masks or other face coverings in spaces within its buildings that are normally publicly accessible.
The move follows similar measures by the Toronto Transit Commission and the City of Toronto, which requires masks to be worn in public spaces such as grocery stores and shopping malls. 
At U of T, this means that community members will need to wear a non-medical mask or face covering when inside buildings in areas that are usually open to the public such as hallways, lobbies and elevators.  
Vivek Goel, a professor at the Dalla Lana School of Public Health and a special adviser to the president and provost on the university's response to the COVID-19 pandemic, recently chatted with U of T News about the purpose of the new U of T measure and how it will work in practice.
---
Why is the university making this change?
This measure, and similar moves by the City of Toronto and others, is aimed at indoor spaces where generally random and unconnected groups of people mix, making it challenging to maintain physical distancing. In addition, it's often difficult to track down who was in these spaces at any given time if a person who has used these areas tests positive and contact tracing is required.
Given efforts to slow down the spread of COVID-19, using a non-medical mask in these spaces is one of a number of methods of reducing the spread. A non-medical mask protects others if the person wearing the mask is infectious. People with symptoms should stay home, but, in some cases, people are asymptomatic and are infectious even when they don't feel sick. It is important to remember that the use of a non-medical mask or face covering is another tool we have in addition to other measures such as staying home if symptomatic, frequent hand washing and physical distancing.  We still need to keep doing all these things.
What spaces are affected by this measure?
The changes affect areas in buildings that are usually accessible to the public because these are the places where we expect people from different parts of our campuses, as well as visitors and contractors, will come into contact with one another. These are places where people are moving about and physical distancing might be challenging. Examples include the foyer of a building, the reception area of an office or a food court.
Our campuses are filled with many unique spaces and are used for a range of activities, so that makes it difficult to provide a one-size-fits-all definition. As more members of our community return to campus, we will all need to use common sense, be patient and be kind to one another as we adjust to these new circumstances on our campuses and beyond.  
Will this apply to classrooms?
If we use the general guideline that these measures apply to areas accessible to the public and where random groups mix, then you can see why the answer is generally no. Staff are working to adjust classroom seating to meet physical distancing guidelines so if students are in their designated places, they should not require a mask. For the same reason, instructors will also not require a mask in class. However, those who are more comfortable wearing a mask may choose to do so. 
And labs?
Wearing of medical-grade masks may be required for protective purposes in some labs. Where PPE is not required, the same considerations as for a classroom can be applied. One important safety measure is that masks used in labs where there are flammable materials present need to have at least as high a flame resistance rating as a lab coat. Many cloth face coverings may not meet the required safety standards. 
Does everyone need to wear a mask?
We are following the same exemptions as the City of Toronto bylaw. Exemptions include those people with an underlying medical condition that inhibits their ability to wear a mask, individuals in areas where the public does not generally have access, those who are behind a physical barrier and children under the age of two. As is the case with the city bylaw, we are not asking people who require an exemption to provide proof of the reason.
Do you expect there will be more changes?
Our knowledge about this new virus is constantly evolving, as are our responses and cultural norms. It is important to note that the Toronto bylaw is temporary and set to expire in October unless it is renewed. We will have much more information at that time, and I have no doubt there will be changes in the future. We'll continue to update information as it becomes available in the FAQs on the UTogether web site.
UTC