How Wattpad's Allen Lau, a U of T alumnus, is taking on Hollywood: Report on Business Magazine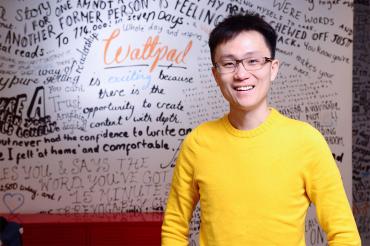 Wattpad, a tech company founded by University of Toronto alumni Allen Lau and Ivan Yuen, is taking a data-driven approach to finding the next big thing in film, TV and book publishing.
The Toronto-based startup has become a huge success since it was founded in 2006 as a social networking site for writers and readers of fiction.
The latest issue of the Globe and Mail's Report on Business Magazine  tells the story of the Canadian tech company, detailing its early days to its recent rapid expansion. That includes its latest milestone: a Hollywood film based on a story first published on the Wattpad platform.
The secret to its success? Lau tells the Globe and Mail that the company analyzes its treasure trove of data to determine which stories will become popular – in publishing and on screen.
"You can view Wattpad as an intellectual property factory that can generate entertainment properties organically and in large quantity," Lau said.
The company now boasts 70 million users, its own publishing company and has lucrative deals with production companies around the world.
UTC