How virtual rehab is bridging pandemic gaps in patient care and research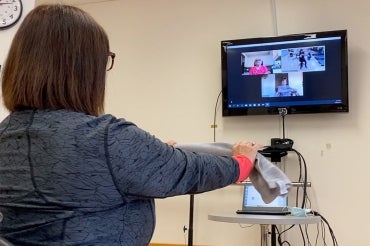 What if you experienced a stroke and needed physical and cognitive therapy – but hospitals and clinics had suspended these vital rehabilitation services due to the COVID-19 pandemic?
Enter Mark Bayley of the University of Toronto's Temerty Faculty of Medicine, whose work focuses on brain injury, stroke and multiple sclerosis.
"After COVID-19 hit, people weren't able to get the usual outpatient rehab to optimize their recovery and health," says Bayley, an associate professor in the division of physical medicine and rehabilitation in the department of medicine.
In March, Bayley and his team ordered 30 webcams and developed materials for online care delivery. By April, they were seeing patients virtually in their homes.
"The pandemic changed everything," says Bayley, who is also program medical director and physiatrist in chief at Toronto Rehabilitation Institute (Toronto Rehab), University Health Network. "It made us rethink how we're doing things and pushed us to reconfigure our services in a matter of weeks, not years."
Bayley's group is one of several across U of T that have turned clinical rehabilitation virtual in the wake of COVID-19, reshaping care and research programs for neurological conditions, speech and language disorders, and respiratory and other illnesses.
"The pandemic has instigated massive changes right across rehab fields, some of which will likely be permanent," Bayley says.
Bayley began doing virtual consultations via telehealth more than a decade ago but patients still had to travel to a health centre or hospital for an appointment. With the arrival of the coronavirus, the Ontario Telehealth Network rolled out a new platform called OTN Connect, enabling Bayley and his team to go digital with more patients.
Satisfaction among patients has been high, Bayley says.
Online treatment means patients and their caregivers spend much less time accessing care and can avoid barriers such as transportation to and from appointments, and parking.
The team – which includes Professors Paul Oh of the department of medicine, Sarah Munce and Liz Inness of Rehabilitation Sciences Institute (RSI), and Mckyla McIntyre and Meiqi Guo of the division of physical medicine and rehabilitation – were also interested in studying the process of implementing these changes so quickly.
"When we made the switch to online care delivery, my colleagues and I worried patients might experience technical difficulties," Bayley says.

Bayley and his team surveyed about 500 patients. In the spring, about 30 per cent said they struggled with the technology. But a follow-up survey in the fall indicated more people were growing used to online appointments, and fewer than 10 per cent indicated that technology was a barrier.
There are some challenges.
"The tradeoff we've noticed is that the rehabilitation service providers have to make some extra effort," says Bayley. "We've also noticed virtual care fatigue among therapists who have found the move online required more preparation, at least for the first few sessions."
As with most treatments and therapies, online rehabilitation needs to be tailored to the needs of the person receiving it, says Bayley.
Online care also introduces new complexities and questions, he adds. Do people have enough space in their homes to safely do their exercises? Do they need equipment? Is there a caregiver there to help them in case they're doing something challenging and fall over?
To address these and other considerations, Bayley and his colleagues have developed a telerehabilitation toolkit to help people working in the field, based in part on their survey findings.
Bayley says his team is also concerned about the impact of virtual care on those with housing issues, or people who are experiencing homelessness, and they are working to address those concerns. "Some people may not be able to afford to buy the equipment they need to take part in virtual care," he says. "We don't want to create a model that disadvantages or excludes some people."
Elizabeth Rochon and her team also shifted their approach to care and research. Rochon is a professor of speech language pathology, who has worked with colleagues in Alberta, Germany and Austria to develop an app to help people with aphasia who are having difficulty with word-finding.
Aphasia is a language disorder that makes it hard to produce and process speech. It affects about one-third of people who survive a stroke.
Rochon's team intended to enroll participants in their study of the app in the spring, then meet to set them up in person. But, after the pandemic hit, the researchers shifted their plan and spent the summer developing, modifying and testing tools for use online.
"We work with people who have difficulty communicating and might not be able to express themselves," says Rochon, who is also a member of the RSI and associate director, scientific at KITE Research Institute, Toronto Rehab. "They might also have motor problems as a result of their stroke and motor abilities are usually necessary for computer use, so we needed to take these considerations into account."
Working from the isolation of their own homes, Rochon's group developed 'cheat sheets' with a combination of symbols and words that might help someone use the app on a tablet. They also created manuals with visuals and text to help people navigate the video conferencing platforms.
"One upside is that we may be able to include people who live beyond the Greater Toronto Area in our study, whereas originally we conceived it as an in-person project," says Rochon.
Although a few studies had shown success with remotely delivered therapy, Rochon says there hadn't been much of a push toward tele-rehab for speech-language pathology services.
"There's a need for it, but we don't always know if the results are going to be the same as they would have been in face-to-face settings," says Rochon. "Like with other data and ongoing studies on COVID, new evidence will emerge."
Better data will inform the uptake and evolution of virtual services in the future, says another researcher.
Roger Goldstein, a professor of respirology and physical therapy and a member of the RSI, has been seeing patients from other parts of Ontario virtually for about five years.
He specializes in pulmonary rehab for people with chronic obstructive pulmonary disease (COPD), which causes breathing difficulty.
"Our objective is to teach people how to improve their exercise capacity and quality of life as well as how to reintegrate to the community in times of duress," Goldstein says. "Most importantly we ensure that they continue progressing through their program.
"Many patients have expressed how crucial the continuity of care has been throughout the course of the pandemic, amidst their concerns about safety."
Goldstein is also director of respiratory services at West Park Healthcare Centre, where patients began remote rehabilitation programs in the spring.
The half-hour, semi-weekly classes help people work on flexibility and strength. The centre also designed modules available to help patients better understand and manage their respiratory conditions.
Most patients moved to an online system via Ontario Telemedicine or Zoom in April.
The remaining group – about 40 per cent – said they either weren't technically proficient or weren't interested in using a device like a tablet or computer. That cohort used a telephone system to take part in the programs.
Goldstein had previously published work on telemedicine in COPD, but he says the pandemic catapulted work forward in this area out of necessity.
Some of his current research involves defining the best outcome measures when health-care providers can't see their patients in person. The project is a collaboration with sites in Montreal and Edmonton and involves the creation of an upgraded rehabilitation program, to serve as a Canadian standard.
"We try to answer questions on how best to move the field forward," Goldstein says. "There are lots of questions now on the timing, the content and the way of delivering rehabilitation." 
Goldstein, Rochon and Bayley all agree there will always be a need for in-person rehabilitation. But as pandemic-related concerns over face-to-face gatherings subside, they say, some elements of remote care will remain as the new normal.
"I'm excited – I truly believe that with the latest technology, it will revolutionize care," says Bayley.
Temerty Faculty of Medicine