How U of T's Faculty of Dentistry incorporates mental health into the curriculum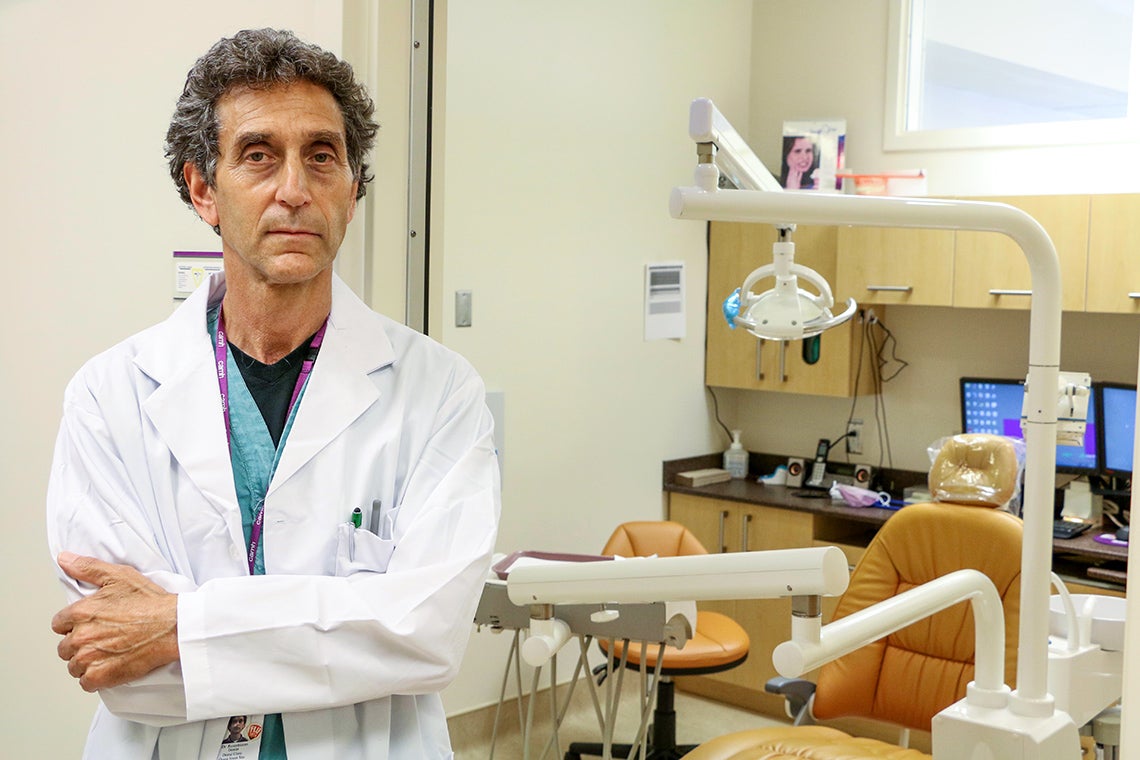 As fourth-year students in the University of Toronto's doctor of dental surgery program (DDS) enter their final year on campus, they will be heading to the Centre for Addiction and Mental Health (CAMH) to complete a day-long clinical rotation. Third-year students, meanwhile, are given the option to do a one-week clinical rotation.
It's all part of an effort by the Faculty of Dentistry to ensure its graduates are knowlegeable about mental health and its relationship to the practice of dentistry.
"One in five people suffer from mental illness," says Joel Rosenbloom, an assistant professor, teaching stream, at the Faculty of Dentistry who spends two days a week as a staff dentist at CAMH. "That means one in five dental students, one in five patients, and one in five family members or friends.
"We have to equip our students to deal with this because if we ignore it, we do so at the expense of them and our patients."
The CAMH clinical rotations have been running for 10 years and have garnered so much positive feedback from students that Rosenbloom created a third-year course called "Psychiatry and Dentistry" to further expand upon the faculty's mental health education and enrich the student experience during CAMH rotations. It began last year.
The course's topics include: a primer on the most common mental illnesses; mental health services of the past, present and future; a CAMH community lecture on stigma training and how to implement anti-stigma behaviours; a lecture on oral health and the effects of addictions and mental health on teeth; a lecture on trauma psychiatry and how to engage with a traumatized patient; and case presentations from Rosenbloom including his key learnings and the takeaways students can use in their own practices. 
"The response to the course has been really great and supportive," says Rosenbloom. "Students left knowing what they learned would make them better dentists and better able to sensitively treat clients with mental illness."
Rosenbloom also helps run "lunch and learn" sessions at the Faculty of Dentistry that include students who have completed their CAMH rotations, outside speakers – including David Goldbloom, a U of T professor of psychiatry in the Temerty Faculty of Medicine and senior medical adviser at CAMH – as well as those who have been affected by mental health. 
The topic is close to Rosenbloom's heart. He talks openly about struggling with anxiety for much of his life and how important it has been for him to find coping mechanisms. He was featured by both CAMH and CDA essentials, the official publication of the Canadian Denistry Association, about his experiences, reflecting on how much has changed since his own time in dental school.
Rosenbloom hopes other dental schools across the country will consider similar courses for their own programs. In addition to education on mental illness, he stresses the importance of supports such as the Faculty of Dentistry's wellness committee. 
"The defining illness of this generation is no longer heart disease and cancer – it's mental illness," says Rosenbloom. "It's only going to get more and more prominent. The more we as professors and dentists set the tone that it's OK to confide in others about what you're going through, the more we create an environment where we can welcome open and honest communication to support each other institutionally and as human beings."
Dentistry