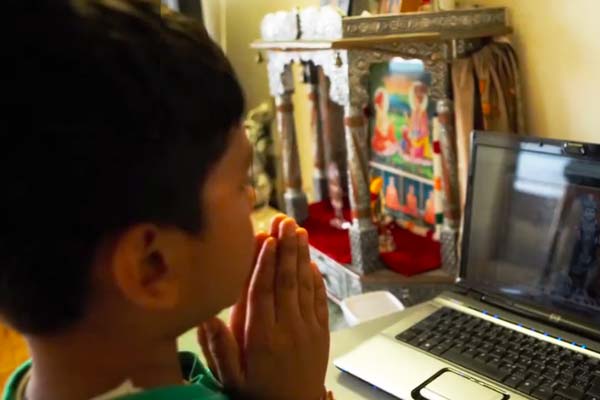 How U of T researchers helped shape HIGHRISE, the NFB's interactive documentary
New research from Deb Cowen, Emily Paradis developed in parallel with NFB doc
In Toronto's Rexdale neighbourhood, an Iraqi refugee spends her day online, talking to her fiancé in a Syrian refugee camp and displaced family members scattered around the world.  
In Seoul, South Korea, a team of teenaged professional video gamers live, work and train together in a highrise compound.
In Mumbai, activists use Facebook and Twitter to build a social movement, protesting the government's demolition of suburban apartment buildings.
These are just a few of the stories featured in the final instalment of the National Film Board's award-winning HIGHRISE series, in which two University of Toronto urban experts played key roles as research collaborators for the online documentary. (Read more about HIGHRISE)
Deborah Cowen (pictured left), an associate professor of geography, and Emily Paradis (pictured below, right), a senior research associate at the Factor-Inwentash Faculty of Social Work, worked with filmmaker Katerina Cizek to research, collect and analyze data that informs the documentary. The last chapter in the series, "Universe Within: Digital Lives in the Global Highrise," explores the mobile and Internet habits of highrise residents across the globe. 
In it, online stories take viewers into the hearts, minds and computers of apartment dwellers in 18 cities including Guangzhou, China; the suburbs of Mumbai; New York's public housing projects and Toronto's low-income Rexdale community.
HIGHRISE has already won awards for its innovative use of technology, which allows users to engage in "documentary conversations" with pixellated host avatars.
But "Universe Within" is also breaking ground as a unique collaboration between documentary makers and academics. 
Cowen has been exploring the changes in Toronto's inner suburbs through her work. Paradis conducts research on issues of housing and homelessness, and is manager of Professor David Hulchanski's Neighbourhood Change Research Partnership.
Cizek first approached them to to advise on the development of HIGHRISE and help identify stories from around the world. The U of T researchers pursued field work for the project in Toronto and Mumbai, and Cowen further researched in Singapore with help from her graduate students – all taking part in a new kind of relationship between academic research and documentary-making.
"Most documentarians tend to 'buy the rights to the book' so they'll do the film about a book or research that's been written already," Cizek said. "Our case is unique, as we've been doing parallel research and documentary-making, informing, inspiring and influencing each other's work all along the way."
For Cowen and Paradis, the research results – some funded by a partnership development grant from the Social Science and Humanities Research Council of Canada – opened their eyes to how important digital technology has become in some of Toronto's most impoverished communities.
"One of the things that really surprised us at the inception was this door-to-door survey we did to find out what was going on behind closed doors," Paradis said. "It challenged a lot of the preconceptions we had about people's access and use of digital technology."
The researchers found that 80 per cent of households surveyed in the Toronto highrise complex – even though it was located in one of  the city's most precarious and low-income communities – had Internet access either at home or through their mobile phones. In fact, for the largely immigrant residents, Internet access was one of the first things they acquired in Toronto.
"When you're working in primarily diasporic communities where most people are tied to people, places around the world, the digital has assumed an importance that was quite stunning to us," Cowen said. "We learned people were sacrificing food so they could pay for their online time."
She recalled how the Iraqi refugee communicating with her fiancé and family had no furniture except a small desk for her computer. 
"She spent all of her time in Toronto online in relationships with people in other places," Cowen said. 
An Indian family in the Rexdale apartment complex used the Internet on their laptop during the day and on their cell phones at night to pray with other Hindu communities across North America and India.
Cowen says interviewing people who spend so much of their lives online connecting to those who live nowhere near them raises questions about the physical space in which these relationships are occurring. For example, in another apartment, a Jamaican immigrant chatted on Skype all day with her mother back home:
"They're spending the entire day together just hanging out, cooking their meals, watching television, being together, there's a shared space even though one is in Toronto and the other is in Jamaica," Cowen said.
"The digital world has opened up a vastly different geography of social relations, the geography of who we talk to, who we're in a relationship with. What do we call that space that is not entirely separate from the physical spaces that they're both in?"
U of T researchers also helped connect activists fighting demolition in different parts of Mumbai, like those in the elite neighbourhood of Worli and middle-class area of Mira Road, as part of their work connected to HIGHRISE.
"We arranged some meetings so activists who were doing effective work using social media to draw sympathy for their cause in Worli were meeting resident activists in Mira Road and sharing strategies on how to build a campaign to save their buildings," Paradis said.   
Next up for the researchers: developing a book that dives deeper into their research from Toronto, Mumbai and Singapore.
For viewers who watch "Universe Within," it is an interactive exercise, as it mimics personal and intimate "documentary conversations" between the viewer and host avatars filmed in 3D (screen capture pictured above). Host avatars ask viewers provocative questions, which then lead each viewer to a specific story from around the globe. 
The complete experience consists of 70 minutes of stories, broken into 15 minute segments. At the end of each segment, viewers can start over, continuing the conversation with the existing host or beginning a new conversation altogether. 
Produced by Gerry Flahive and David Oppenheim, the documentary was shot on location in Accra, Ghana; Athens, Greece; Baku, Azerbaijan, Guangzhou, China; Jeddah, Saudi Arabia; Kampala, Uganda; Mexico City, Mexico; Mumbai, India; Nairobi, Kenya; New York City, USA; Ottawa; Rome, Italy; San Cristobal, Venezuela; Seoul, South Korea; Singapore; Tokyo, Japan; Toronto; and Ramallah, West Bank.
Universe Within and all of the HIGRISE projects are accessible via the NFB's website at nfb.ca/highrise.