How far does a little kindness go? U of T researcher examines how doing good improves mental health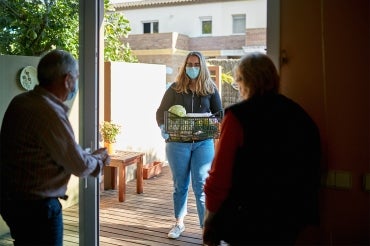 Most of us intuitively know that kindness can not only alleviate the suffering of others, but help us feel better. Now, researchers at the University of Toronto are taking steps to confirm the relationship between kindness and well-being.  
Andrew Miles, an associate professor of sociology at U of T Mississauga, is exploring how our mental and emotional well-being during the pandemic can be safeguarded by prosocial behaviour, which are acts focused on the welfare of others.
At a time when heightened fear, uncertainty, isolation and economic hardship are causing greater anxiety and depression, Miles says we need to better understand the healing effects of kindness.
"If there's anything we can contribute to help people remain emotionally stable during the pandemic and stave off some degree of the mental health challenges – that is the imperative behind this study," says Miles, principal investigator of U of T Mississauga's Morality, Action and Cognition Lab.
Miles is collaborating with Meena Andiappan, assistant professor at U of T's Institute of Health Policy, Management and Evaluation at the Dalla Lana School of Public Health, Laura Upenieks, a U of T alumna and assistant professor of sociology at Baylor University in Texas, and U of T Mississauga sociology student Christos Orfanidis. The study received support from U of T's Toronto COVID-19 Action Fund, which was set up by U of T and its hospital partners in 2020 to support high-impact research that contributes to the global fight against the coronavirus.
About 1,000 participants recruited online from Canada and the U.S. are being randomly assigned to perform either prosocial, self-focused or neutral behaviours three days a week for three weeks. Among the prosocial acts reported to researchers so far: volunteering to deliver food to the elderly; donating money to Doctors without Borders; spreading sand on an icy sidewalk; helping a couple carry their groceries; and pushing a stranger's car out of the snow.
Five weeks after the start of the intervention, the participants are being extensively surveyed to determine the effects of these behaviours on their emotional well-being: how happy they perceive themselves to be, whether they believe their life is valuable and their mental health – specifically anxiety and depression.
Miles says the study builds on the growing positive psychology movement, which is concerned with understanding what makes life most worth living – both at the individual and societal levels. Rooted in millennia-old religious and philosophical discourses, the area of study only became a formal discipline about two decades ago.
"In some respects, the scientific world is catching up with things that have been long recognized or taught in philosophies, so this is not a new idea, but it's starting to be given scholarly attention," Miles says.
The discipline's scientific literature currently includes few insights on whether the positive impacts of kindness endure over the long term.
"We know that when we do nice things for others, it makes us feel good, it uplifts our emotions, and it has us feeling like we're a better person," Miles says. "We want to see if these effects are short term blips, or have lasting benefits."
UTM