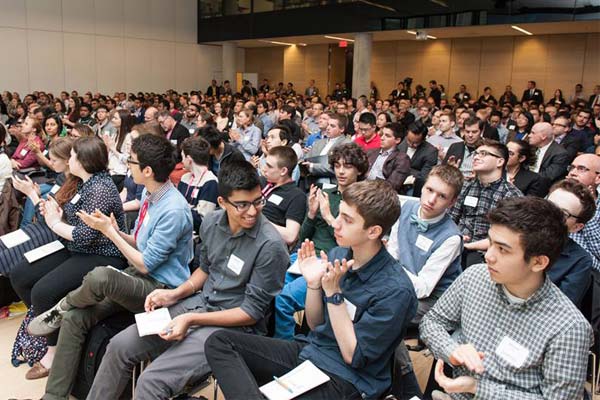 How to build a startup that succeeds: 6 tips from DemoCamp at U of T's Creative Destruction Lab
Advice from the investors, founders and experts at the annual startup showcase
Entrepreneurs, venture capitalists and industry analysts from across the country gathered at the University of Toronto May 12 for the DemoCamp showcase hosted by Creative Destruction Lab. 
Part of U of T's 
Banting & Best Centre for Innovation & Entrepreneurship
, Creative Destruction Lab offers DemoCamp once a year. This year's event highlighted hard-earned insights from investors and entrepreneurs through 30 product demos, 12 startup pitches, insider tips from angel investor Haig Farris, a presentation from innovator
Steve Mann
, founder discussion panels and interaction with its audience of 500.
Below are six pieces of advice for startups interested in joining ranks with such Creative Destruction Lab alumni as 
Nymi
and
OTI Lumionics
 – or for anyone looking to launch their idea.
6. FIND A STRONG AND COMMITTED MENTOR
"The mentorship role is becoming almost as important as the financing role." – Haig Farris
Bloomberg Business called Haig Farris "one of the most active and successful technology angel investors on the West Coast." Farris co-founded quantum computing company D-Wave Systems Inc. in 1999 with Geordie Rose, one of Creative Destruction Lab's mentors on the "G7" panel. Farris has been one of the strongest champions of Canada's venture capital industry, working to build it over the past 25 years.
"There's beginning to be a culture where people who've been successful [with startups] are spending a huge amount of their time after selling their businesses to help the next generation get to where they need to go to," Farris said.
5. ITERATE QUICKLY BASED ON CUSTOMER FEEDBACK
"For a startup to succeed, you have to listen to customers and iterate as fast as you can." – Yan Ma
Yan Ma (pictured above, in blue) is one of the co-founders of Perceptiv Labs, a company developing an "upgrade kit that turns drones into smart filming tools." The startup accelerated with help from Creative Destruction Lab as well as the prestigious Y Combinator program in Silicon Valley. While Ma says Perceptiv is aware of other companies competing for a share of their market segment, the important thing is not to get caught up in the work of others and instead stay focused on the customer.
4. BOIL DOWN THE PROBLEM YOUR STARTUP IS HELPING TO SOLVE
"Can they explain a complex science or engineering problem to me in language I can understand? If they can do that, that's a step in the process that's a big hurdle for me." – Haig Farris
Farris said he is often perplexed when founders come to him seeking investment but can't simply describe their startup. "I'm a lawyer, I've never had a science course in my life," he said, adding that being able to describe the startup and its technology in simple terms reflects "how well they understand the problem itself."
3. CREATE AND TAKE RISKS TO ACHIEVE TRUE INNOVATION
"Every great institution has to have a junk pile, a sense of 'tinquiry.'"
– Steve Mann
Mann (pictured right) spoke at DemoCamp on the important process of tinkering and inquiry – which he calls 'tinquiry' – in fostering innovation. Known by some as "the father of wearable computing," Mann is a seasoned inventor, entrepreneur, researcher at U of T's department of electrical and computer engineering – and recently signed on as Creative Destruction Lab's chief scientist. He presented one of his latest projects, META Augmented Reality glasses.
2. READ. EVERYTHING.
"Every person I've ever backed that's been really successful has always been a good reader." – Haig Farris
"One thing I always look for, I always ask anybody I'm talking to: what have you just read? The really successful entrepreneurs, chances are they've got a reading list that's extremely broad," said Farris (pictured right with Ajay Agrawal).
"What that shows is they have a mind that's not only educated but it's curious and it wants to keep on learning new things. They read philosophy, they read poetry, they read science," he added.
"Everything that's of interest is important."
1. ASK FOR HELP – AND HELP OTHERS, TOO
"Silicon Valley has an incredible culture of helpfulness. The more we can have people at all levels, including universities and governments, encouraging this helpfulness for those who are trying to do something that's very difficult to do, the better off we'll be." 

– Ajay Agrawal
Ajay Agrawal founded Creative Destruction Lab and serves as Peter Munk Professor of Entrepreneurship at U of T's Rotman School of Management. In addition to aggressively building the ecosystem of startups developing at the university, Agrawal also co-founded and supports The Next 36, an entrepreneurship leadership program for students and recent graduates.