From heartbreaking letters to triumphant trophies: 12 objects that tell the story of U of T during the Great War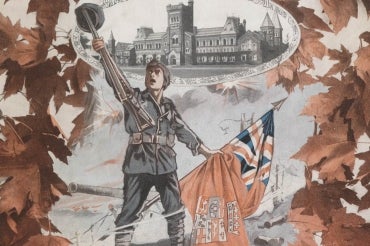 Although the battlefields were far away, the First World War left deep scars in Canada, and particularly at the University of Toronto. A total of 5,691 students, alumni, faculty and staff are recorded to have enlisted in the armed forces, of whom 608 were killed or died on active service.
Though veterans of the Great War are no longer with us, their legacy lives on 100 years after the armistice through writings, artifacts and influential contributions to their fields of expertise.
Here are the stories behind 12 objects – from heartbreaking letters to triumphant trophies – that paint a picture of how the U of T community experienced the First World War. 
All items are housed on the downtown Toronto campus in the U of T archives, Thomas Fisher Rare Book Library, and at Soldiers' Tower.
In Flanders Fields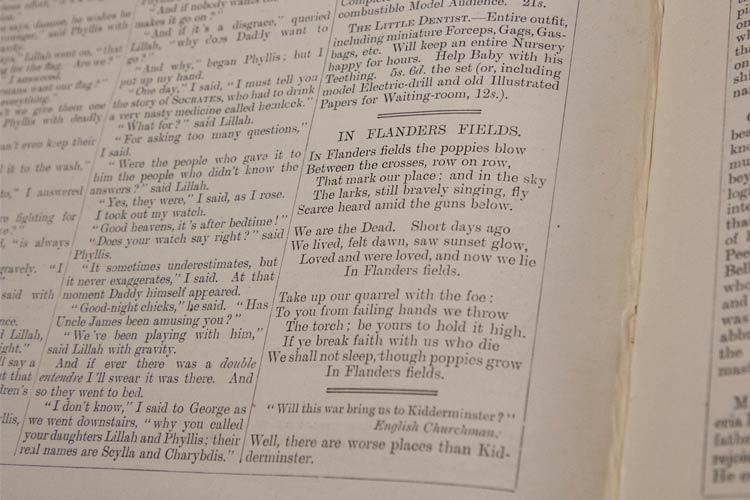 In Flanders Fields first appeared in Punch magazine in 1915 (photo by Romi Levine)
Lieutenant-Colonel John McCrae – a U of T medical school alumnus and University College student – penned the now-iconic poem In Flanders Fields while treating wounded soldiers as a medical officer in 1915 during the second Battle of Ypres.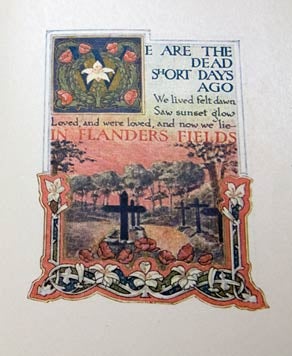 The poem was first published in the popular British magazine Punch that same year, printed on a small corner of a page – and without attribution. Though it took up very little real estate in the magazine, it had a lasting impression on those who read it.
"It resonated with the people of the time. It was part lamenting for the losses but at the same time talking about the good cause," says U of T Librarian Graham Bradshaw.
According to Bradshaw, many soldiers serving in the First World War wrote literary accounts of their experiences.
"This is the first war where you really get a lot of people who were serving who ended up writing about it," he says. "You see this huge outpouring of letters and memoirs and poetry and fiction."
In Flanders Fields gained fame during the First World War and has since become an important part of Remembrance Day ceremonies across the country along with the poppies depicted in the poem in the field among soldiers' graves.
McCrae didn't make it out of the war – he died of pneumonia in 1918.
U of T holds many reproductions of In Flanders Fields – including one of 265 copies of an intricately illustrated book of poetry by American printer W.E. Rudge (pictured above left) and an engraving created by a U of T engineering instructor that can now be seen at Soldiers' Tower (pictured below).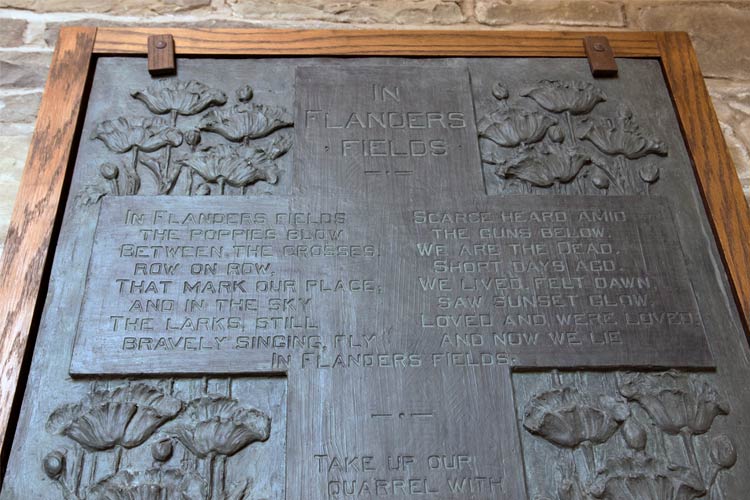 Scars of shrapnel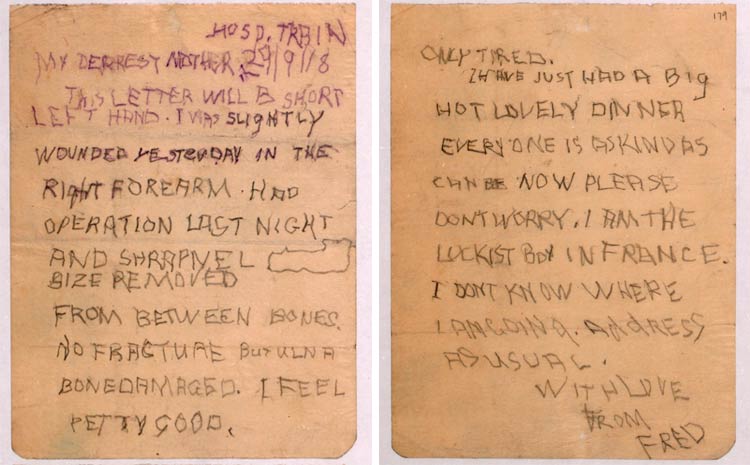 A letter by Frederick Banting to his mother written with his non-dominant hand due to injury (courtesy of U of T Archives) 
Of those who survived the war, a number of veterans went on to accomplish incredible things. Frederick Banting was one of them. Banting joined the army in 1916 after being denied twice due to bad eyesight. He was finally admitted because of a desperate need for doctors overseas and his graduation was fast-tracked.
During the Battle of the Canal Du Nord in 1918, Banting was injured in his right arm by a piece of shrapnel. 
"It severed an artery but he continued to be a part of the battle… and actually helped take care of other wounded men," says Loryl MacDonald, acting associate librarian, rare books and special collections and director of the Thomas Fisher Rare Book Library. Banting was awarded a Military Cross in 1919 for this heroic act.
The day after he was injured, Banting wrote to his mother, telling her what happened and urging her not to worry. "Everyone is as kind as can be," Banting wrote. He even drew a diagram of the shrapnel.
Because his dominant arm was injured, he had to write the letter with his left hand – so his handwriting appears shaky and uneven.
After the war, Banting and researcher Charles Best discovered insulin at a U of T lab – earning them a Nobel Prize in Medicine and changing the course of history for those living with diabetes.

Shrapnel ripped through this book while in the pocket of Harold Innis (photo by Romi Levine)
Another notable veteran is Harold Innis – who graduated from McMaster University before the war, and went on to become a U of T professor and famed media and communications theorist.
Innis served in the Canadian army as a signaller – watching and reporting back where artillery shells landed. While doing reconnaissance during Canadian preparations for the assault on Vimy Ridge in 1917, he was hit in the thigh with shrapnel. The wound was bad, but could have been worse, save for the Field Message Book he kept in his pocket.
Farmerettes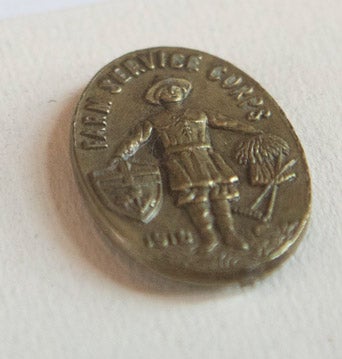 Hundreds of women from U of T spent their summer in Ontario farms helping the war effort. "Farmerettes" planted, weeded, and harvested vegetables and fruits to feed troops at home and abroad.
Farm Service Corps Badges (pictured left) were given to these agricultural volunteers. This one in particular was awarded to Marie Peterkin Williamson, a University College student who spent her summer away from U of T picking fruit in the Niagara region. 
Special edition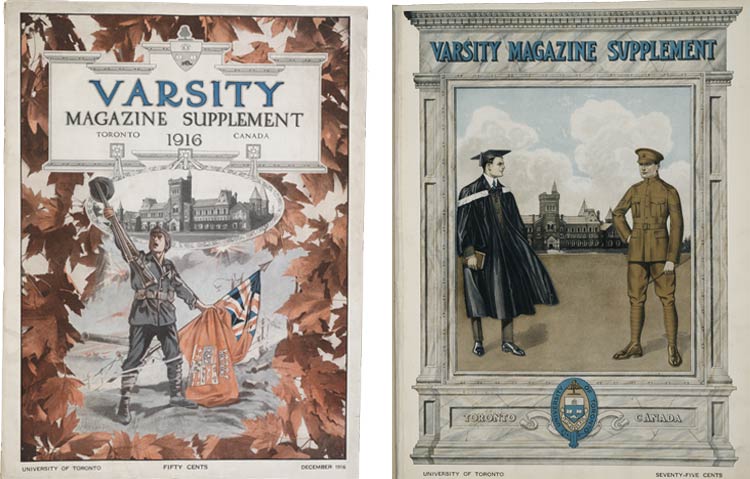 Two volumes of the Varsity Magazine Supplement (courtesy of U of T Archives)
The Students' Administrative Council, wanting to do its part for troops fighting abroad, published the Varsity Magazine Supplement – special editions of the Varsity that included photographs of enlisted men, poetry, and accounts of wartime activity.
"The students wanted to have a means of recognizing and documenting the students' war efforts," says MacDonald.   
The supplements were sold separately as a means of raising funds, with proceeds donated to Canadian hospitals participating in the war effort.
Wartime memento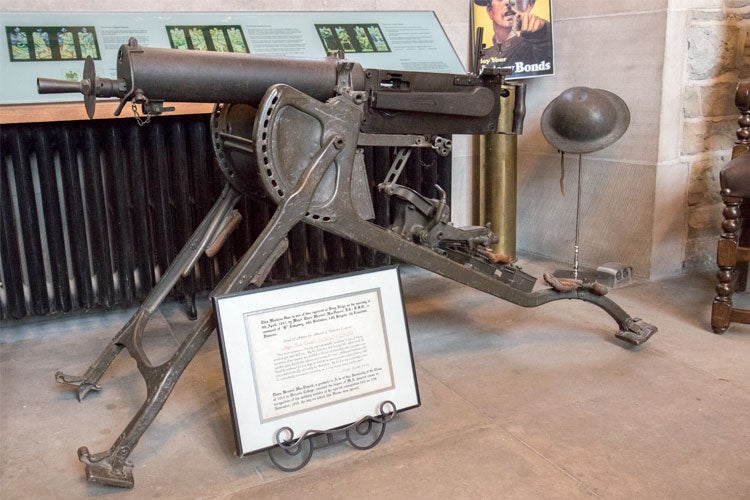 One of two German machine guns captured by Thain MacDowell (photo by Romi Levine)
A German machine gun stands in the Memorial Room in Soldiers' Tower. It was captured during an act of bravery – and luck – by Major Thain MacDowell, U of T's sole recipient during the First World War of the Victoria Cross, a prestigious award for bravery given out to British Armed Forces and members of Commonwealth countries.
MacDowell, a Victoria College alumnus, earned his cross at Vimy Ridge in 1917.
Approaching an enemy dugout, MacDowell confronted the German troops inside, convincing them there were substantial numbers of Canadian troops waiting above, when in fact, he was there with only two soldiers.
Two German officers and 75 soldiers surrendered and were taken behind Canadian lines – an impressive act that earned MacDowell Britain's highest military honour. Replicas of his medal and others he received can be found at Soldiers' Tower.
U of T on the front lines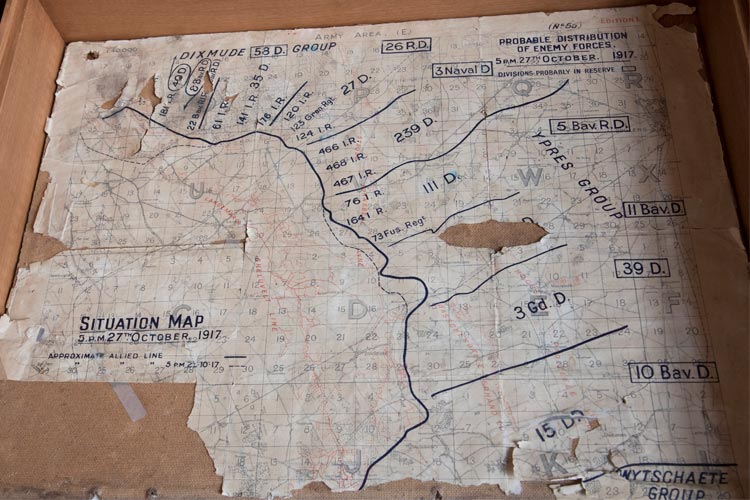 A battle map of Passchendaele (photo by Romi Levine)
For some veterans, the First World War created bonds that lasted long after the war ended.
The 67th Battery Canadian Field Artillery of the Canadian Expeditionary Force was a military unit formed in 1916, made up of mostly U of T students and graduates. After the war, the group formed an association, reuniting regularly for social events and keeping in touch with a newsletter called Battery Banter.
The 67th Battery veterans owned a clubhouse in the Kawartha Lakes region where they kept many of their wartime artifacts. Many of those items were later donated to U of T by family members of the association and the current owners of the clubhouse, Celia Siegerman Denov and Robert N. Bell.
One of the items once housed in the clubhouse is a battle map of Passchendaele (pictured above) – a brutal offensive in Belgium against the German army that left 15,600 people dead, including 40 soldiers from U of T.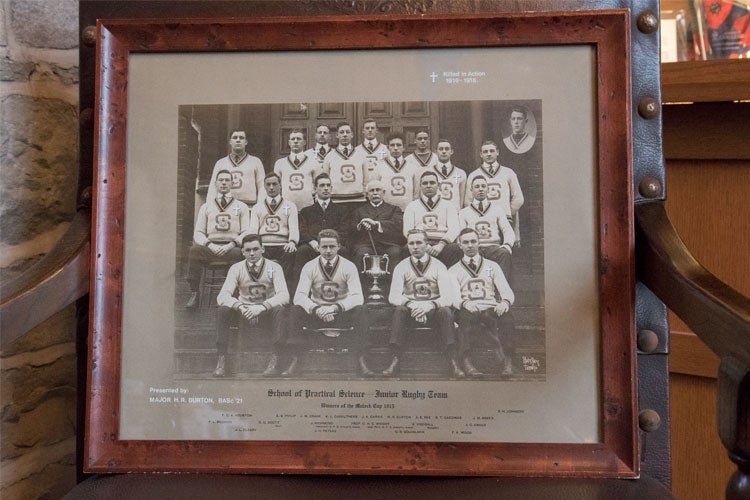 The map can be seen at Soldiers' Tower along with a framed photo of U of T's junior rugby team (pictured above) – winners of the Mulock Cup in 1915. All members of the team joined the army in 1916. After the war, the photograph was amended by one of the student athletes – H.R. Burton – with crosses next to those who died in the war. Of the 18 students in the photo, seven are noted to have been killed in action.              
A final letter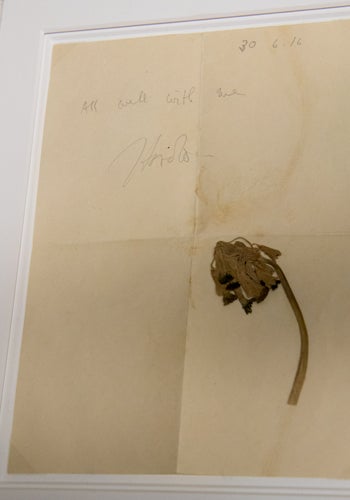 "All well with me." The letter was short and sweet – written by Harold Wrong, a University College student who graduated from U of T in 1913.
Wrong was the son of prominent U of T history Professor George Wrong and the grandson of Edward Blake, the second premier of Ontario and a U of T chancellor.
The letter he wrote on June 30, 1916 was addressed to his brother Edward and included a pressed flower. At the time, Harold Wrong was serving as an officer at the Somme in Thiepval, France.
The following day was the first of the British offensive along the Somme and it was deadly.
"Harold was last seen going over and he had a wound in his arm and he wasn't seen again," says MacDonald.
Wrong is commemorated at the Thiepval Memorial to the Missing of the Somme.
UTC