Having lost her dad to a stroke, PhD student launches cardiovascular screening startup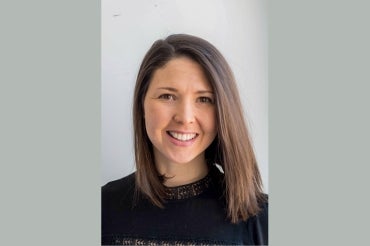 Stephanie Buryk-Iggers is on a personal mission to reduce the risk of cardiovascular disease. The second-year PhD student in the University of Toronto's Faculty of Kinesiology & Physical Education (KPE) was 26 years old when she lost her father to an unexpected stroke.
The experience left her devastated.

"My father was young, with no warning signs," she says. "One night, we were saying goodnight to him and the next morning we woke up to him having a stroke. He died five days later."
Buryk-Iggers learned that her father's stroke was related to cardiovascular disease and that almost all such strokes are considered preventable with lifestyle changes, including exercise. So, she decided to leave her job at Right to Play, where she had been working after graduating with a bachelor of arts degree from McMaster University. She says she was determined to develop the scientific and research skills needed to help others learn the benefit of exercise as part of disease prevention.
She also launched a startup company called SPARKED in early 2021, offering a handheld device that screens for cardiovascular disease risk using a saliva sample. The rapid results provide an inexpensive way to screen patients without the need for a traditional laboratory or technical training.
"Clinicians can screen for cardiovascular disease risk and have the results available in minutes, while the patient is sitting in the same room," says Buryk-Iggers. "They can have an immediate conversation around further tests and interventions, if needed, and alleviate any concerns."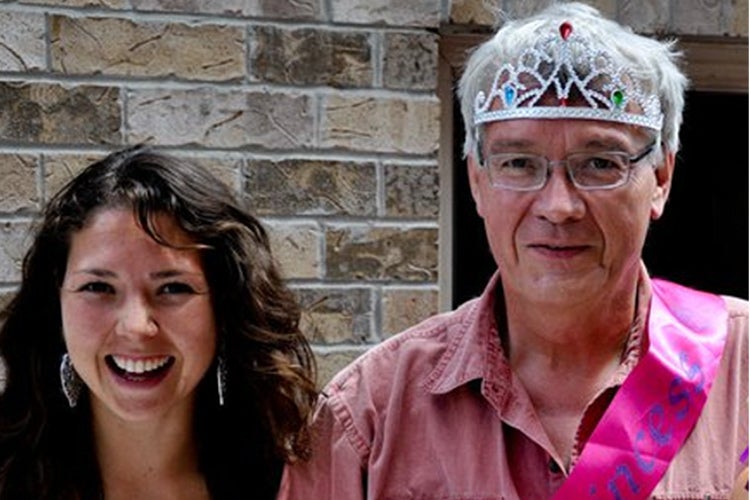 Stephanie Buryk-Iggers is pictured with her late father (photo courtesy of Stephanie Buryk-Iggers)
SPARKED was accepted by U of T's H2i (Health Innovation Hub) incubator. Shortly after launching her company, Buryk built a team to work on developing the handheld device, including Morteza Jeyhani, a post-doctoral researcher in biomedical engineering at Ryerson University, Michael Glogauer, a professor at U of T's Faculty of Dentistry and dentist-in-chief at the University Health Network (UHN), and Patrick Lawler, an assistant professor of medicine in U of T's Temerty Faculty of Medicine and a cardiologist at Toronto General Hospital.
"I am immensely honoured to be a part of the H2i incubator and I can honestly say that much of our success is a direct result of their mentorship and education opportunities," says Buryk-Iggers. "It is a remarkable place." 
Over the past year, her team was able to: secure a lab to build their prototype; place as finalists at four international and national-level pitch competitions; and earn the grand prize at H2i's FemSTEM pitch competition, which celebrates founders who are women.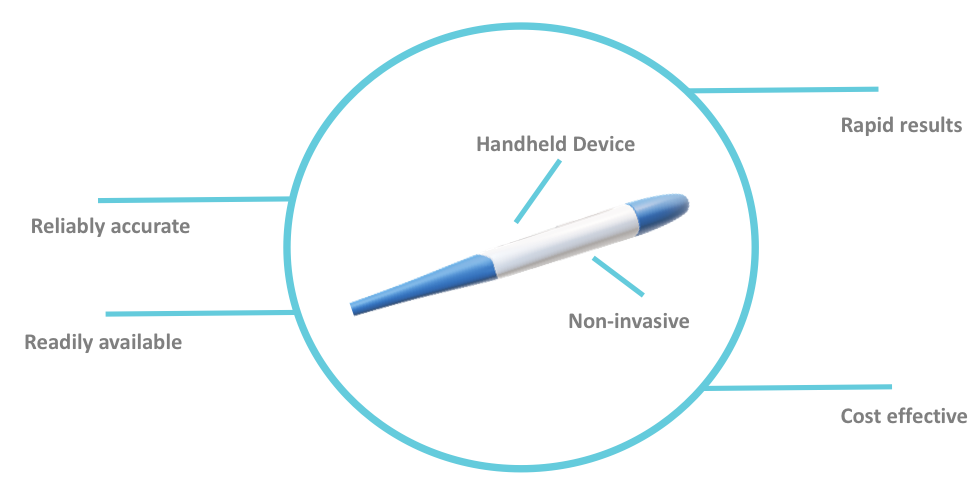 SPARKED offers a handheld device that screens for cardiovascular disease risk using a sample of the saliva.
They were also accepted as part of the 2021 Entrepreneurship for Cardiovascular Health Opportunities (ECHO) program offered through the Ted Rogers Centre for Heart Research. The team is this week presenting as finalists for the iCUBE incubator's Pitch with a Twist competition, as well as at U of T's Entrepreneurship Week pitch contest. 
"The idea that my father had cardiovascular disease never crossed my mind," says Buryk-Iggers. "Had there been an accessible, affordable and easy way to screen for it, perhaps my family would have been given a warning sign. That warning may have led to lifestyle change or an intervention that might have saved his life."
She hopes SPARKED can help fill that gap for other people – in clinical settings and beyond.
"Eventually, we'd like individuals to be able to purchase the device on their own, administer the screening whenever they like and further increase accessibility to rural and remote areas," she says.
Buryk-Iggers's interest in working with remote communities stems from her personal experience.
During her work with Right to Play, an international humanitarian organization that uses sport as a tool for positive change, she worked with vulnerable groups in remote and marginalized areas of the world, including Northern Canada and Rwanda. 
Living four to five months of each year in the communities, she trained local staff as program leaders based on their community-built objectives. She was introduced to the organization through her teammates on the women's rugby team in McMaster University. Buryk-Iggers was captain of the team and also played for Team Ontario. In 2019, she was inducted into the Ontario Rugby Hall of Fame with the Toronto Scottish Rugby Football Club.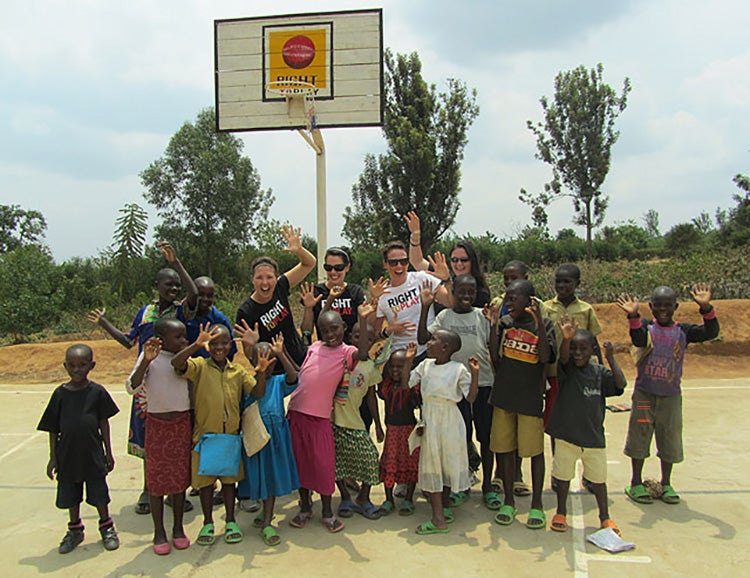 During her time with Right to Play, Stephanie Buryk-Iggers worked with vulnerable groups in Rwanda (photo courtesy of Stephanie Buryk-Iggers)
Beyond her startup, Buryk-Iggers works with PhD supervisor Daniel Santa Mina, an associate professor of exercise and cancer at KPE, to support the development and evaluation of the GoodHope Exercise and Rehabilitation (GEAR) program, Canada's first exercise and rehabilitation program for people with Ehlers-Danlos syndrome, a group of inherited disorders that affect connective tissues – primarily the skin, joints and blood vessel walls. She came to U of T two years ago to study exercise in clinical settings after receiving a bachelor of science degree from Trent University and a master's degree in biomedical engineering from Ryerson University.
"Whether it's through sport, research or industry, my personal mission is to improve health equity," says Buryk-Iggers. "I am always trying to work towards improving technology and health programs where they do exist, and creating new ones where they don't exist."
KPE